Introduction
We review Admiral Group plc (OTCPK:AMIGY) after Direct Line Insurance Group plc (OTCPK:DIISY), its largest listed comparable, released a profit warning. As of 12:10 p.m. in London, Direct Line shares were down 26% and Admiral shares were down 7%.
We upgraded our rating on Admiral to Buy in October 2020. With the 7% fall this morning, Admiral shares have lost 6.5% since our initiation, with the decline in the share price partially offset by dividends received to date. Relative to its peak in August 2021, Admiral's share price has fallen by 43%:
Admiral Share Price (Last 5 Years)

Direct Line's profit warning was the result of bad weather, higher Motor claim cost inflation and frequency, and a fall in investment property values during Q4. Most of these factors do not apply to Admiral at all, or to a much lesser extent; we expect any deterioration in Admiral's full-year profitability to be a fraction of Direct Line's. The rest of these factors were temporary in nature, and Direct Line actually provided some positive datapoints on the Motor sector.
We expect Admiral to be profitable for 2022 as a whole, and long-term earnings growth should be unaffected. Admiral also started with a much stronger Solvency Ratio. We reduce our 2022 forecasts but keep our 2023-25 forecasts unchanged. Admiral shares have a 14.2x P/E and 6.6% Dividend Yield relative to pre-COVID 2019 financials. Our forecasts indicate a total return of 107% (31.0% annualized) by 2025 year-end. Buy.
Admiral Buy Case Recap
Admiral is a U.K. insurer with a market capitalization of £5.9bn ($7.1bn). It generates most of its Profit Before Tax ("PBT") in U.K. motor insurance, where it is the market leader. It also offers household insurance, travel insurance and personal loans, and has small presences in Italy, France, Spain and the U.S.:
Admiral PBT By Business (2014-21)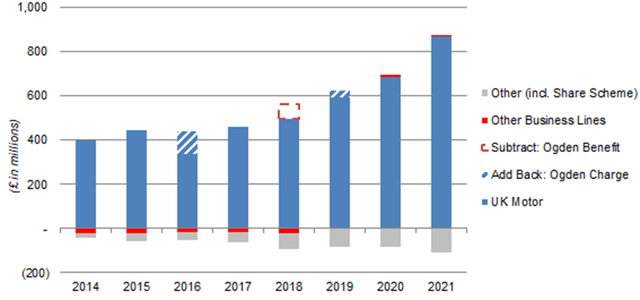 Our investment case centers around the U.K. Motor business, where:
The sector has continued to grow structurally, with the number of vehicles historically increasing at 1-2% annually, and premiums rising over time due to growing claim costs for both vehicles and medical treatment
Admiral has continued to gain market share and generate solid profits because its lower Expense Ratio (from scale and efficiency) enables it to offer insurance at lower prices than competitors but achieve higher profits
Admiral's growth differs during different parts of the insurance cycle, but we believe it can achieve a high-single-digit EPS CAGR. During 2015-19, which we believe represents an entire cycle, U.K. Motor had CAGRs of 6.8% in vehicles and 8.2% in both total premiums and profits
2022 regulatory reforms requiring insurers to offer the same prices to new and existing customers will lead to higher pricing on new business, improve sector profitability, and entrench leaders like Admiral
Admiral's other businesses are small and generated just £5.2m in PBT in aggregate in 2021; some are loss-making. They can potentially create significant value in the long term, but this is not in our investment case.
COVID-19 boosted profitability for the whole motor insurance sector, because less driving meant fewer accidents, more than offsetting lower premiums and higher cost inflation. Admiral's group PBT grew 52% between 2019 and 2021, primarily driven by higher profits in U.K. Motor. However, since 2021, driving frequency has begun to normalize while claim cost inflation has become even more elevated, creating pressure on industry profits.
For H1 2022, Admiral reported a PBT that was 47.9% lower year-on-year but 19.4% (£65.3m) higher than in 2019. The growth since 2019 was driven primarily by U.K. Motor, whose PBT was 25.9% higher; other Admiral businesses were mostly either slightly better or worse (in pound terms), but U.S. Motor lost £13.6m more than it did in H1 2019.
Admiral Profit Before Tax by Segment (H1 2022 vs. Prior Years)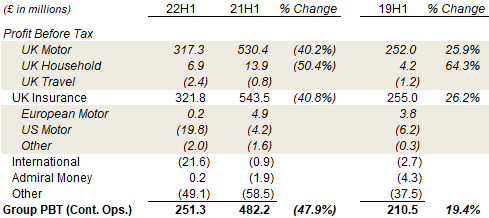 Compared to H1 2019, U.K. Motor had a slightly worse (91.3% vs. 90.0%) Reported Loss Ratio Before Reserves, but a modestly better (63.1% vs. 67.8%) Reported Loss Ratio once reserves are included. It was insuring 19% more vehicles as of the end of June 2022 compared to two years ago.
Direct Line Profit Warning
Direct Line's profit warning consisted of worse-than-expected results during Q4 in several areas:
Its Home and Commercial businesses were hit by "a prolonged period of sub-zero temperatures across the whole of the U.K.," which created more property damage claims. Direct Line now expects £90m of claims across Home and Commercial related to this "freeze event," taking total 2022 weather claims to £140m (vs. £73m expected; it is not clear if this figure also includes Motor).
Its Motor business was both "a further increase in third party claims inflation" as well as "an increase in claims frequency" ("in part" related to bad weather). Direct Line expects these factors will increase the Loss Ratio in its Motor business by "around 6 percentage points" in 2022. (Direct Line's Motor business had a Reported Loss Ratio Before Reserves of 86.4% in H1 2022 and 83.4% back in full-year 2019.)
Its Investment Portfolio was hit by an approximately 15% decline in the value of its investment properties, with an impact of around £45m. (Direct Line had a total investment portfolio of £5.13bn, including a property portfolio of £336m, as of H1 2022; investment return was £72.6m in H1, including £54.5m of net investment income.)
Together the above factors are expected to reduce Direct Line's Solvency Ratio to the "lower end" of its targeted 140-180% range (compared to 152% after dividends as of H1 2022, on Solvency Capital of £2.05bn). As a result, Direct Line no longer expects to declare a final dividend. It has already dropped the second, "up to £50m" tranche of its planned share repurchase program at H1 results in August.
Direct Line also expects its overall Combined Operating Ratio ("COR") to drop to 102-103% in 2022 (vs. "around 98% or moderately above" expected) and 97-98% in 2023 (vs. 95% expected). This also means it expects to make a loss in H2 after a profitable COR of 96.5% in H1. However, it is retaining its medium-term COR target of 93-95%.
For our Admiral investment case, the key questions are how much Direct Line's negative developments also apply to Admiral and, if any, how much do they represent a permanent reduction in the latter's earnings power.
How Much Do These Matter For Admiral?
Several of the negative developments at Direct Line do not apply to Admiral, or only apply to a much lesser extent.
Admiral has a proportionally much smaller Household insurance business. As of H1 2022, Direct Line had £267.6m of Net Earned Premiums in Home, or 18% of its group total, while Admiral had £111.8m of Total Premiums Written, or 9.4% of its U.K. total. (We are excluding the loss-making non-U.K. insurance lines from our comparison.) Admiral also has Quota Share reinsurance for 70% of its Household exposure, as well as "non-proportional reinsurance to cover the risk of catastrophes stemming from weather events," which may further limit any downside.
Admiral has no meaningful equivalent of Direct Line's Commercial business, which had £300.7m of Net Earned Premiums, or 20% of its group total, as of H1 2022.
Admiral's investment portfolio will not be affected by falling property values because it does not invest in property. Its £3.90bn portfolio consists almost entirely of cash, bonds and money market funds, and is more than 75% investment grade (with part of the remainder being money market funds do not receive credit ratings).
Admiral Investment Portfolio (H1 2022)

Higher Motor claims cost inflation and frequency were estimated to have impacted full-year 2022 Motor COR by 6 ppt. Applied to annualized Motor Net Earned Premiums of £1.43bn, this implies an impact of around £85m.
Direct Line has quantified that around £70m of the impact from negative developments is from additional weather claims, £45m is from investment properties; adding the £85m we have estimated for higher Motor claims cost inflation and frequency take the total impact to £200m. This £figure is broadly consistent with both management's comment that its Solvency Ratio has dropped from 152% at H1 2022 to the "lower end" of its 140-180% (£200m is equivalent to 15% of Direct Line's Solvency Capital Requirement of £1.35bn) and its other comment that Group COR has dropped from "around 98% or moderately above" expected to 102-103% (excluding the £45m investment loss, the £155m impact related to underwriting is equivalent to around 5 ppt in COR, based on H1 Net Earned Premium of £1.47bn.)
On these numbers, assuming most of the £70m damage from additional weather claims is in Home and Commercial, then Admiral's impact from the same negative developments could be less than half of Direct Line's.
There are also reasons to believe that Admiral will have better Motor results than Direct Line thanks to better underwriting. This was the case in H1 2022:
U.K. Motor Underwriting Ratios – Admiral vs. Direct Line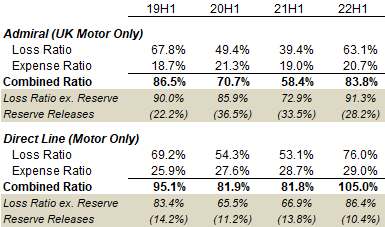 Excluding reserve releases, Admiral's U.K. Motor's Reported Loss Ratio was 1.3 ppt worse than in H1 2019 (91.3% vs. 90.0%), whereas Direct Line's was 3.0 ppt worse (86.4% vs. 83.4%).
How Much Are The Negatives Permanent?
The rest of the negative developments at Direct Line are not permanent in nature.
The bad weather in Q4 2022 is an infrequent event, with the U.K. experiencing its coldest first two weeks of December since 2010 and average temperate in December 1-27, with the average temperature in December 1-27 being 2.4C (or 36.3F) and 1.8C lower than average (according to the U.K. Met Office). Bad weather events reduce profits in the year they occur but do not need to affect long-term insurer profitability if premiums are priced appropriately.
The higher Motor claims frequency and cost inflation are at least in part temporary, stemming from the atypically low accident frequency during COVID-19 years, high used car prices and repair costs following COVID-related supply chain disruptions, etc. They also do not need to affect long-term profitability if premiums are priced appropriately.
Direct Line's profit warning actually contained some positive datapoints on U.K. Motor insurance pricing:
"Motor trading in the fourth quarter improved against a hardening market backdrop with direct own brands in force policies broadly flat across the quarter and gross written premium 2% lower compared with the prior year, a significant improvement on the variances in the third quarter"
That Direct Line has still lowered its COR expectations for 2023 as well is a result of U.K. insurance policies typically having annual terms, leading to a time lag before price hikes can offset higher cost inflation (unless the latter have been anticipated in advance). As stated, Direct Line has retained its medium-term COR targets.
Note also that the volume of Direct Line's direct own brand Motor policies was down 11.8% year-on-year as of Q3 (volume of all policies was down 13.0%), so the "broadly flat across the quarter" implies a similar year-on-year decline:
Direct Line Motor Policies By Quarter (Since 2021)

This likely means Admiral has continued to gain market share and is a positive for our investment case.
Admiral's Better Solvency Ratio
Admiral also started H2 2022 with a better Solvency Ratio, meaning its dividend is much safer than Direct Line's.
As of the end of June 2022, Admiral's Solvency Ratio was 185% (after dividends), compared to a 150% target (last stated at Q4 2018 results). (On a regulatory basis the Solvency Ratio is lower at 164%, owing to the treatment of profit commission risks, but still far ahead of requirements.) This means roughly that Admiral could take a £235m hit (compared to group PBT of £316m in H1 2019) to its capital base and its Solvency Ratio will still stay above on target.
Admiral Solvency Capital Ratios (H1 2022 vs. Prior Years)

We believe the worst-case scenario is for Admiral to make a small loss in H2 and still be profitable for 2022. Admiral had a group PBT of £252m in H1 2022, with a COR of 96.7% for the group and 83.8% in U.K. Motor. We have already explained above why we think Admiral's impact from Direct Line's problems is likely to be half or less. With Direct Line's COR having deteriorated by approximately 6 ppt between H1 and the full year (from 96.5% to 102-103%), we expect any deterioration Admiral's COR to be a fraction of this, so full-year COR will likely remain below 100%.
Admiral's aims to pay out 65% of its Profit After Tax as regular dividends. In recent years it has also paid out special dividends that take its total Payout Ratio to around 90%. The company already declared 60p of interim (regular and special) dividends in H1, excluding another 45p related to Price Comparison Website ("PCW") sale proceeds:
Admiral EPS and Dividend Per Share (Since 2014)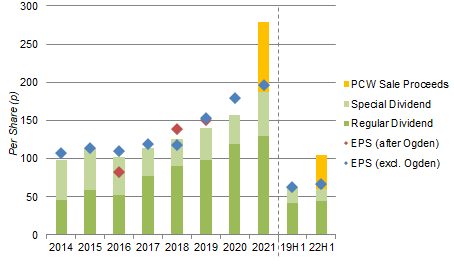 In our worst-case scenario where Admiral makes a small loss in H2 but is profitable for the full year, there will be no material reduction in its capital base, which means normal dividends will resume quickly in 2023.
Admiral Group PLC Valuation
With shares at 2,108.8p as of 12:10 p.m. in London, Admiral is trading at a 14.2x P/E with respect to 2019 and a 10.8x P/E with respect to 2021:
Admiral Earnings & Valuation (2019-21)

2019 financials are more representative, as 2020 and 2021 benefited from lower claims frequency due to COVID-19; 2021 also included cash proceeds from the Price Comparison Website ("PCW") disposal. However, Admiral now insures 18% more U.K. vehicles than at 2019 year-end and PBT was 19% higher by H1 2022.
Admiral's dividend was 140p in 2019 (but 279p in 2021, benefiting from lower claim frequency during COVID-19 and PCW disposal proceeds). We believe the 2019 figure is a reasonable (and potentially somewhat conservative) base to represent normalized earnings, and it implies a Dividend Yield of 6.6%.
Illustrative Return Forecasts
We reduce our 2022 forecasts but keep the rest of our assumptions unchanged. Our assumptions now include:
2022 Net Income to be flat vs. 2019 (was 10% higher)
2023 Net Income to be £529m (unchanged), 19% higher than 2019
From 2024, Net Profit to grow at 8% annually (unchanged)
Share count to grow at 1% annually (unchanged)
Dividends to generally be 90% of EPS (unchanged)
2025 P/E of 20.0x, implying a 4.5% Dividend Yield (unchanged).
Our new 2025 EPS forecast is roughly unchanged (was 198.9p):
Illustrative Admiral Return Forecasts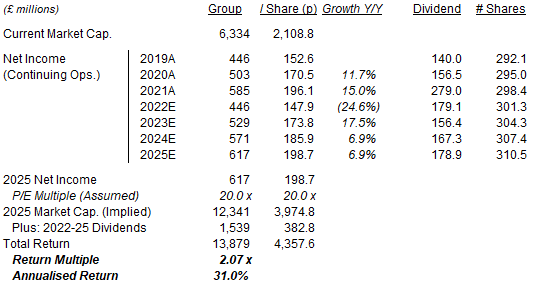 With shares at 2,108.8p, we expect an exit price of 3,975p and a total return of 107% (31.0% annualized) by 2025 year-end.
Conclusion: Is Admiral Stock A Buy?
We reiterate our rating on Admiral Group PLC stock.
Editor's Note: This article discusses one or more securities that do not trade on a major U.S. exchange. Please be aware of the risks associated with these stocks.
Source link