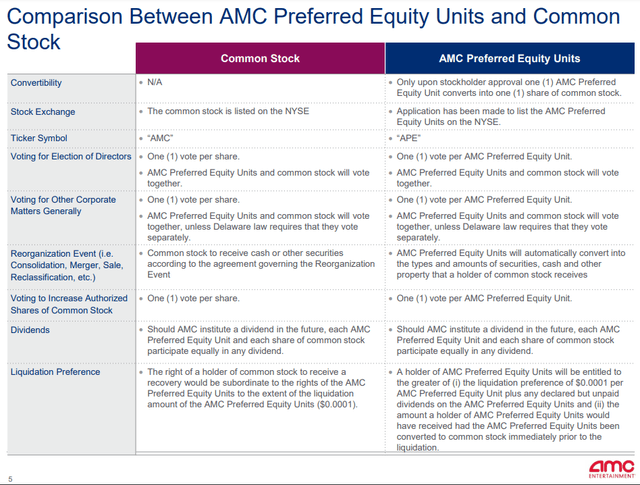 Introduction
On December 22nd, AMC announced a multi-part deal where they agreed to sell and swap millions of shares of their APE (AMC Preferred Shares) to a hedge fund in exchange for their pledge to vote "yes" for an effective share consolidation of APE and AMC shares. Given the dynamics that I'll cover later, this vote will likely pass and the spread between AMC and APE shares will close. Arbitragers may be able to generate a profit betting on this convergence being successful and happening in a timely manner.
As of the January 11th market close, APE shares were $1.42 and AMC shares $4.92, representing a $3.50 arbitrage spread.
Background
For those who haven't followed the AMC saga, the troubled theater chain has been raising cash by selling stock and diluting their common shareholders in order to fund their operations and avoid bankruptcy. That came to a standstill months ago when they exhausted their entire "authorized issuance" of common shares- essentially they couldn't issue any more common shares without a shareholder vote giving them permission to do so.
Normally when a company is running out of cash, and has a reasonably high stock price, it should be able to hold a shareholder vote and increase the authorized number of shares. In this case, a large retail group successfully rallied investors to vote "NO" and prevent the company from increasing their common share count. With all the uproar, the AMC CEO responded to the retail investor sentiment by removing the item from the vote. The result was that AMC was stuck burning cash with no immediate way to raise new cash to fund their money losing operation.
AMC's response was to announce a "stock split/dividend" where holding 1 share of AMC common shares would grant holders 1 new share of APE. APE and AMC shares had identical economic representation in the company, however, APE shares did not suffer from the same limits of share issuance that AMC common shares did. Essentially if the "old" AMC common share was worth $20, everyone's holdings were replaced with 1 "new" AMC common share worth $10 and 1 "new" APE share worth $10. Here's a comparison chart of the two "almost identical securities" provided by AMC.
In a rational, unconstrained, efficient market, APE and AMC shares should trade at nearly identical prices. However, somewhat as expected, the prices of the two diverged significantly as different supply and demand dynamics affected each class of shares. To be clear, there are dozens of situations where "very similar, but slightly different" securities trade at premiums or discounts to each other- what made this situation a little more unique is the size of the divergence between the two securities, with AMC being as much as 6 times more expensive than APE at times.
One of the biggest drivers of the price differential is the fact that APE shares can be issued by AMC using their At-The-Money offering program (where they essentially just sell shares on the stock exchange to bidders in order to raise cash to fund operations). For a company that desperately needs cash, they are price insensitive to the issuance price, illustrated by the fact that they have regularly issued APE shares from $4.00 per share down to $0.60 per share. They have successfully raised over $160 Million dollars as per the 8-K released on Dec 19th.
It's clear that the company would rather not be selling APE shares for $0.70 when AMC common shares trade at $4.50. What has likely finally happened is that the company has put together a deal to consolidate the share classes and increase the common share issuance maximum, with the expectation that the combined price of AMC and APE trades somewhere higher than APE alone, and then they can start issuing "New AMC" shares again, at a higher price. Being able to issue shares at a higher price will give AMC more liquidity resources to weather the current economic downturn and COVID related theater weakness.
A summary of the likely plan
(Obviously, this "plan" is not explicitly stated by the company, but implied by its actions and how I believe a rational corporate manager would act).
Stop issuing APE shares
Merge the two share classes*. Since APE is $0.60 and AMC is $4.50+, the likely merged price will be somewhere between $0.60 and $4.50.
Start issuing AMC "new" shares at levels higher than previous APE prices.
Raise enough capital to get through the current financial difficulties facing the company**.
Authors notes:
*Winning the vote to merge the classes isn't trivial, as seen by their earlier failed vote. They need to construct a scenario where they could "nearly guarantee" winning the vote, which the deal being discussed likely accomplishes.
**I have no opinion on how well AMC's business will perform in the future. This article and trade are largely divorced from the long term prospects of the business.
AMC's deal
Here's a summary of the deal that AMC announced on December 22nd with the hedge fund, Antara Capital.
Antara purchased 60 Million APEs directly from the company for about $0.59/APE.
Antara agreed to purchase 105M APEs directly from AMC for $0.70/APE.
Antara agreed to purchase 91M APEs directly from AMC in exchange for some cheap AMC bonds that Antara currently holds.
AMC has agreed to hold a special meeting after items 2+3 are consummated, but before March 22nd, where they will vote on increasing the number of authorized common shares- paving the way to convert APE into AMC Common stock.
AMC will also hold a vote to execute a 10-for-1 reverse stock split.
Antara has agreed to vote "yes" with all 250M+ APEs that they hold to help pass the resolutions above.
Note that items 2 and 3, are a Forward Purchase Agreement, where they've agreed to the transaction but the exchange of cash and shares has not occurred yet. In order for the transaction to occur ("close"), the deal needs to go through the HSR Act waiting period (typically 30 days). This is an antirust clause that should have no bearing on this deal since there should be no anti-competitive issues related to his transaction.
Sources of uncertainty in the spread
There are 3 fundamental reasons why the AMC-APE spread currently exists.
Uncertainty of when the vote will be held. (Vote Timing)
Uncertainty about the structure of the vote. (Vote Structure)
Uncertainty about the success of the vote. (Counting Votes)
If you are confident that the vote will be held soon, in a structure that makes it likely to win, and enough shareholders will show up and vote "yes", then the convergence of the $1.42 APE and $4.92 AMC shares is guaranteed.
Vote Timing
In the agreement, AMC must hold their shareholder vote within 90 days of the forward purchase agreement dated Dec 22, 2022, being March 22, 2023. I believe both AMC management and Antara are highly incentivized to get the vote done as soon as possible, however, there are a few hurdles that need to be cleared in order to get the vote on the table:
The Forward Purchase Agreement must close, which cannot happen until the HSR waiting period (30 days) has lapsed. Alternatively, in a very rare edge case, the deal may require HSR review which could cause a lengthy delay (I think this is extremely unlikely).
The HSR waiting period ends 30 days after the HSR filing, which had to be filed within 10 business days of the FPA signature. That means the HSR filing was submitted sometime between Dec 23 and Jan 9th, and the HSR waiting period will end between Jan 23 and Feb 9th.
Once the HSR waiting period has ended, the FPA will automatically close, and the company will likely need to file a PRE14A which will be a preliminary version of the proxy vote / special meeting.
Likely after 10 calendar days, this can become a DEF14A which is the definitive proxy. I believe the vote will then need to held between 10 and 60 business days after the DEF14A is released.
Adding this all up, I estimate the earliest possible voting date would be around Feb 20th (plus or minus a few days).
I think it's highly likely the vote is held prior to March 17th (5 days before the absolute deadline), which is relevant because it's the day of March options expiry.
Vote Structure
The biggest issue regarding the structure of the vote is the fact that there are 900M AMC Preferred shares (NYSE:APE) and 500M AMC Common Shares (NYSE:AMC) participating in the vote.
In typical matters relating to increasing the authorized number of shares, Delaware law requires that each group of shareholders vote separately on the matter and each must obtain a majority vote in order for the matter to pass.
This is a pretty strict hurdle because getting a majority of AMC shareholders to even show up to vote (never mind vote yes) has been difficult given past shareholder votes.
However, in AMC's certificate of incorporation, section D, the company specifically has a clause that says that preferred and common shareholders will "vote together" irrespective of what Delaware law says.

Source: AMC Certificate of Incorporation
This is further corroborated by the fact that the AMC Press release, mentions that they will be "(voting together)".
As a result of this, I'm highly confident that all shareholders will vote together, and they will require a majority of all shareholders (700m out of 1.4B) to vote "yes".
Counting Votes
I believe that AMC has successfully maneuvered itself in to a position where it has practically guaranteed successful passage of the votes proposed. Here is the situation, and my forecasts of what will likely happen:
On the voting date, there will be a total of 516M AMC shares, and 900M APE shares. Of the total 1.416B shareholders, AMC will require 50% of all of them to vote "yes" to the amendment to increase the authorized shares outstanding. Not 50% of the votes present, 50% of the total shareholder count. This sets the "yes" hurdle to 708M shares.
Let's start by counting the AMC likely "yes" votes
Similar to the previous vote that they proposed to increase the shares outstanding (which was ultimately tabled) the special vote should be considered a "routine" proposal. This is an important distinction because it means that brokers will be allowed to vote on behalf of shareholders who do not submit a vote.
In the last vote held June 2022, of the 516M eligible voting shares, 124M were automatically voted via the shareholders broker, 144M were voted directly by the shareholders, and 248M had no vote submitted.
Assuming similar proportions of voters show up to the special vote, the 124M broker votes will vote "yes" because the proxy voting services will almost certainly recommend a "Yes" vote. The non-votes don't count, and- pessimistically, I'll forecast 37% of the active voters vote "yes" for 52M. So that's a total of 176M Votes in favor, coming from the AMC common shareholders. I'm using 37% because that's the dismally bad vote count that Proposal 3 received in the last proxy (executive compensation) that had a "no" recommendation via ISS and Glass Lewis.
Now moving on to the APE likely "yes" votes
We know that Antara has at least 255M APEs (plus they may buy more), so that's 255M votes.
Of the remaining 645M APE shares, 516M were given to AMC shareholders via the stock dividend, and 129M were sold directly to shareholders via the At-The-Money offering. Although APE shareholders are clearly financially incentivized to vote in favor of the deal, one could argue in an extreme case that the 516M original APEs are also still held by AMC holders (that never sold their dividend). As a result, one would expect those 516M to vote their APEs in the same fashion as they would vote their AMC shares. As a result, we conservatively get another 176M votes from that group. This is a very conservative take on the makeup of APE holders.
The 129M APE holders that bought via the At-The-Money may be holding AMC, or may be holding APE by itself, but they should skew heavily towards voting in favor, let's put them at 80% yes (103M votes)
Putting it all together:
| | |
| --- | --- |
| AMC Common Shareholders | 176M Votes (of 516M possible) |
| Antara APE Holder | 255M Votes (of 255M possible) |
| APE Preferred Holder (Original Tranche) | 176M Votes (of 516M possible) |
| APE Preferred Holder (ATM Purchaser) | 103M Votes (of 129M possible) |
| Total | 710M Votes |
This count gets them a very slim majority to pass the resolution, and I've purposely used these numbers because I think it's on the tail edge of the pessimistic case. In reality, the vast majority of APE shareholders (who are more skewed towards being institutional) will show up to the vote, and vote "yes". In fact, assuming 70% of the non-Antara APE holders vote yes (either directly, or via their broker), plus the 255M Antara votes, that alone is enough to pass the resolution without even counting a single AMC common equity vote.
In addition, retail sentiment for the vote currently appears to be positive on social media, as it appears that the company has properly communicated that a "yes" vote is a crucial component to the company's long term plan. Eradicating the APE discount to AMC will let the company raise cash way more efficiently, and the simplified capital structure will make the company more appealing for potential acquirers.
And lastly, AMC and Antara have spent considerable time (and money) to setup this deal, and they have access to a very comprehensive set of information (shareholder lists, etc.). It seems extremely unlikely that they would set this deal up without having extremely high confidence that they could get the votes to make this pass.
The Trade
At the time of writing (Wednesday January 11th, 2023), the price of APE is $1.42 and AMC is $4.92, representing a spread of $3.50. The "textbook" way to trade this arbitrage would be to be long 1 share of APE, and short 1 share of AMC, hold the two positions until the shares are successfully merged and you will generate a $3.50 profit (minus trading costs, and very expensive stock borrow costs).
And there lies the primary issue explaining why this arbitrage spread exists, and why it is by no means a "safe arbitrage" trade whatsoever. In typical large-capitalization liquid spread arbitrage plays, the cost of short-selling a security is insignificant. In the case of AMC, the current cost to borrow shares on the spot borrow market is roughly 100%+ per annum. This conveniently can be converted into a daily rate of about $0.015 per day, or $0.45 for 30 days, $0.90 for 60 days, etc. Assuming borrow costs remain the same, if you think it's going to take 60 days for the share consolidation to happen, your $3.50 spread profit is reduced to $2.60, which is still a very hefty profit.
However, the cost of borrowing shares is a floating spot rate, not a fixed rate. Every day, the price of the borrow rate can/will change which exposes you to potentially significant (and infinite) risk. Interactive Brokers shows how the borrow rate on AMC has skyrocketed from 20% (prior to the Dec 22nd deal announcement) to as high as 130%, and currently sits at 97.81%.
The stock lending market has no limits and is purely driven by supply and demand. If you are short the spread, you are subject to "borrow cost risk", and if the borrow rate goes to 400%+ for a significant period of time, you'll ultimately lose money on the trade even if the two eventually converge (your borrow costs will exceed your spread convergence profits).
Borrow costs are also based on the underlying stock price. So if the price of AMC shares goes from $5 to $6, you'll be paying 20% higher absolute borrow costs even if the borrow rate hasn't changed.
Availability of stock borrow is dynamic. If there are too many people shorting the stock, and not enough people lending, then people are forced to close their short positions by repurchasing their shares on the open market, typically at prices higher (or much higher) than what they originally shorted at.
The current borrow situation is extremely volatile. Based on FINRA data, there are currently ~110M shares sold short. Using realtime data from brokers, the number is closer to 200M.
Source: Capital IQ / FINRA
A potential way to counteract the "I don't know what borrow rate I'm going to pay, and I don't know if I can stay short or not" problem is to use a synthetic short position via the options markets.
Going out to the March expiry, and using the $5 strike put and call, one can synthetically short AMC shares at a forward price of about $3.15. A way to visualize a synthetic short position is that you're shorting the stock today and instead of paying the variable borrow rate on a daily basis, you're paying the entire "term borrow" up front. In this case, you're shorting the AMC stock for $4.85 and paying $1.70 of borrow on day 1, but you can likely hold your short position all the way until March expiry.
However, this isn't guaranteed because if AMC rallies significantly above $6, and if the borrow rate is sufficiently high, the short-call portion of the synthetic short will be assigned by the long call holder which will essentially force you to close your synthetic short position, at a loss. (I would exercise extreme caution if you plan to use a synthetic short position because this risk is very real, and very painful when it happens). A safer approach is to use a very in-the-money put option, like March $15, but those are very illiquid and you'll get eaten alive by bid/ask spreads.
So to recap:
The arbitrage looks juicy. Just buy APE and short AMC.
The short side of the trade is subject to risk in terms of borrow cost
The short side of the trade is subject to risk in terms of being bought-in
The short side of the trade is subject to being squeezed (margin)
The synthetic short side of the trade can be squeezed
The forward term-borrow rates (around 200-250%) suggest the spot borrow rate (currently at 100%) is going to go higher in the future
For all the reasons above I think the risk-arbitrage* trade of long APE vs short AMC commons is extremely tricky and not worth the risk, despite a very juicy arbitrage spread prevailing. I think the profits are commensurate with the risk being taken by having this trade on. However, I do think for a very well capitalized fund, with very stable borrow (pre-arranged stock lending agreements), the trade makes sense.
* I use the term risk-arbitrage not to imply riskless profits, but because these type of spread convergence trades are typically classified as "risk arbs".
Are there any other options?
In my experience with these types of convergence trades, using the stock-side of the trade is almost always the most efficient way to express a view. Options are typically illiquid (5-10% bid/ask spreads or worse!), and provide exposures to the trade that I'm paying for but not interested in ever extracting value from. However, in the case of AMC, for some strange reason, the options market appears to allow for a much nicer and cleaner way to approach the arbitrage of AMC/APE.
The simplest way to express the trade would be to be long APE at $1.40 and long a March 17th AMC $5 put option at $2.70. This will cost $4.10 when you initiate the trade and the margin requirement will not change, no matter how much AMC squeezes. The borrow cost/rate is embedded in the March Put option- in fact if the borrow rate spikes the put option will gain value which is beneficial to your trade, conversely if the borrow rate plummets then the put will be less valuable. Assuming that the share vote passes and the share conversion occurs prior to the March 17th options expiry date, you will generate at least $0.90 in profits because you can use your $5 put option to sell the APE share you purchased (and subsequently converted into an AMC share) for $1.40. The $0.90 assumes that there is no time-value left in the put when the deal closes (which is conservative), and this trade has the added bonus of being left with a long AMC $5 call option via put-call parity post conversion (which would benefit from a rally if AMC goes above $5 after the conversion).
If for some reason the deal fails, or is extended beyond the March 17th date, you have a maximum loss potential of $4.10 (the maximum loss scenario assumes that AMC stock will be above $5.00 and APE will be at $0.00 on March 17th, which seems… unlikely?) I'm going to throw a residual value of $0.50 of APE if the deal fails, so you lose $3.60.
Buying this spread ultimately expresses the view that you think that the probability that the deal succeeds and closes prior to March 17th is higher than 80% (ignoring time value of money and capital requirement costs). Given my analysis above regarding the vote structure, vote timing, and vote counts, I think the probability that the vote passes prior to March 17th is far higher than 80%, so I've bought this spread position.
A reminder that based on the deal between AMC and Antara, the vote must be held prior to March 22nd, and the trade above is using the March 17th options expiry. There is a small timing risk here, and in addition, the March 22nd "due date" can be shifted by up to 10 business days based on the number of days the HSR filing was submitted after Dec 23rd.
Why does this trade exist?
Whenever I think I've identified alpha in a trade, I always try to find reasons to explain that alpha. Simply saying "I'm smarter than others" is not something that I rely upon because I'm aware of many people in the market that are far smarter than me, and I'm aware that the market's aggregated knowledge is, on average, smarter than me. So here's my attempt at explaining why this mispricing exists.
The date of the announcement was Dec 22nd. The majority of Wall Street professionals were on Christmas vacation when the news broke. Yes, the market reacted to the news violently, but arguably it reacted in a way that was "less efficient" than if there were more eyeballs on the trade. When holidays ended, professionals who hadn't priced up the AMC/APE deal have assumed "the news is 2 weeks old, I'm sure others have already priced it up and figured it out properly by now, I'll look into something else".
Similar to traders being on vacation when the deal was announced, the media were also on vacation. Very few articles exist discussing this deal and the arbitrage, hence when you run a google search on "AMC APE arbitrage", the vast majority of the articles are from July/August, not after December 22nd. Very few people wrote about it when it happened, and nobody's writing about it now because it's "old news".
Borrow cost is a major component of pricing up the deal. This isn't something that many professionals are used to doing (in great detail), since 90%+ of merger arb/spread trades don't involve modelling extensive borrow dynamics. I'm not saying professionals don't know how to do it, they just don't encounter it that often so they're less familiar/comfortable with it. The borrow market is also very opaque, so you have far less certainty in your analysis and forecast of what will happen. That means even if you're happy with your analysis, you can't "size up" due to that opaqueness.
The arb (via short AMC stock) is already "fully utilized" and there's very little (or no reasonable quantity) of incremental short stock available. Any sizable hedge fund that wants to do this trade will need to buy 5m+ APE and short 5m+ AMC (to potentially make $5-10m on the trade) and it's going to be awfully difficult to find 5 million shares to borrow.
The hedge fund / spread traders are already full of risk from their previous bagholding of the spread. Fund Managers like Jim Chanos shorted the spread back in July/August and have been feeling the pain ever since then. Although they'll probably net-lose on the trade (after all of the borrow they've paid), it's rational for them to continue holding their existing positions, but they don't have any risk budget (or borrow locate) to add more spread and tighten the market spreads.
Losing money on a Meme stock has high career risk. No professional fund manager wants to admit to losing significant sums of money trading (shorting!) a meme stock. If you're right you make some money, if you're wrong you get ostracized by your investors "of course you shouldn't have messed with a meme stock."
The options market isn't terribly liquid, so for smaller sized traders/funds, there's room to play, but for bigger funds it's difficult to buy 50,000 contracts to represent a 5M short share position.
There are a significant number of retail traders that are trading both APE and AMC in non-traditional ways that distort the spread from economic reality.
The long AMC stock "play the possible squeeze, collect borrow" trade, to me, is actually very viable and rational. Sadly, many are playing this without collecting borrow (or even worse, their broker collects the borrow on their behalf and doesn't remit it to them).
It's AMC, and due to AMC's retail holders and the CEO's relationship with them, strange things tend to happen that are very hard to forecast. This adds a large "unknown" variable to the modelling.
Summary
This is a messy trade, with many layers of game theory going on between different players with different incentives. Having spent a fair bit of time analyzing it, and despite what appears to be pretty juicy arbitrage spreads, this is by no means a "high conviction" trade for me. There are simply too many "unknown unknowns" that prevent me from taking the very large position that the numerical risk/reward would typically warrant. That being said, I absolutely still like the trade, I think it's mispriced for all the reasons stated above, by the amounts illustrated, and am trading the March expiries as described.
I trade the spread dynamically, meaning I'm adding/decreasing my positions on a daily (intraday) basis depending on how the pricing evolves. I fully anticipate unexpected events to occur over the duration of the trade and would be shocked if everything "just goes according to plan". That being said, swift action of calling a vote quickly, voting yes, and converting the shares seems like the most likely outcome.
I welcome your input, corrections and questions in the comments below.
Acknowledgement: Credit to Jasper Chan for working on this article with me.
Source link