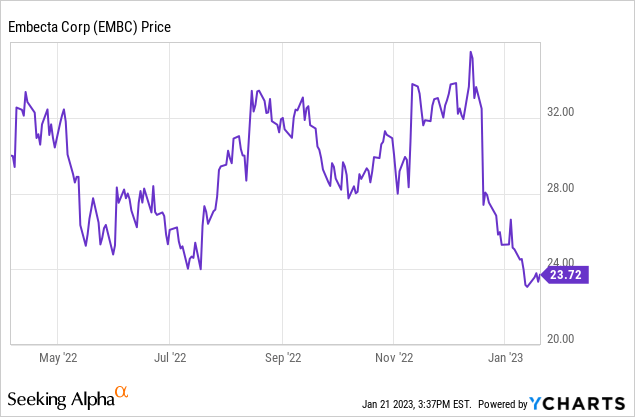 Embecta (NASDAQ:EMBC), for those unfamiliar, is the diabetes management arm of medical instruments company Becton, Dickinson (BDX). Becton spun out Embecta as a separate company in April 2022. EMBC stock initially had a mixed and largely uneventful run following its launch.
However, the stock tanked from $34 to the high $20s in December following a much worse than expected earnings report. Since then, the stock has not participated in the recent market rally at all. Instead, shares have continued slumping, and have now fallen below the $25 mark: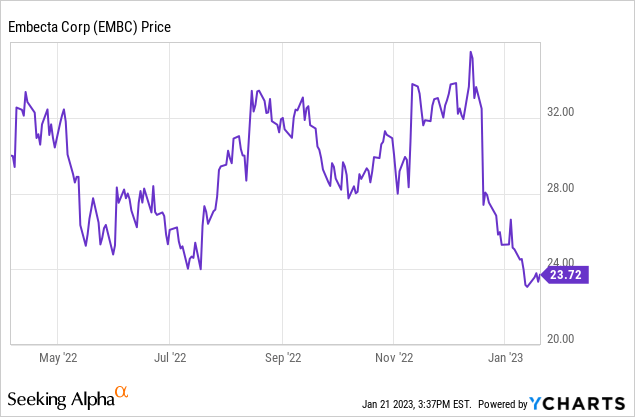 I have been a shareholder of Becton, Dickinson for a while, and thus received a position in Embecta at the time of the spin-off. However, shares didn't appeal to me at the initial $32 range so I just held the small position I received at the time of the spin. Now that Embecta has fallen to new lows, however, it's worth taking a second look at the company.
What Embecta Does
At first glance, the investment case seems evident. Embecta is the leader in diabetes injection implements such as pens and syringes.
And diabetes continues to grow in prevalence in most developed countries. As it pertains to the United States specifically, one recent study had a sobering projection:
The projected number and percent of adults with diagnosed diabetes would increase from 22.3 million (9.1%) in 2014 to 39.7 million (13.9%) in 2030, and to 60.6 million (17.9%) in 2060. The number of people with diabetes aged 65 years or older would increase from 9.2 million in 2014 to 21.0 million in 2030, and to 35.2 million in 2060.
Specifically, through 2060, the prevalence of diabetes is expected to double in the United States, with the total number of cases nearly tripling.
Given the demographic backdrop, it's easy to arrive at a bullish thesis for Embecta. The usual spin-off playbook would seem to apply here.
The entities that would become Embecta made up less than 10% of Becton's sales and had uninspiring results in recent years. Perhaps it was lost in the shuffle of being a small piece of a large company. A new independent Embecta could be more dynamic, or so it would seem.
The Potential Snag In The Embecta Thesis
However, there's one glaring issue with the bull thesis for Embecta: their actual product. This slide from their corporate presentation reveals the issue in a subtle way (note which one of the key drivers doesn't have a positive trajectory):
All metrics are pointing upward as it relates to diabetes treatment. Except for the last one. Simply put, many patients prefer a pump rather than an injection-based method of administering insulin.
Unfortunately for Embecta, their current business is largely based around injections-based administration as opposed to insulin pumps. Thus, in the long-run, there is significant uncertainty as to the company's revenue trajectory. If patients have more access to and insurance coverage for insulin pumps, this could impair much of Embecta's existing business regardless of what happens with diabetes prevalence or diagnosis rates.
The market reflected this uncertainty when the spin-off occurred. EMBC stock initially traded around 6-8x estimated earnings, which showed the market's high degree of skepticism toward Embecta's long-term prospects. While this company does operate in the diabetes field, it's not in the same business quality tier as, for example, Novo Nordisk (NVO). Novo is a more sure-fire option for investing in the diabetes/obesity treatment theme, though, of course, Novo Nordisk trades at a far higher P/E multiple.
At a single-digit earnings multiple for Embecta, though, it didn't really matter if injections became obsolete in, say, 12 or 15 years from now. In theory, you'd get plenty of money back from the existing profit stream before the technology became obsolete.
Guidance Cut Casts Bull Thesis In Doubt
However, that prospect came under heavy doubt with the company's latest earnings release. In that one, Embecta slashed its forward profit outlook by approximately 40%.
The company reported a rather sizable 9% decline in revenues. Some of this can be explained away by currency fluctuations; however, note that revenues in the U.S. market also dropped 6%, so this is hardly just a currency problem.
Embecta lost money outright, though some of that was due to an impairment charge from the firm closing down a production line. Even leaving that aside, net income was down by around a half, and EBITDA declined by more than a third. This was just a disappointment of an earnings report from top to bottom, and the selloff in shares was fully deserved.
This would be concerning enough on its own, and there's the spin-off factor to consider as well. Becton, Dickinson spun Embecta off less than a year ago, and now it is already shuttering a production line, slashing guidance, and delivering results far short of initial expectations. And, because this wasn't a standalone business previously, there's little historical data to go off of to forecast how bad or long this downturn may be. Longer-term questions around the durability of demand for injections also remain.
At the right valuation, Embecta made sense as a deep value play. Now that the earnings outlook is down sharply though, it's not especially clear if there is value here at 12x the newly-lowered earnings projections. As such, this looks like a hold or watchlist sort of name for now.
The diabetes theme is certainly a favorable one from a demographic perspective, but I'm not convinced of the business quality at Embecta, and it seems quite possible that Becton, Dickinson used this spin-off to get rid of one of their lower-tier assets.
The optimist would say that Becton, Dickinson was using Embecta as a cash cow. Now that it is a separate company, it is increasing R&D spend and designing products, such as insulin pumps, of its own to keep up with the competition. However, profitability may come under pressure for an extended period as Embecta tries to modernize and branch out its business.
I own a tiny position in EMBC stock that I received from the BDX spin-off, but I will be holding off on adding to said position until I have much more reason to have confidence in the business' direction going forward.
Source link