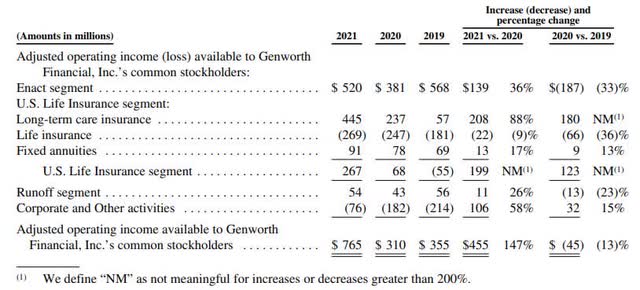 Genworth Financial, Inc. (NYSE:GNW) provides insurance and annuity products in the U.S. Internationally, the company's main focus is on life, mortgage, and long-term-care insurance. Genworth Financial stock has been trending up as we closed the year, while the S&P 500 Index (SP500) has continued to trend south.
Let's take a closer look at Genworth Financial and why I believe it will be an outperformer for 2023. We'll start with an analysis of the life insurance market and then continue with some fundamental and technical analysis of GNW.
General Life Insurance Industry Trends
Life insurance is not the only source of revenue for Genworth Financial, Inc., but is one of its main lines of business in and outside of the U.S. Taking a look at the trend of life insurance may also help identify the trend for another branch of their business, long-term care insurance.
According to the LIMRA Insurance Barometer report for 2022, only 53% of men and 46% of women have life insurance. In my opinion, that means there is a large market out there still uncovered for providers of life insurance.
Having said that, the question to ask is how many people feel they should be getting life insurance. I didn't know the direct answer to that question, but I did find clues:
Over 100 million Americans do not have life insurance.

44% of women and 38% of men say they need, or need more, life insurance.

36% of uninsured women say they plan to buy life insurance for the next year.
Data for the number of men that plan to buy life insurance over the next year was not included in the article mentioned above. That percentage could be lower than the one for women, as a smaller percentage of men believe they are underinsured.
In either case, it looks like there are tens of millions of new potential life insurance customers for the industry to tap. Recent events like the COVID pandemic, which has created a lot of disruption in the lives of many, may have also awakened the need for more security.
The above table is from Genworth Financial's latest annual report, and we can see that life insurance is not the primary source of income. However, I see long-term care insurance as a similar product with similar potential in the marketplace.
Mortgage Insurance Market Trend
The mortgage insurance business is conducted through its subsidiary, Enact Holdings, Inc. (ACT). This area of their business may be of concern as we enter what may be the restrictive leg of the economic cycle. Home sales have been decreasing since the beginning of 2022 and look to fall further still.
Clearly, the lower the number of houses that change hands, presumably the smaller the number of mortgages written. And, therefore, the lower the demand for mortgage insurance. Yet, the recession we experienced in 2020 saw a 53% jump in mortgage insurance compared to 2019.
This might be explained by the fact that usually lenders ask for mortgage insurance when the home buyer is not making a down payment or doesn't reach a minimum threshold. In times of mild recessions, many home buyers are likely to prefer keeping their savings and paying for mortgage insurance.
This might explain the sharp increase in mortgage insurance sales despite the gloomy economic outlook in 2020. In my opinion, small or shallow recessions are not detrimental to mortgage insurance underwriters for this reason.
What can be devastating is a full-blown depression where people start defaulting on their mortgages and insurance companies are obligated to cover the costs. However, it doesn't seem to me that we are in a housing bubble. Despite the waning housing data coming from most angles, we are nowhere near a comparison to 2008.
Fundamental Analysis of Genworth Financial
The fundamentals I typically look at to gauge the solidity and growth of a company are in the table below. The liabilities to assets ratio looks high in absolute terms. But in relative terms, when comparing to 3 of Genworth Financial's competitors, we see that the company has a slightly lower ratio.
| | |
| --- | --- |
| Company | Liabilities to Assets Ratio |
| Jackson Financial Inc. (JXN) | 0.969 |
| American Equity Investment Life (AEL) | 0.954 |
| National Western Life Group (NWLI) | 0.951 |
I consider the most important factor when analyzing liabilities to assets the comparison to competitors within the same sector. So, I see this ratio for GWN as healthier than average. Looking at earnings, EBITA has risen from $438 million in 2018 to $1.093 billion TTM. Although the latest data for EBITA shows a decline, overall, the trend is still positive.
Free cash flow showed a sharp decline in 2021, and that may have created some concern if the trend continued. However, the TTM for free cash flow shows a sharp rise, and it would seem GWN has put its house in order again.
EPS has been on the increase since 2018, rising from $0.03 to $0.95. Again, in line with a lower EBITA from 2021, the TTM for EPS is lower than in 2021. However, the trend remains positive. Altogether, I see a positive trend in these numbers and the liabilities to assets ratio, which is still under control.
SA Quant Performance
The Quant Performance rating for Genworth Financial is a hold, with a score of 3.49 out of 5. However, I also see that of the 5-factor grades used to determine the rating, 3 have improved over the past 3 months while 2 have declined.
Of the five factors, the one where GNW fails is growth with a flat D+. This factor carries a lot of weight on the Quant system, and a D+ in Growth disqualifies a stock for any grade higher than neutral, as explained in the Quant System FAQs.
However, in the growth factor breakdown, we can see that there are two positive elements, EBITDA and free cash flow. My take is that profitability is improving as shown by EBITDA and EPS, and the trend looks set to continue.
Technical Analysis for Genworth Financial
My technical point of view is probably what makes me the most bullish about this stock. Looking at the monthly chart, we see that the price of Genworth Financial stock has been trading in a narrow range since October 2015.
The sideways trading looks like it may be a floor for FWN stock price. Although the stock has been trading below the Ichimoku cloud, a clear bear trend, since 2015, that trend may have just been broken.
Price action has moved above the Ichimoku cloud for the first time in 7 years. However, for the Ichimoku system to indicate a bull trend, other parts of the system must line up also. Namely, the lagging line (green line) is still in the cloud and must clear the cloud to confirm a bull market.
Also, the forward part of the cloud must widen and turn green. Right now, it's very thin, typical of sideways trading markets. So, it may take a few months before we get confirmation and in that time any retracement in price shouldn't fall below the Ichimoku cloud.
Short-Term Technical Point of View
Looking at the Weekly chart, we also see a bullish environment. The Ichimoku system is entirely bullish. All the parts of the system are indicating a bullish market. We can also see how, in recent weeks, price has risen above a key resistance (blue horizontal line).
The resistance level is given by one of the recent highs from the stock's lateral trading range. On the week of November 30, 2021, the stock price hit a high of $4.76 from which it retraced lower the following weeks.
As it is a level on the weekly chart, it has a lot of significance. As the RSI moves into overbought territory, we may see some retracement lower. However, if the market holds price above the blue line, you would expect to see more upward price action.
The daily chart is also showing signs of a bullish environment. Again, the Ichimoku system is completely bullish in this time frame. Over the last 7 trading days, we can see how the market for GNW has traded sideways.
This is a consolidation phase, and I generally interpret that as a pause before the market continues its trend. As a test of the strength of the trend, we can see an upside-down hammer (orange box) formed on November 2, 2022.
However, after retracing lower for the next 5 days, price action began its bullish trend once more. Eventually, taking the price well above the high of that day. This action shows just how strong the bull market is on this stock.
Another positive aspect of how this bull run has taken place is that price action is close to the Tenkan line (blue line). When price action moves too quickly and creates a large distance from the Tenkan line, markets tend to retrace until price, and the Tenkan line get close together again.
Conclusion
I see a lot of potential in the life care insurance market, and I don't see a bubble bursting in the housing market. I believe this company is well-positioned to increase profits in its two main sources of income.
The model I use which factors in the trend in EBITDA, FCF, and liabilities to assets ratio sees this stock at $6.61. That might not seem a large increase over the close on December 30 at $5.29, approximately 25%.
However, my technical analysis puts the price target for this stock at $7.02, and if that is breached, the next target is $8.87.
Source link