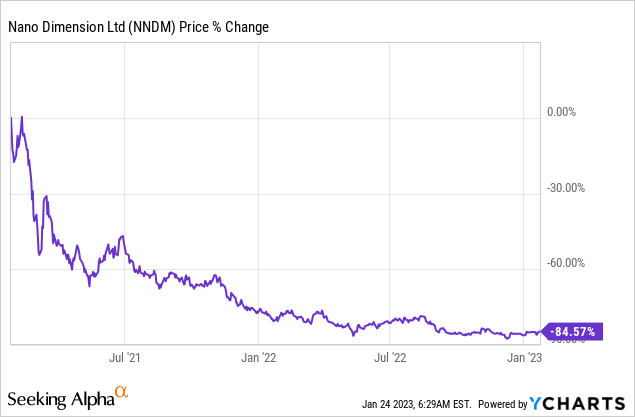 At Nano Dimension (NASDAQ:NNDM), a lot of corporate governance actions have been taken recently that could unlock a lot of value very soon, making it a perfect arbitrage play. Or an investment with downside protection. Nano Dimension likewise just released its preliminary earnings figures for the fourth quarter, which point to its highest-ever earnings, up 61% year over year.
The company, which trades well below its book value, has in recent days faced a series of actions by activist investors, who have prevailed, calling a general meeting to perhaps unlock much value for its shareholders. These actions could completely reverse the share price, which has fallen nearly 85% since January 2021.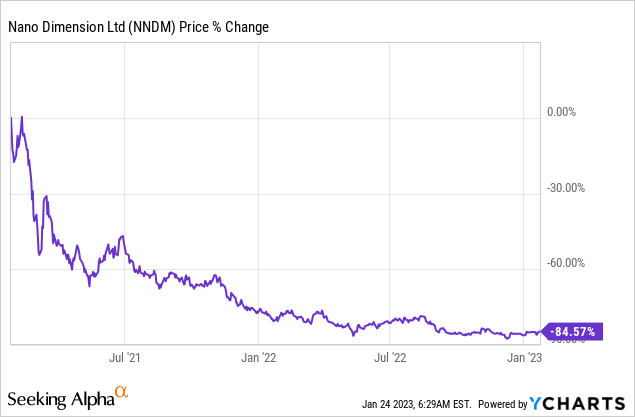 Company Overview
So who is Nano Dimension? It's an Israel-based company at the intersection of 3D printing and PCB manufacturing. You may be wondering what a PCB is and what it does? PCBs can be explained quite easily in layman's terms. They are the green circuit boards found in almost every device with electronics.
Nano Dimension's main new flagship PCB, the Dragonfly IV, is primarily used for 3D printed circuit boards (PCBS) and other high-end electronic devices. Despite being a relatively small company with limited revenues, it saw a huge run-up in late 2020 to early 2021, going from a company with a market cap of less than $100M to $3.5BN in a matter of months.
The company cleverly took advantage of the situation and raised a stunning $1.5BN through direct offerings when the stock was still trading above $10. However, that leaves us today in a very unusual situation with a company that has a lot of cash and is trading far, far below its tangible book value. This is likely due to the nature of the company, which burns up a lot of cash and still has limited earnings.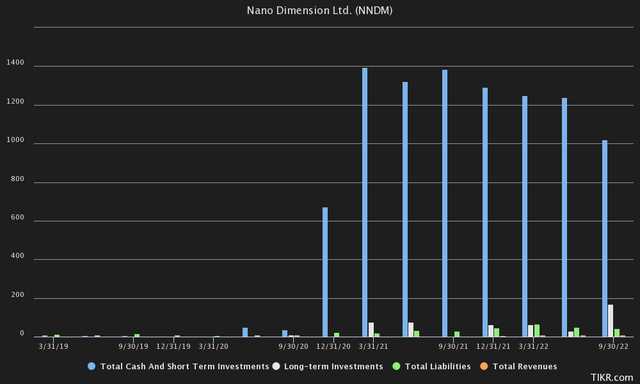 As you can see, the company still has 1.02BN in cash and short-term investments. Earlier this year, the CEO also announced that they had purchased 12.12% of ownership in Stratasys (SSYS) because he thought it would be "a great idea" to do so.
Their position also currently stands at about $114.45M. They have virtually no debt, making the company's total tangible book value north of $1.10BN, taking debt into account. The strange thing about this situation is that the company has been trading well below this book value for quite some time. The liquidity of $1.10BN is in stark contrast to the mere $699M market cap.
That makes the virtual cash pile an attractive target for activist investors. And that may be what we see happening now. But in that sense, it could also become an immense arbitrage for individual investors who are watching corporate governance actions closely.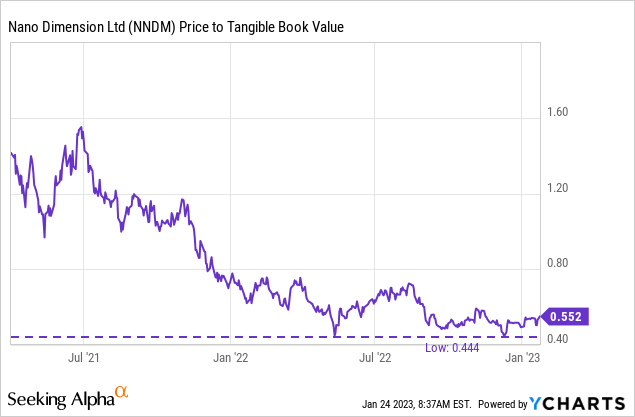 It also provides downside protection. Even though the stock is trading well below its book value, there is a limit above which even shorters tend to retreat. Below 0.5x tangible book value, which is almost entirely cash, the stock becomes too cheap and too dangerous to get burned.
Activist investors have taken notice, and it looks like they may be successful this time and unlock tons of shareholder value, potentially booting the current management in a proxy fight.
The Backstory
News of activist investors becoming interested in Nano Dimension goes back to early November 2020, when Bloomberg verified that Murchinson had offered $995M for Nano Dimension, with a non-binding proposal in September. At that time, they owned 10M shares in the company. Their statement was:
"We believe that our proposal is the best opportunity for shareholders to achieve maximum and certain value for their shares," said Marc Bistricer, Murchinson chief executive officer, in the letter to Nano Dimension's board. (Bloomberg)
Nano Dimension did not accept Murchinson's offer, and quietly countered. Without much press, a general meeting was held on Dec. 13, with a few key decisions Yoav Stern and management tried to pass, albeit seemingly in surprising secrecy.
See, Murchinson and Stern are not exactly best friends. The last time Murchinson tried to set up a meeting with management, Yoav Stern allegedly started throwing insults, with the Nano Dimension representative claiming that Bistricer, CEO of Murchinson, was "physically and verbally harassing" Stern.
On Dec. 1, for example, you would think that questions would have been asked about the important proposals we will talk about in a moment, but that was absolutely not the case. Unlike previous quarterly earnings, where tons of questions used to be asked.
And this time only 2 questions were asked. Not a word about the changes they were trying to make. Complete silence. Strange coincidence, perhaps.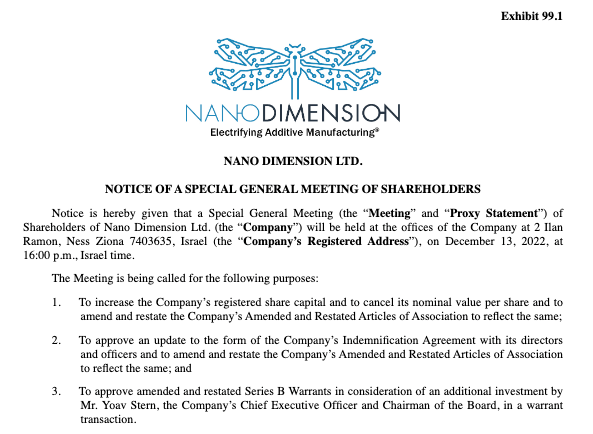 So what was this general meeting about? Well, management was trying to get 3 different, very important proposals through. I think they were basically trying to seize control of the company and its 1.1 billion in cash, with those 3 proposals:
To increase the company's share capital from 500M to 800M, even though only 257.41M shares are currently outstanding.
To increase the indemnity ceiling for the company's directors, basically lining up their own pockets.
To reduce the exercise price of the CEO's warrants, Yoav Stern, from $6.16 to $2.36.
All proposals were rejected, and rightly so. Murchinson even filed a court order to stop the meeting. The popular American institutional consulting firm ISS, which usually works with management, objected to the ridiculous proposals. Especially the latest action, which would have effectively pushed Yoav Stern's warrants into the money, and would have given him tens of millions of dollars of upside if the share price went back to tangible book value.
I think not only that, but he could have even used the $100 million buyback program announced in May 2022 to hypothetically boost the share price before exercising his warrants well into the money and getting rid of them. Of course, we wouldn't know if that had been the case.
But the idea and audacity of getting a handout worth possibly tens of millions of dollars does not seem to us to be in the best interest of shareholders. If they were really so concerned about shareholders, we suggest they start by reducing the obnoxious fees of management, which is paid to burn up shareholders' capital.
After their proposals were rejected, they responded with a press release:
Nano Dimension's capital has become a target and temptation for entities with an interest in taking over the Company for their business or personal needs. Their actions suggest they have the intention of dismantling the Company.
And following up by describing the meeting:
When the Meeting was called, a shocking "smear campaign" was launched, which we believe was designed to harm the Company and its managers. We believe that this was as a pre-emptive tactic to justify the sought takeover of Nano Dimension's assets by a "small entity", which itself has a history of trouble with regulators and authorities in the USA.
Murchinson may indeed have run into legal trouble with regulators, but that does not take away from the fact that to date, Nano Dimension has only burned money and paid huge salaries to its managers and directors.
To this day, they are still losing money, having already burned up hundreds of millions of dollars and thrown away their initial $1.50BN cash mountain. For example, in 2021, Yoav Stern was paid $4,421,000 in salary, share-based comp and other benefits.

Management and directors were paid a total of $17,581,000 in 2021, a combination of stock-based comp and salaries, benefits, etc. Quite a lot of money, for a company that had -$200.78M in net income that same year.

We want to take Nano Dimension's management at its word, but as Charlie Munger would say:
Show me the incentive and I will show you the outcome.
And in this case, management does not seem to be compensated to maximize shareholder returns by continually burning money and delaying plans to become cash flow positive "someday." Even if they did, it would be quite difficult to offset the time value of cash and the hundreds of millions of dollars already gone.
When a company has more share-based compensation per quarter than it generates in revenue, you know you're in trouble as a shareholder. So by staying with fellow shareholders, we join Murchinson's side of the story.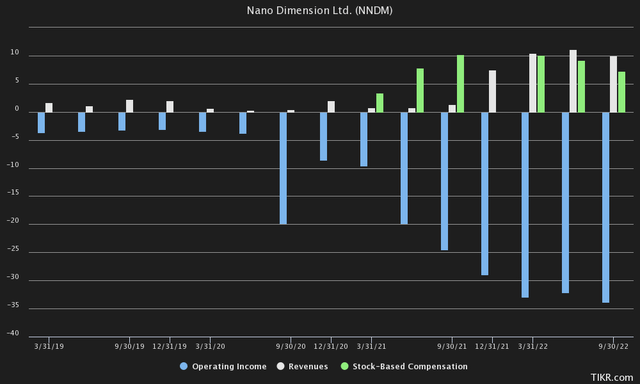 A Proxy Fight: One To Rule Them All?
So, if the company is going through all this, why would we consider it a buy? Well, just right now, a 13D filing went through with the SEC, and it had some great details inside it. Apparently, Murchinson crossed the 5% threshold in terms of ownership, now owning approx. 5.1% of outstanding shares or 13,250,000 shares.
What they did is, demand a special general meeting of shareholders/the board:
On January 22, 2023, Murchinson and certain funds it advises and/or sub-advises, including the holders of the Managed Positions, Nomis Bay and BPY (collectively, the "Proposing Shareholders"), delivered a letter to the Board of Directors of the Issuer (the "Board") demanding that the Issuer convene a special general meeting of shareholders of the Issuer
What does the meeting consist of? Well, as mentioned:
To allow shareholders to vote upon resolutions proposed by the Proposing Shareholders to improve the Issuer's corporate governance by way of:
(i) Amending certain provisions of the Company's Amended and Restated Articles of Association, including to allow shareholders to fill Board vacancies and remove directors at a general meeting by a simple majority vote.
(ii) Removing several members of the Board, namely, the Issuer's Chairman of the Board and Chief Executive Officer Yoav Stern, and current directors Oded Gera, Igal Rotem and Dr. Yoav Nissan-Cohen.
(iii) Appointing two new highly-qualified, independent and experienced director nominees, Kenneth H. Traub and Dr. Joshua Rosensweig, as directors of the Issuer (such demand, the "Special Meeting Demand").
And regarding the date of the meeting:
The Special Meeting Demand instructs the Board to immediately, and no later than February 12, 2023, call the Special Meeting, and hold it no later than 35 days thereafter, as required by the Companies Law.
The question now is: what will the shareholders do? Which side will they choose? One thing seems clear: activist investors seem to want to take control of the company, and return the capital to shareholders. And those activist investors are putting their money where their mouth is: they have spent about $40,015,000 buying shares.
At the end of the day, it seems to us, it's going to come down to Yoav et al. with about 13% ownership versus Murchinson and shareholders. Last time, all of the board's proposals were rejected by shareholders, which leads us to believe that Murchinson is capable of convincing enough shareholders, and unlocking the value within Nano Dimension.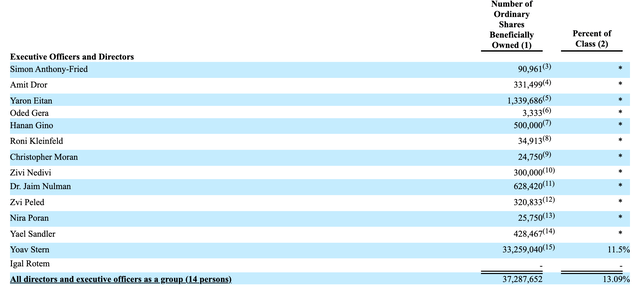 It's also about how deep Yoav Stern's Pandora's box is. The worst thing we see management currently doing is continuing to rake in millions in salaries, and giving shareholders a long walk for what could have been a short story.
Shortly after the 13d was filed, Nano Dimension surprisingly quickly announced record quarterly revenue, bringing revenues to $43.6 million in 2022. Perhaps to at least get shareholders back on their side after the debacle in the last shareholder meeting.
But it stops there, too. Not really an idea of what the bottom line looks like. Growing your top line is important, but that doesn't solve your negative cash flow. Spending $3 for $1 in revenue is not enough.
And so is a Return On Equity (ROE)/ Return On Assets (ROA) that has been strongly negative since the company's existence.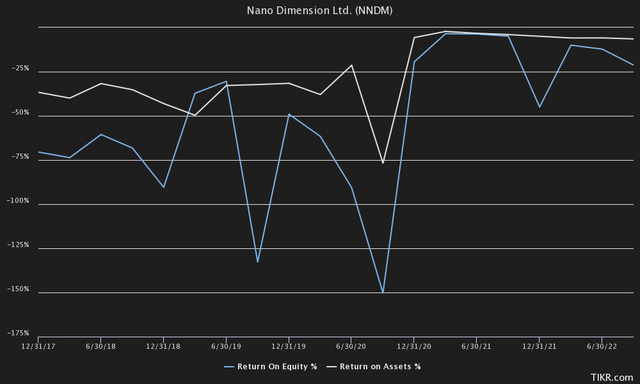 Following The Big Money
In this case, we think it might be best to "follow the big money". On the other hand, the downside seems protected by the fact that the stock is already trading nearly 50% below book value.
The only factor really working against investors in this case might be the time lag, making it an interesting arbitrage. Looking at what the activist investor is doing, it seems that over the past 60 days, purchases have been made at an average price of $2.46.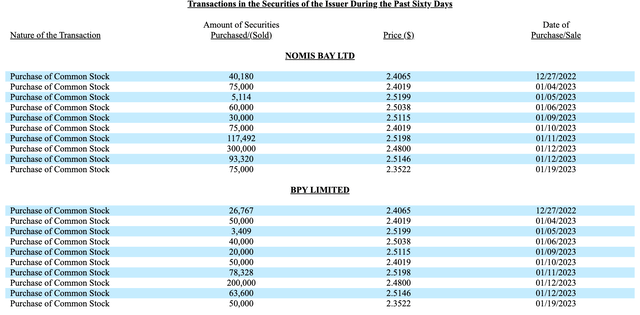 The fund generally seems to back off at $2.52, and buying below that strike price. Which means that that's probably the risk premium they're willing to pay as an activist investor.
Upside-Downside Spread
The question of where to buy here can be fairly crudely described as arbitrage. The company has about $1.10BN of liquidation value in it, or about $4.26 per share. Murchinson has previously tried to buy out the company for $995 million, which means they probably want about $100 million return from liquidating the company and putting their capital on the line.
As an arbitrageur, we then arrive at a maximum liquidation value of $4.26 per share, or a 57.20% increase over the current share price. An offer of $995 million represents a 42.35% increase over the current price. That means significant upside if activist shareholders succeed.
What might the downside look like? The stock has always bottomed at about 50% below its tangible book value in recent years. It can always fall below that price, although there has to be a point at which the embedded value becomes too irrational, and that has always been 50% of tangible book value. If the price were to fall much lower, we think management or more activist investors would notice this and set a bottom.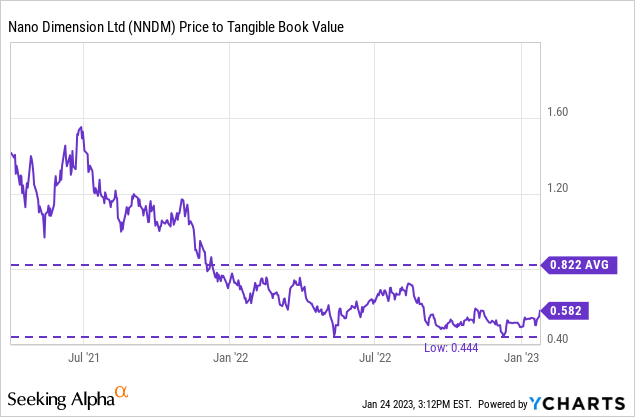 Investors could also set a stop loss at about 50% tangible book value should the stock hit new lows. 50% book value is currently $2.13 per share. The risk/reward spread looks promising. The spread is: 21.40% downside potential, 57.20% maximum upside potential.
Management could also try to get the company to invest most of the capital on their balance sheet, which has lost purchasing power over the past two years due to high inflation, in short-term three-month Treasury bonds, currently yielding 4.57%. That would be $45.7 million in interest on $1 billion of capital, which comically would exceed their current revenues.
The Bottom Line
Nano Dimension looks like a promising case for arbitrageurs, especially if it trades below $2.52, and exhibits great characteristics in terms of asymmetric returns. New activist investors have bought tens of millions of dollars' worth of shares and see an opportunity to unlock the value contained in Nano Dimension for the benefit of shareholders.
We give the stock a buy rating, and watch for developments from these activist investors in the coming months. Either way, in the case of Nano Dimension, the upside potential clearly outweighs the downside risks from a tangible book value perspective, making it a classic Benjamin Graham play.
Source link