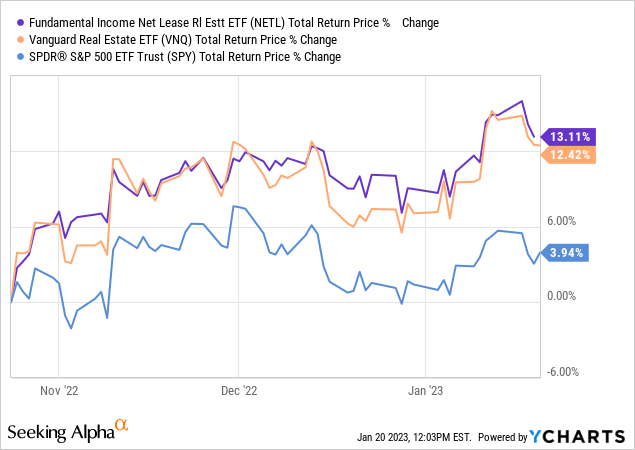 The NETLease Corporate Real Estate ETF (NYSEARCA:NETL) is the most attractive way to add exposure to publicly traded commercial real estate at this point in the economic cycle, in my opinion.
Those who have read my previous bullish articles on NETL know that I am a big fan of the net lease REIT business model and have recommended NETL as a buy too early multiple times. Mea culpa. The validity of an investment thesis is one thing. Timing is another.
But since my most recent bullish call on NETL in "NETL: Net Lease Is Outperforming The Broader Real Estate Index This Year" in October 2022, REITs focused on this lease type have slightly outperformed the broader real estate index (VNQ) as well as the S&P 500 (SPY):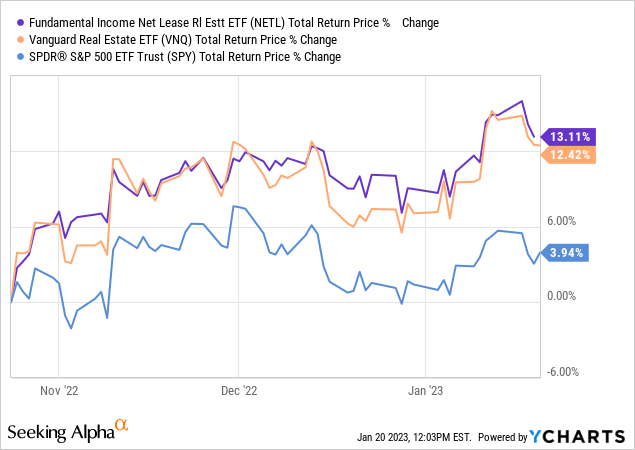 If inflation and long-term interest rates continue to fall this year, as I expect them to in the face of economic weakness, NETL should continue to outperform.
The basic reason for this is that net leases have long terms during which rent rates are contractually locked in. This makes individual leases similar to bonds. If corporate bond yields fall, net lease REITs benefit in at least two ways:
Cost of debt becomes cheaper
Net lease cap rates should stabilize and/or gradually come down as well, lifting property values
This year should be the comeback year for net lease REITs, which benefit more than the average REIT from lower interest rates and inflation and are also generally more recession-resistant than the average REIT.
Quick Reminder of NETL's Portfolio
For more detailed looks at NETL's portfolio of holdings, see my previous articles on the ETF. After the removal of STORE Capital (STOR) following the REIT's take-private acquisition, NETL is left with 22 holdings. Being a very concentrated and specialized ETF, Fundamental Income (the fund manager) charges an expense ratio of 0.6%.
Because of this higher expense ratio, I have always been upfront about my recommendation that those who are comfortable with stock-picking buy and own a handful of their favorite stocks in NETL's portfolio. However, for those who do not wish to be stock-pickers, NETL offers a good way to gain exposure specifically to net lease REITs.
I own NETL in my all-ETF Roth IRA, because I don't pay much attention to my Roth, but I do stock-picking in my taxable account.
NETL's 22 holdings collectively own nearly 29,000 individual properties across all 50 US states. The total market capitalization of the bunch is around $150 billion.
| | |
| --- | --- |
| | NETLease Corporate Real Estate ETF |
| Holdings | 22 |
| Total Properties | 28,715 |
| Market Cap | $150 Billion |
| Avg. Debt / EV | 33.5% |
| Weighted Avg. Debt Term | 6.3 Years |
| Average Interest Rate | 3.7% |
| Occupancy | 99.2% |
| Weighted Avg. Lease Term | 12 Years |
| Avg. Price / FFO | ~13x |
| Avg. Ann. Return 2008-2022 | 11.3% |
For those who own individual net lease REITs, it is useful to compare the individual REIT's metrics to those of NETL, which basically acts as an average.
Interestingly, the ETF is not primarily market cap-weighted but rather tenant diversification weighted. This results in wide diversification across tenants and property types. The largest tenant across the full portfolio accounts for 3.6% of rent.
It is also interesting to note that, despite net lease's common association with retail properties like pharmacies, gas stations, and big box stores, NETL's largest property type is industrial. Between traditional industrial and "freight & logistics" properties, industrial makes up nearly 27% of the total portfolio.
The primary contributors to this industrial concentration are:
Based on NETL's annualized dividend of $1.14 (paid monthly), the ETF currently offers a respectable dividend yield of 4.3%. I would expect low to mid-single-digit dividend growth on top of that yield.
The Fundamental Driver of NETL Performance
Although net lease REITs tend to lock in sources of capital (both equity and debt) at attractive rates when they can, giving them the ability to continue investing multiple quarters before running out and requiring more fundraising, their stock prices do tend to move in an inverse correlation with interest rates.
Compare the movements of the 10-year Treasury rate and NETL's stock price over the last 6 months.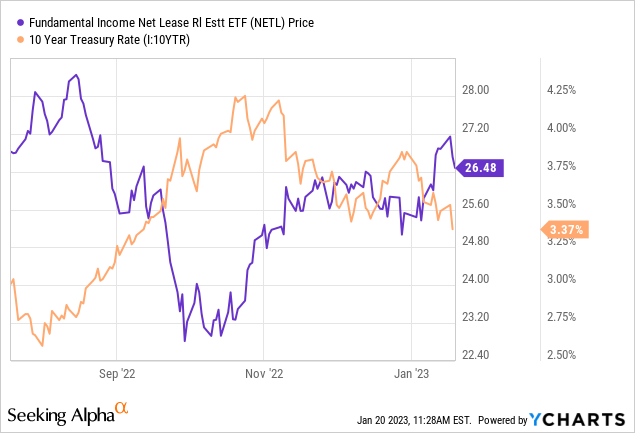 When rates slumped a bit in the late Summer, NETL spiked. Then rates surged higher, and NETL slumped. Then, after they peaked and began sliding downward, NETL rallied. And now, since the beginning of the year, the 10-year rate has slumped, and NETL has spiked.
In the face of a widely expected recession (and currently weak economic readings fueling these expectations), long-term interest rates and inflation should continue to either plateau or fall this year. The Federal Reserve controls short-term interest rates, but the market controls long-term interest rates.
This is a very different setup than what we had in 2021, as inflation relentlessly rose and interest rates eventually followed it higher. That environment greatly benefited REITs with short-term leases that could reset to the rising market rate quickly, represented below by the Nuveen Short-Term REIT ETF (NURE):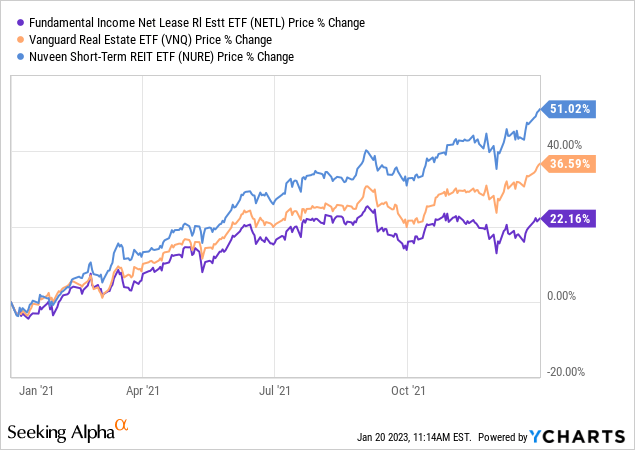 Meanwhile, amid rising inflation in 2021, NETL underperformed and had trouble keeping up with the broader market rally.
In 2022, inflation continued rising for around half the year, but more and more signs began appearing that inflation had peaked, the government stimulus had completely worked through the system, and the Fed's tightening cycle had cooled markets. During this market, up until October, all types of REITs performed about the same.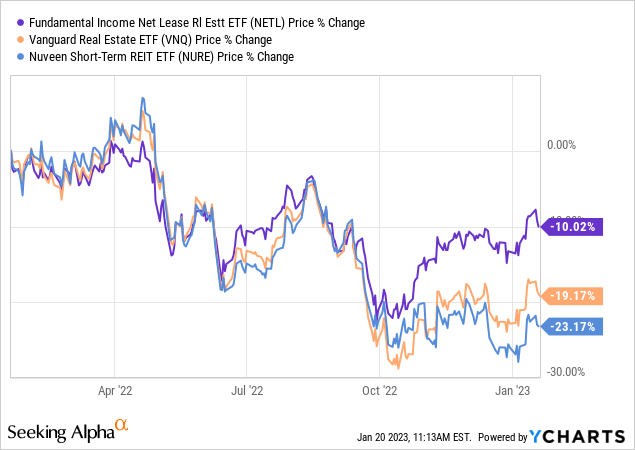 Then, beginning around October, the disinflation narrative really took hold, and with it came the belief that interest rates will eventually follow inflation lower just as they followed it higher in 2021 with a lag.
Since October 2022, NETL has outperformed.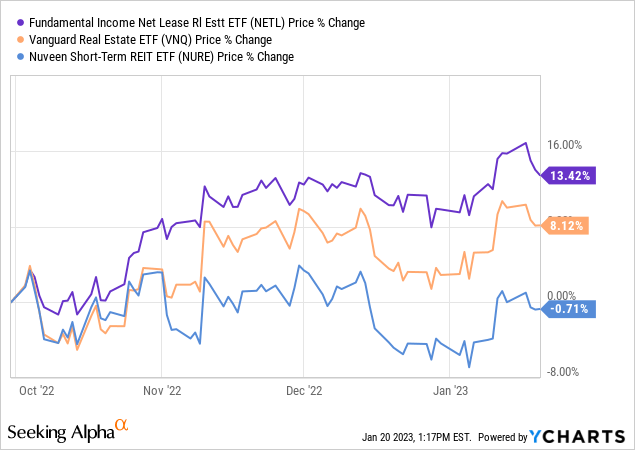 Given my view that inflation and long-term interest rates should continue to fall in 2023, I believe NETL should continue to outperform for the remainder of this year.
Bottom Line
Because of the stability of net leases and the ability to lock in capital multiple quarters in advance of their actual use, net lease REITs typically perform better than the market expects during periods of rising interest rates, at least from a fundamental (FFO per share growth) perspective.
But unsurprisingly, the market shuns net lease REITs during these rising rate periods in favor of more inflation-hedging real estate types.
Given that the surge in inflation is now over for the most part, disinflation has taken hold and will continue for most if not all of 2023. That, in addition to a potential recession, should also cause interest rates to decline and fuel strong price performance of net lease REITs.
The current pullback is a good opportunity for investors to add to their positions in NETL and/or individual net lease REITs.
Source link