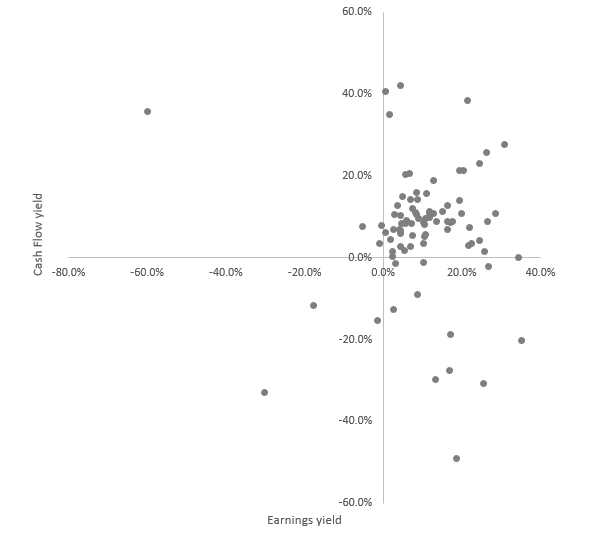 The Invesco S&P SmallCap Consumer Discretionary ETF (NASDAQ:PSCD) is a passively-managed investment vehicle targeting small-sized consumer goods and services players from industries ranging from household durables to automobiles and auto components selected from the S&P 600, the U.S. small-cap barometer.
The allure here is to gain exposure to the frequently underfollowed and commonly underrated corner of the U.S. market where value plays are aplenty, especially during a cyclical downturn, and reap benefits from them seeing share price growth on the back of improving financial results with unchanged multiples or from them appreciating thanks to both better metrics and multiples expansion when economic conditions become buoyant enough.
The essential issue with most consumer discretionary portfolios is a tech or quasi-tech component represented by Tesla (TSLA) and Amazon (AMZN), which at this juncture combined account for almost 33% of the Consumer Discretionary Select Sector SPDR ETF (XLY) even after a merely harrowing year, let alone in January 2022, when both had not seen their prices declining that much yet, and thus accounting for 41.6% of the XLY portfolio as can be seen on the fund's webpage saved by the Wayback Machine.
The hypothetical solution is to apply a size factor screen, filtering out mega-caps and thus removing top names easily and subsequently making valuation more comfortable across the board if this is what an investor pursues after all; as a rule, when the weighted-average market capitalization goes down, the earnings yield goes up, and vice versa.
Another way of saying, if XLY is the question, PSCD is the answer, and a maximalist one, since its weighted-average market cap is just marginally above $2 billion, as per my calculations, vs. XLY's $317.2 billion.
But is an ex-TSLA, AMZN mix poised to outperform in 2023? Are there any hidden downsides the fund has? Let us delve deeper to elaborate on that.
PSCD portfolio: inexpensive mix with adequate quality
PSCD tracks the S&P SmallCap 600 Capped Consumer Discretionary Index, which is float-adjusted market-cap-weighted, with a few constraints applied. The benchmark is reconstituted and rebalanced each quarter.
As of January 6, PSCD had a portfolio of 86 equities, with about 26.6% deployed to the primary ten. The three industries PSCD is overweight are specialty retail (almost 37%), household durables (19.7%), and hotels, restaurants & leisure (14.4%). Its largest investment with a 3.6% weight is Academy Sports and Outdoors (ASO), a $4.1 billion company selling sporting goods and outdoor recreational products, with the Last Twelve Months revenue of $6.46 billion.
In fact, the equity mix we see at the moment is tilted toward medium-size stocks, not small-caps, with companies valued at less than $2 billion accounting for just 23.5%, chiefly as a consequence of the market-cap weighting. It should also be noted that a meaningful group of firms have sales below $3 billion, with a weighted average for the portfolio at $3.8 billion.
Turning to factors, the first one in focus is valuation. Despite dovish arguments largely supported by the recent jobs data, I believe it is still worth maintaining substantial exposure to the value factor to prepare for any inflation or interest rate surprises, and ignoring it only amplifies risks. Is the PSCD portfolio priced adequately? Mostly yes, though the situation is nuanced, as usual.
First, its weighted-average earnings yield is 10.7% (a Price/Earnings of 9.4x), as per my calculations, which is above the S&P 600 index's yield of 8.7% (a P/E of 11.5x).
Another pleasant surprise is the cash flow and debt-adjusted earnings yields (EBITDA/Enterprise Value), again weighted-average, which stand at 7.45% and 9.9%, respectively.
The WA Price/Sales of 0.9x is simply excellent, especially considering the WA forward revenue growth rate is above 13%.
Finally, 45% of the holdings have no less than a B- Quant Valuation rating, which implies they are valued at an attractive discount to the sector. Nevertheless, almost a quarter has a worrisome D+ rating or worse.
To contextualize, the scatter plot below shows the earnings and cash yields for the 85 holdings. Please note that a negative figure means a company is either loss-making or cash-burning. Bed Bath & Beyond (BBBY), with its negative almost 400% cash and negative 758% earnings yield and a D- Profitability grade was removed intentionally, to improve the readability of the chart.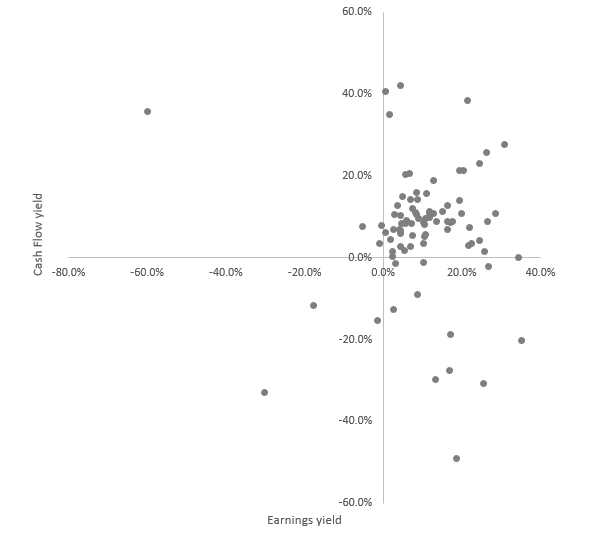 Now, quality. It is acceptable, without something I would especially appreciate. There are flaws, a couple of.
First, a significant share of companies was incapable of delivering positive LTM net operating cash flows, over 15%, including BBBY, but its weight is meager, just 9 bps. More likely, this was the consequence of working capital fluctuations, not necessarily pointing to a broken business model, something most consumer discretionary players have to address in certain cases. For instance, in my January 2019 article on Hugo Boss (OTCPK:BOSSY), an iconic suitmaker, I discussed its poor cash flow performance mentioning sharply increased inventory because of disappointing sales resulting in working capital headwinds.
Second, almost 8% of holdings have a D+ Profitability rating or worse.
On the positive side, most companies have decent EBITDA margins and Returns on Total Capital, as illustrated below.
In terms of balance sheet health, there is also something to like in this portfolio as over 62% of the firms have a Total Debt/EBITDA ratio of 3x or lower, as per my analysis, not a perfect result as investors seeking debt-lighter companies would more likely note here but again comparatively acceptable.
Ultimately, close to 70% of holdings have a Quant Profitability rating of B- and better, which is more than an adequate result for a small/mid-cap mix.
The table below with the key value, quality, and growth data compiled for the major ten holdings is supposed to provide fuller context.
One essential disadvantage
An appealingly valued small-size consumer discretionary ETF with a modest expense ratio of 30 bps. At first glance, an ideal long play in the current environment, especially after a 21% one-year decline. What might go wrong?
The paramount issue here is that PSCD has only about $24.2 million in total assets under management, which is close to the pandemic era nadir touched in 2020 when investors were rotating out of consumer-centered funds anticipating a painful coronavirus lockdowns-driven recession.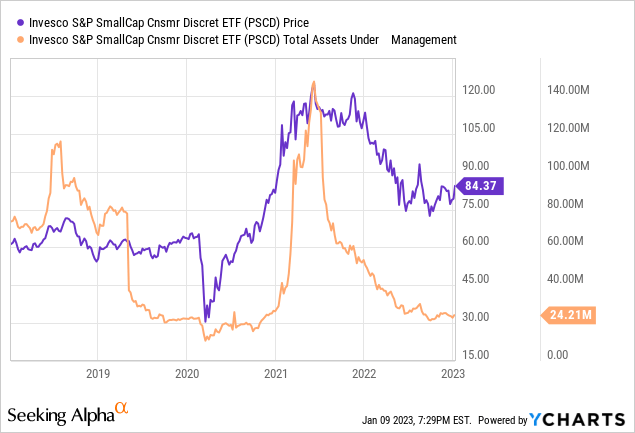 The asset flows data are not pointing to an improvement. On top of that, the 30-day median bid/ask spread is 20 bps. Juxtaposed to XLY's 1 bps, it is barely competitive, to say the least. This is a concern that I cannot easily bypass. That is to say, a Hold rating is the one I find optimal.
Final thoughts
PSCD is an ex-Tesla and Amazon consumer discretionary portfolio overweight specialty retail. Without exposure to the overpriced bellwethers, PSCD easily solves XLY's valuation problem, surprisingly, also not compromising on quality (too much) as illustrated above. Partly, this is the consequence of the financial viability screen used by the S&P 600 which forms its selection universe.
Its past performance is mostly a disappointment. Incepted on 7 April 2010, during the May 2010 – December 2022 period, the fund underperformed the iShares Core S&P 500 ETF (IVV), SPDR S&P 600 Small Cap ETF (SLY), and XLY, delivering a 9.8% compound annual growth rate, with the highest standard deviation in the group and the weakest risk-adjusted returns. The silver lining is its best-year result (almost 50% delivered in 2013). It also has the lowest correlation with the market, a fact diversification-focused investors would likely appreciate.
| | | | | |
| --- | --- | --- | --- | --- |
| Portfolio | PSCD | IVV | XLY | SLY |
| Initial Balance | $10,000 | $10,000 | $10,000 | $10,000 |
| Final Balance | $32,803 | $41,303 | $43,906 | $35,697 |
| CAGR | 9.83% | 11.85% | 12.39% | 10.57% |
| Stdev | 24.76% | 14.89% | 18.25% | 19.37% |
| Best Year | 49.59% | 32.30% | 42.73% | 41.04% |
| Worst Year | -28.05% | -18.16% | -36.27% | -16.06% |
| Max. Drawdown | -48.90% | -23.93% | -36.27% | -36.24% |
| Sharpe Ratio | 0.48 | 0.79 | 0.7 | 0.59 |
| Sortino Ratio | 0.74 | 1.23 | 1.12 | 0.89 |
| Market Correlation | 0.82 | 1 | 0.92 | 0.92 |
Created by the author using data from Portfolio Visualizer
Last year, it beat Amazon- and Tesla-heavy XLY but underperformed IVV and SLY.
| | | | | |
| --- | --- | --- | --- | --- |
| Portfolio | PSCD | IVV | XLY | SLY |
| Initial Balance | $10,000 | $10,000 | $10,000 | $10,000 |
| Final Balance | $7,195 | $8,184 | $6,373 | $8,394 |
| CAGR | -28.05% | -18.16% | -36.27% | -16.06% |
| Stdev | 28.43% | 23.13% | 30.27% | 25.80% |
| Max. Drawdown | -34.92% | -23.93% | -36.27% | -23.11% |
| Sharpe Ratio | -1.08 | -0.83 | -1.39 | -0.63 |
| Sortino Ratio | -1.36 | -1.06 | -1.67 | -0.85 |
| Market Correlation | 0.9 | 1 | 0.88 | 0.96 |
Created by the author using data from Portfolio Visualizer
To conclude, elevated volatility and meager AUM are the two factors that weigh on my rating, which is Hold at this point.
Source link