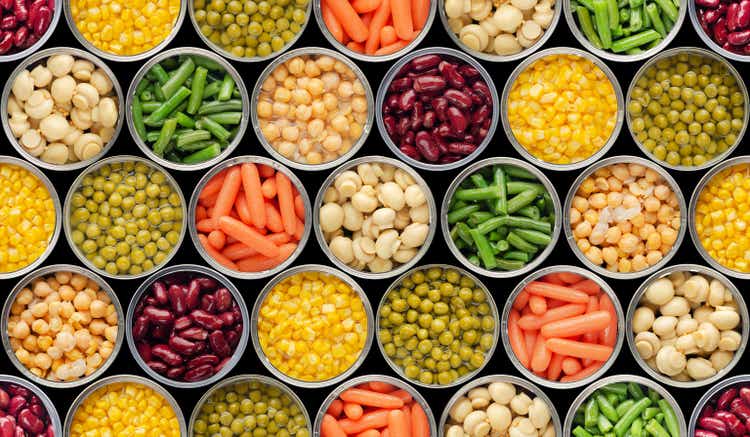 Preamble
The start of a new year is always a good time to reread and relisten to advice from legends in the investment world. Charlie Munger is one of these legends.
If you are not willing to react with equanimity to a market price decline of 50% 2 or 3 times a century, you're not fit be a common shareholder and you deserve the mediocre result you're going to get.
2022 was a time that tested my resolve as a common shareholder. Although my portfolio as a whole remained positive for the most part, there were more than a few times when I could not sleep well at night.
If you have had similar experiences, and you wish to reduce such gut-wrenching experiences, you should consider Silgan Holdings (NYSE:SLGN). I believe SLGN will let investors sleep through bad storms like a baby, regardless of price movements.
Business Overview
The screen grab below summarizes Silgan's businesses.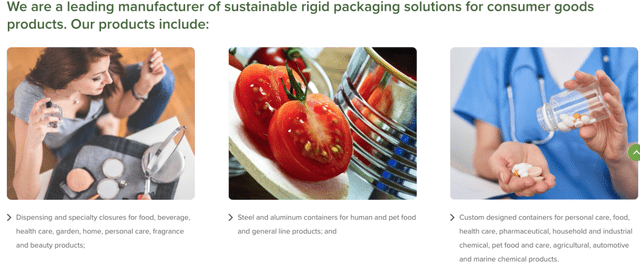 Silgan Holdings is a global supplier of sustainable rigid packaging solutions for consumer goods products. It has three business segments, namely (1) metal containers, (2) custom containers, and (3) dispensing and specialty closures.
Let's discuss each business segment in more depth.
Steel and Aluminum Containers: 49.5% of 2021 Consolidated Sales

Growing at CAGR of 7.3%
SLGN began in 1987 as a manufacturer of metal containers. Now it has become the largest manufacturer of metal food containers with slightly more than half of the market share in the United States. SLGN makes and sells steel and aluminum containers that are used by processors and packagers for food products, such as pet food, vegetables, soup, proteins, tomato-based products, adult nutritional drinks, fruit, and other miscellaneous food products, as well as general line metal containers primarily for chemicals. In 2021, this business segment brought in $2.81 billion in sales, resulting in $253.7 million, or 41.7% of its consolidated income.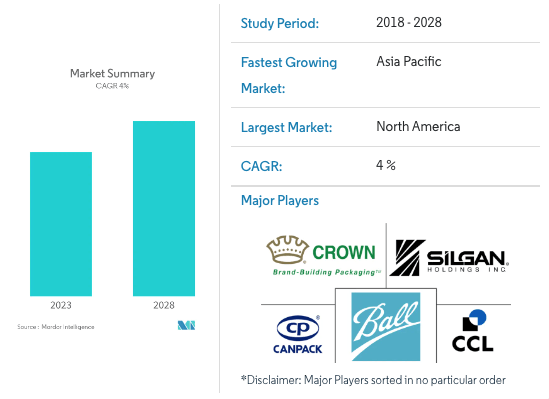 This is a mature industry that grows steadily at a CAGR of 4%, which is in line with SLGN's expectations in 2023. CEO Adam Greenlee shared his preliminary forecast for this segment at the Q3 2022 conference call,
If you think about metal containers and that's going to be low single-digit volume growth. And again, that's a lot of what we talked about. It's going to be another good pack next year, nothing extraordinary, just a normal good pack.
Custom Containers: 12.5% of 2021

Consolidated

Sales Growing at CAGR of 6.3%
Also in 1987, SLGN started producing custom containers from a full range of resin materials and offered a comprehensive array of molding and decorating capabilities. It is one of the leading manufacturers of custom-designed rigid plastic containers for shelf-stable food and personal care products in North America.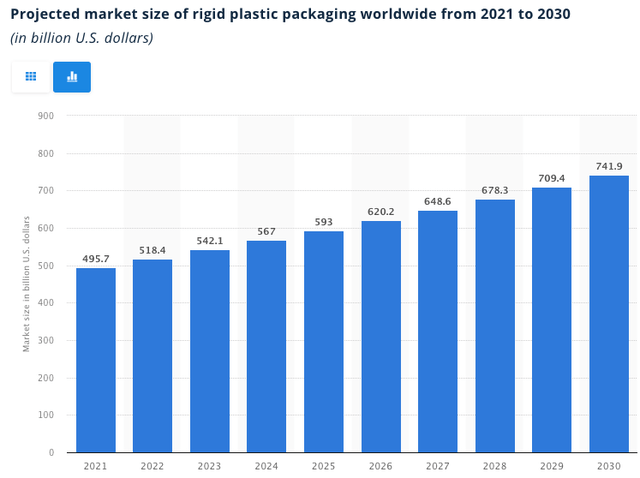 In 2021, SLGN's custom container business had net sales of over $700 million resulting in $92.4 million or 15.2% of its consolidated income. And that $700 million in sales is just over 0.14% of the $495.7 billion global market. Although SLGN is operating in a mature industry, it is clearly a huge and fragmented one that offers many opportunities to steadily increase market share, especially if SLGN has future plans to expand overseas.
Even if SLGN were to focus its attention solely on the North American market, it is still a huge $138.8 billion market of which SLGN has just 0.5%.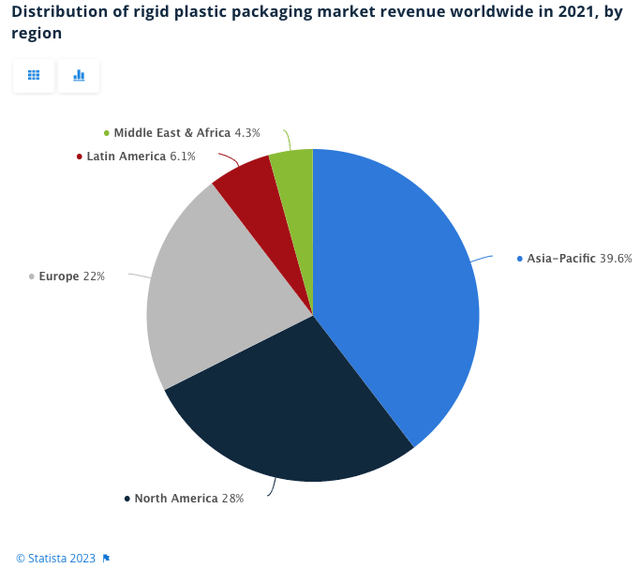 CEO forecasts slow but growth nonetheless in 2023 for this segment,
… we continue to believe that we will deliver something to the tune of low single-digit kind of volume growth in custom containers.
Dispensing and Specialty Closures: 38.0% of 2021

Consolidated

Sales

Growing at CAGR of 13.9%
In 2003, SLGN started this business segment to manufacture dispensing and specialty closures for food, beverage, health care, garden, home, personal care, fragrance, and beauty products. This dispensing and specialty closures business provides SLGN's customers with a wide array of innovative dispensing system solutions, including integrated dispensing packaging solutions, and proprietary metal and plastic specialty closures that ensure closure quality and safety. This last segment is also SLGN's fastest-growing segment with a historical CAGR of 13.9%.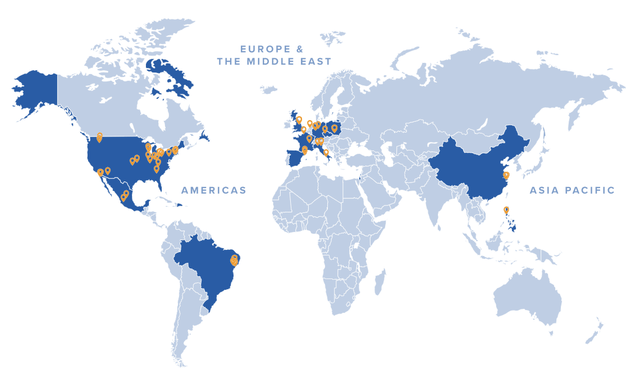 By locating the 46 dispensing and specialty closures manufacturing facilities located in North America (28% of global plastic packaging market revenue), Europe (22%), Asia (39.6%), and South America (6.1%), SLGN positioned itself to gain from regions that are growing much faster than the United States. And from these 46 locations, SLGN serves over 100 countries throughout the world. In 2021, this business segment brought in net sales of $2.16 billion and accounted for 43.1% ($262.1 million) of the consolidated income.
Having read the brief overview of SLGN's business, you probably did not go, "Wow! Isn't that an exciting business?"
However, this is the kind of business that makes my eyes light up and my heart races a little faster.
SLGN's 6 SWAN-like Attributes
Let's examine SLGN's six SWAN-like attributes in the following ways.
1) SLGN has SWAN-like Clients
Let's take a look at the list of clients SLGN serves, the industries they operate in, and the expected revenue growth rate in 2023 (based on estimates by SPGI analysts).
Business Segment

% Of 2021 Income

Companies served

Industry

Expected Revenue Growth in 2023

Steel and Aluminium Containers

41.7%

B&G Foods (NYSE:BGS)

Consumer Staples: Packaged Foods and Meats

3.4%

Campbell (NYSE:CPB)

3.4%

Conagra Brands (NYSE:CAG)

4.06%

General Mills (NYSE:GIS)

3.83%

Hormel Foods (NYSE:HRL)

4.77%

Kraft Heinz (NASDAQ:KHC)

0.44%

Nestlé S.A. (Pinkslip OTCPK:NSRGY)

4.23%

Thai Union Group (Pink Limited Info OTCPK:TUFBY)

4.19%

Fresh Del Monte Produce (NYSE:FDP)

Consumer Staples: Agricultural Products

2.33%

Custom Containers

15.2%

Campbell

Consumer Staples: Packaged Foods and Meats

3.4%

Conagra Brands

4.06%

General Mills

3.83%

McCormick & Company (NYSE:MCK)

5.88%

TreeHouse Foods (NYSE:THS)

-4.48%

Henkel AG & Co. KGaA (Pink Current Info OTCPK:HENKY)

Consumer Staples: Household Products

2.25%

The Procter & Gamble Company (NYSE:PG)

Health Care:

Pharmaceuticals

Materials: Fertilizers and Agricultural Chemicals

3.17%

Johnson & Johnson (NYSE:JNJ)

5.77%

Perrigo Company (NYSE:PRGO)

-1.81%

The Scotts Miracle-Gro Company (NYSE:SMG)

-5.47%

Dispensing and Specialty Closures

43.1%

Campbell

Consumer Staples: Packaged Foods and Meats

3.4%

Kraft Heinz (NASDAQ:KHC)

0.44%

Nestlé S.A.

4.23%

The Coca-Cola Company (NYSE:KO)

Consumer Staples:

Soft Drinks

10.13%

PepsiCo (NASDAQ:PEP)

7.75%

The Procter & Gamble Company

Consumer Staples: Household Products

3.17%

Spectrum Brand Holdings (NYSE:SPB)

-10.65%

Colgate-Palmolive Company (NYSE:CL)

3.83%

Molson Coors Beverage Company (NYSE:TAP)

Consumer Staples: Brewery

4.31%

Unilever PLC (NYSE:UL)

Consumer Staples: Personal Products

2.5%

Natura & Co (NYSE:NTCO)

6.17%

Estée Lauder Companies (NYSE:EL)

4.39%

L'Oréal S.A. (Pink Limited Info OTCPK:LRLCF)

8.78%

LVMH Moët Hennessy Louis Vuitton (Pink Limited Info OTCPK:LVMHF)

Consumer Discretionary: Apparel, Accessories and Luxury Goods

18.97%

The Scotts Miracle-Gro Company (NYSE:SMG)

Materials: Fertilizers and Agricultural Chemicals

-5.47%
And these are just the ones highlighted in the 2021 10K that are listed on either the NYSE or NASDAQ; there were many other privately held companies like SC Johnson, Hill's Pet Nutrition, and Mars – the second-largest chocolate company in the world – which I did not list above.
You will observe that most of these clients of SLGN:
are blue-chip, multinational companies with billions of dollars in annual revenue
are expected to increase their revenue in 2023
have revenue growth rates in the low to mid-single-digit range
are in the Consumer Staples sector, one that is resilient in the face of inflation as the demand is unlikely to fall off since folks need to use them daily
And even for the handful of companies that are expected to post a decline in revenue in 2023, those figures are not catastrophic, perhaps other than Spectrum Brand Holdings (NYSE:SPB). Therefore, downside risks are minimal. In other words, investing in SLGN is akin to investing in companies with SWAN-like quality and steady growth, and so long as these companies keep expanding, keep marketing their products, and keep selling more, SLGN benefits from making more packaging, more containers, and closure/dispensing products for them.
2) SWAN-like Contractual Arrangements
There are two favorable aspects in the way SLGN structured its contracts.
Firstly, SLGN has multi-year contractual arrangements with most of its clients in all three business segments which provide a guarantee of its future revenue streams. According to the 2021 10K,
In 2021, approximately 90 percent of our metal container sales were pursuant to multi-year supply arrangements. We estimate that approximately 90 percent of our projected metal container sales in 2022 will also be pursuant to multi-year customer supply arrangements. Historically, we have been successful in continuing these multi-year customer supply arrangements.
The following was said with regard to the Custom Containers segment,
We have multi-year supply arrangements with the majority of our customers for our custom containers business. In addition, many of our supply arrangements with our customers are for custom containers made from proprietary molds.
Likewise for the Dispensing and Specialty Closure Segment,
We have multi-year supply arrangements with many of our customers in the United States. Outside of the United States, the dispensing and specialty closures business has had long-term relationships with most of its customers.
To have a sense of just how far ahead management can see into its revenue stream, the following is helpful,
In 2018, we entered into long-term supply agreements with Nestlé that run through 2025 for the supply of all of Nestlé's North American metal food container requirements for pet food and other food products and to support growth initiatives of Nestlé.
Secondly, SLGN is able to pass on rising costs to its clients.
Resin is one of the raw materials SLGN needs. Resin prices are positively correlated to oil prices. When oil prices rebounded vigorously after the March lows in 2020 all the way through 2021, resin prices rose precipitously as well.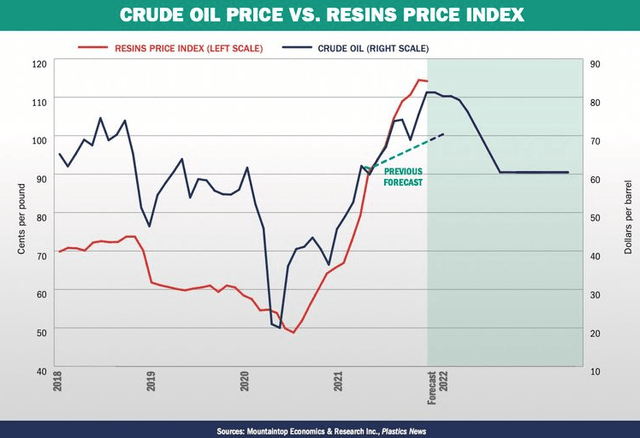 Just as things started to improve at the start of 2022 with supply chain issues resolving gradually, the war in Ukraine sent oil prices – and resin prices – spiking again.
Yet, SLGN was able to increase adjusted operating earnings per share from $2.16 in 2019 to $3.95 by the end of 2022, an increase of 82.9% over three years. The share price appreciated by 66.2% through the pandemic crash as well as the bear market of 2022.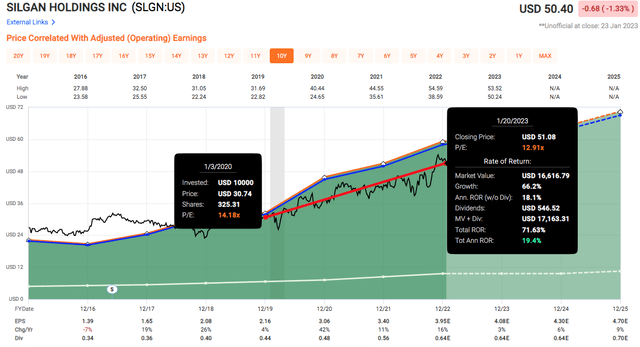 In the 2021 10K, the following on SLGN's ability to pass on costs was expressed:
Our supply agreements with our dispensing systems and specialty closures customers generally provide for the pass through of changes in our metal and resin costs, subject in many cases with respect to resin to a lag in the timing of such pass through. For our dispensing systems and specialty closures customers without long-term agreements, we have also generally increased prices to pass through increases in our metal and resin costs.
Similar supply agreements were also made for contracts in the Metal Containers and Custom Container Business. With this ability to raise prices to pass on costs of raw materials to their customers, and with supply chain issues resolving and hence decreasing transport costs and material costs further, SLGN should expect to see good margins even in the event of a scenario where a stubbornly high inflation rate reduces the volume of goods sold.
3) SWAN-like Indifference to Disruptive Technology
This company makes metal cans and plastic containers. Yes, I grossly oversimplified matters but basically, that is what it makes. This is an industry where the useful lifespan for machinery and equipment is between three years to 20 years (see page 69, F9). This is a company that proudly claims that the "amounts [they] have spent on research and development during the last three fiscal years are not material".
This is unlike the semiconductor industry where the emergence of a faster, more efficient chip from a rival can make the competition's products obsolete almost immediately.
This is not some high-tech AI company where the launch of a single product by a non-profit can suddenly threaten Google's (NASDAQ:GOOGL) close to two decades of dominance in search services and search advertising.
SLGN makes metal and plastic containers. Humans needed these in the past to prolong the shelf life of food. We need these in the present to store liquids and pills. And I am sure in a world with flying cars and jetpacks, we will still need these same products to keep food edible for longer periods and to transport liquids and pills safely.
Yes, technological improvements may improve efficiencies, lower energy costs, increase production rate, and a myriad of other minute operational advancements, but technological improvements will not make one tin can significantly better than another tin can.
4) SWAN-like Indifference to Market Crashes and Rising Inflation
I have already touched on SLGN's ability to pass costs on to their customers. Another SWAN-like characteristic that I look for in a company is how it performed during some of the toughest periods in the past 22 years.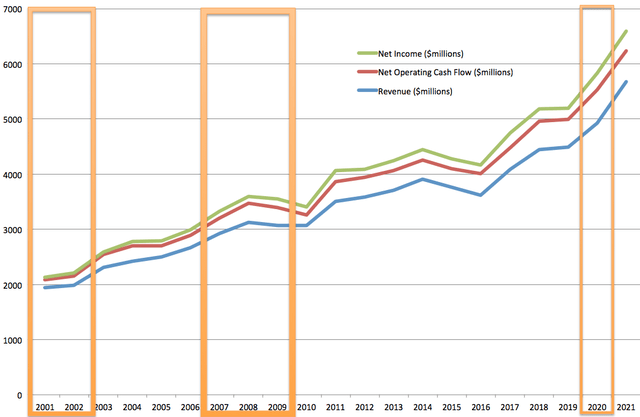 Apart from some slight declines between 2007 to 2008 during the worst of the Great Financial Crisis, the demand as seen from revenue, and profitability from the perspectives of net income and net operating cash flow, held up well in the following time periods 2001-2002, 2007-2009, 2020. Folks still need that bottle of shampoo, that can of Coke/Pepsi, and that Snickers bar, be it good times or bad.
An investor who held SLGN's stock from 2002 to 2022 would have turned $10,000 into $177,522, a market-beating 14.6% total annualized rate of return.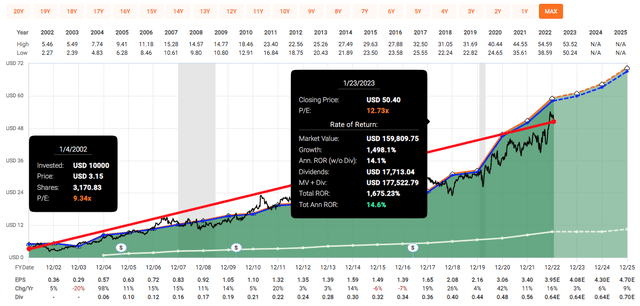 5) SWAN-like Real Returns Regardless of Market Condition – Even a Flat One
When investors are allocating assets to their portfolio, they will do well to have assets that can perform in different market conditions. What if the current inflationary environment remains stubbornly high and becomes a multi-year drag on earnings? What if the stock prices of assets remain stagnant?
Here is where dividends come to the rescue. And SLGN is no slouch in that department.
SLGN belongs to the category of dividend payers known as the Dividend Contenders, companies that have increased dividends for more than 10 years but fewer than 25 years. SLGN has increased its dividend payout for 18 years since 2004. The dividends are well-covered by earnings and at a low payout ratio of just 16.2%, SLGN can easily raise its dividends for the foreseeable future.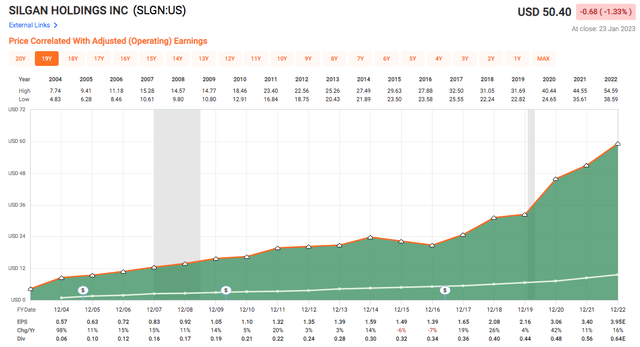 Yes, the 1.27% dividend yield looks embarrassingly smallish. What SLGN does not have in yield size, it makes up amply in yield growth.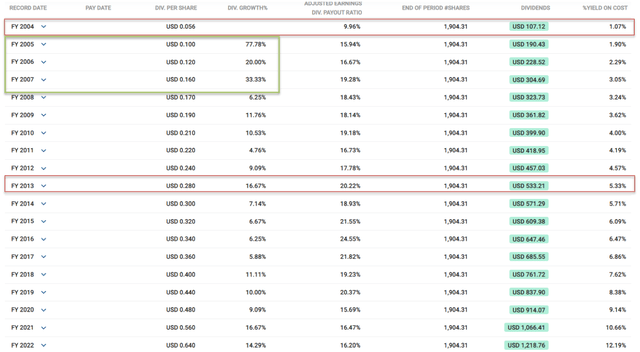 When SLGN first started paying dividends, the dividend yield was just 1.07%. Due to the supercharged rate of dividend growth in 2005, 2006, and 2007, the dividend yield on cost jumped to a respectable 5.33% in just 10 years, and in another eight years, it became a mouth-watering 12.19%.
I am not suggesting that SLGN will be growing dividends at a rate of 77% or even 33%; that would be irresponsible and reckless now, and definitely unSWAN-like.
By stripping out the excessive growth rates of those three years (2005 to 2007), the dividend CAGR from 2008 to 2022 is still an excellent 9.68%.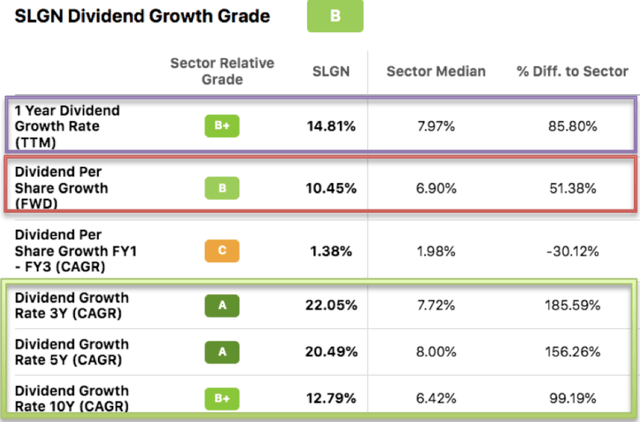 And the 2023 expected dividend growth rate of 10.45% is in line with its 15-year CAGR of 9.68%, and at that rate, I will expect the dividend payout to double in just 7.2 years; and the rate at which it doubles will be even faster if investors reinvest those dividends. Also, SLGN's dividend growth rate is certainly ahead of the pack over all the time frames considered here. What is there not to like?
Therefore, even if the stock price stays put for the next 10 years, I will still get to collect an annual dividend that grows annually at around 10% which easily beats inflation.
6) SWAN-like Insider Ownership
SLGN insiders hold a HUGE chunk of outstanding shares, like 24.31% of the float.

This gives me the assurance that management will be incentivized to align their long-term actions to benefit shareholders. On the flip side, it may suggest that management may take on less risk since more of their skin is in the game. However, since SLGN is meant to be a SWAN-like holding, I will sleep well at night knowing that a motivated management team is taking good care of SLGN.
Why is SLGN SWAN-like and not 100% SWAN?
Lest you think that SLGN is a one-in-a-million gem, it is not. Like all investments, there are some risks with investing in SLGN. These come from operating in a slow-growth, no-moat industry with lots of competition, significant insider selling in 2022, the non-investment grade rating of BB+ raising concerns about loan repayment, the concentration risk with Nestle, and acquisition risks.
Competition
SLGN is not the only container manufacturing company in town. In the table below, I listed five competitors.

From a product point of view, other than its market-dominating position in the Metal Containers business segment, I doubt that SLGN has much of a moat in the other two categories. SWANs should have moats that make it hard for competitors to come in to take market share. In this segment, I shall look at the competitors and how SLGN fares against them in terms of long-term performance and growth potential.
SLGN has the Second Best Performance and a Lower Beta
When I examined their total return results over a 10-year period, SLGN came in second. Berry Global Group (NYSE:BERY) actually tops the list.

However, SLGN is more SWAN-like because its beta of 0.81 is much lower than BERY's 1.2, making its stock price movement less volatile, and easier for investors to stick with it through the troughs.
SLGN Boast of Double-Digits…
SLGN and friends operate in the mature business of the packaging industry where growth in the mid-single digit is normal.

Yet, SLGN is the only company on this list that reported
double-digit revenue growth yoy
double-digit net income growth yoy
double-digit diluted EPS growth yoy
double-digit 3-year revenue CAGR
double-digit 5-year revenue CAGR
double-digit 3-year income CAGR.
SLGN is also the only one on the list expected to have
double-digit revenue growth in 2023
double-digit EPS growth in 2023.
If I have to invest in a mature, low-growth industry, I will definitely pick the best-of-breed to invest in.
Insider Selling
I mentioned earlier the positive alignment of management's interests to shareholders due to the high percentage of insider ownership. Of course, it is a less positive sign when there has only been selling by insiders in 2022.

Selling by insiders is not necessarily a bad thing but it is something to take note of when the CFO offloaded 9.4% of his shares and the Chairman of the board sold 11.1% of his.
Credit Rating Is Not Investment Grade
SLGN's credit rating is BB+. According to the rating agency FitchRatings,
BB' ratings indicate an elevated vulnerability to default risk, particularly in the event of adverse changes in business or economic conditions over time; however, business or financial flexibility exists that supports the servicing of financial commitments.
FitchRating provided additional commentary about SLGN here,
The rating reflects the company's leading positions within the North America metal food and rigid plastic container markets, as well as growing specialty closures segment, serving stable end markets, history of positive free cash flow generation, and adherence to its 2.5x-3.5x financial policy post-acquisitions.

Fitch expects Silgan to generate annual free cash flow, after dividends, growing toward the $400 million range over the next several years, which will allow a reduction in leverage from the 4.6x gross debt/EBITDA (3.8x net) estimated at YE 2021 to under 3.5x at the beginning of 2023. Fitch expects modestly sized M&A transactions over the forecast period will be accommodated within this leverage range.
In other words, SLGN is definitely not a Johnson & Johnson (NYSE:JNJ) with a AAA credit rating. However, it is a viable and strong business that has the ability to pay back its loans.
As a shareholder, I consider credit ratings because I am always concerned if my company can pay back its loans. To be extra sure, I look into its operating income, operating income growth, and loan obligations. Based on TTM figures (as Q4 2022 earnings are not ready at the point of writing this), SLGN generated $638.8 million in operating income in 2022.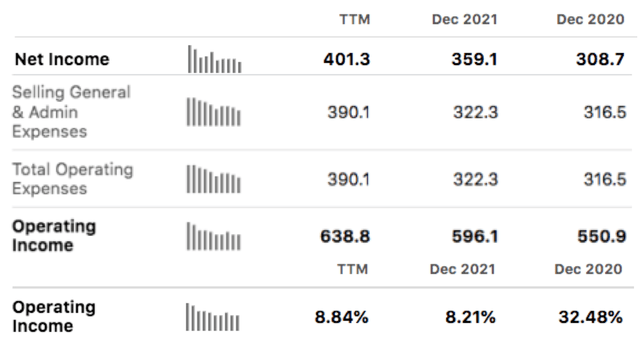 Assuming this figure grows at a rate of 10% per year, which is less than the past three years' average operating earnings growth rate of 16%, that translates to the following operating income projection for operating income:
2023 $704 million
2024 $774 million
2025 $851 million
2026 $937 million
And based on these projected operating earnings growth figures of 10% a year, paying off the contractual obligations (including lease, pension, interest on both fixed and variable rate debt, etc.), and after subtracting approximately $200 million per year in income tax (assuming a 25% tax rate), the debt obligations for 2023 and 2024 should not be an issue.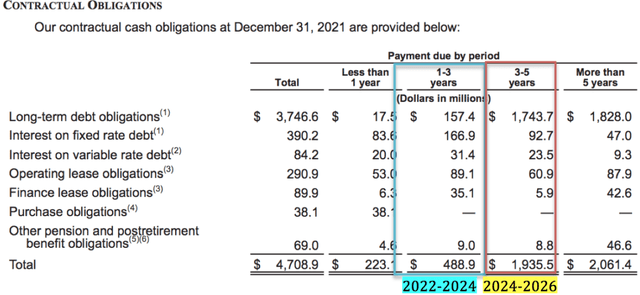 The total contractual obligations would jump during 2024-2026. Since SLGN does have $2,332 million in current assets as of 23 January 2023, of which $243 million is in cash and cash equivalents, full repayment should not be an issue.
Concentration Risk with Nestle
Nestle is SLGN's only client to be responsible for more than 10% of its consolidated revenue.
According to the 2021 10K,
Approximately 12 percent, 11 percent and 12 percent of our consolidated net sales were to Nestlé in 2021, 2020 and 2019, respectively. No other customer accounted for more than 10 percent of our total consolidated net sales during those years.
This is something shareholders should keep an eye on. However, I will not be overly concerned as Nestle has entered into long-term supply agreements with SLGN that run through 2025 for the supply of all of Nestlé's North American metal food container requirements for pet food and other food products and to support growth initiatives of Nestlé.
Acquisition Risks
SLGN is a company that grows via mergers and acquisitions. Since SLGN's inception in 1987, it has acquired forty businesses, including three in 2021. As with all acquisitions, SLGN needs to take on debt and needs to repay those debts. It will always run the risk of overpaying. There could be issues with achieving synergies and management needs to expend effort and time to achieve operational efficiencies and reduce costs every time an M&A takes place.
I am glad to see that key members of the management team have tremendous experience working in SLGN. The CEO has been with SLGN since 2005. The CFO has been serving in the same capacity since 2004. The Executive Vice President has been with SLGN since 1997. To quote the words of another CEO, "we've got a lot of experience sitting around this table. There are very few things that we have not seen".
Valuation

Based on the current valuation from the P/E and P/S perspectives, I would say that SLGN is fairly valued, and is at best a tentative starter position buy to a hold. Earnings are expected to be announced after hours on 24 January 2023. If the results are lackluster or investors decide to sell, that will create a better buying opportunity.
SPGI analysts believe that SLGN can generate 10.15% in revenue growth and 10.1% in EPS growth in 2023. FactSet analysts are less optimistic and forecast a lower adjusted operating earnings growth rate of 3.16%, which is closer to the conservative guidance given by the CEO during the Q3 2022 conference call.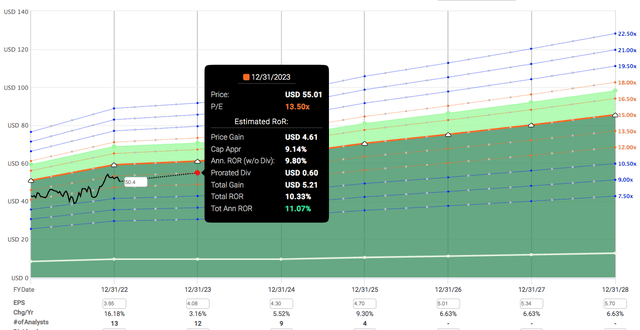 Over a 10-year period, SLGN trades at a normal PE of around 16-17. To factor in a margin of safety, I used a lower P/E of 13.5, and used FactSet's lower earnings growth rate of 3.16% (instead of SPGI's 10% figures). In that scenario, SLGN can still potentially return 11.07% by the end of 2023.
Of course, the 10.1% earnings growth rate forecast by SPGI analysts is possible too. SLGN did beat the earnings estimates 100% of the time for the past eight quarters, and it achieved that despite headwinds such as rising resin costs and rising interest rates (around 30-40% of the loans are on a floating rate).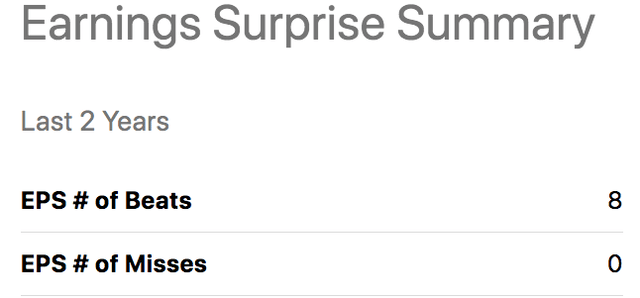 Conclusion
Silgan Holdings is not an official SWAN stock. But it boasts six SWAN-like attributes.
SLGN is not a Dividend Aristocrat. But with 18 years of paying and raising dividends at a 10% CAGR, it is getting there.
SLGN is not a growth stock. But it is the only company among its peers to achieve double-digit growth in revenue and earnings and is the only one forecasted by SPGI analysts to grow revenue and earnings at double-digits in 2023.
SLGN is not a SWAN as there are some risks with investing in it. However, these risks are fairly well mitigated and should be under control.
When considering all these, SLGN is just the kind of simple, boring, pick-and-shovel type stock that will allow me to sleep well at night, with expectations of future growth. It is certainly not dirt cheap now but there is sufficient upside to warrant a "starter position buy".
I started off this article with a quote from Charlie Munger. I would like to end with a story the great Warren Buffett once told about Gillette,
It's pleasant to go to bed every night knowing there are 2.5 billion males in the world who have to shave in the morning. A lot of the world is using the same blade King Gillette invented almost 100 years ago.
I feel the same about SLGN's products. If I may be so audacious as to paraphrase one of my investment heroes,
It's pleasant to go to bed every night knowing everyday there are 6 billion people – as well as their pets – in the world who have to use products that are kept in the containers made by Silgan.
Source link