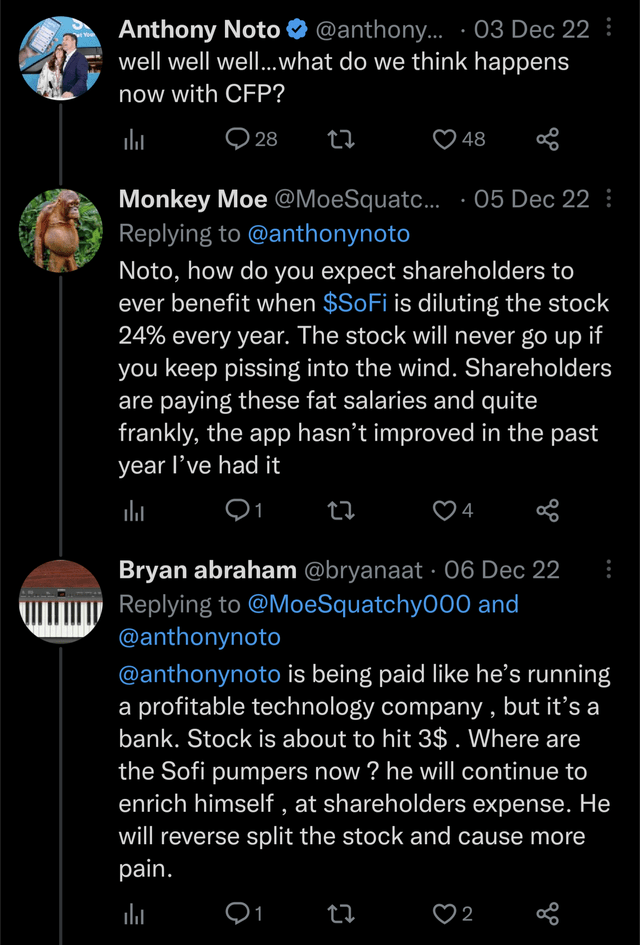 The narrative surrounding a stock moves from time to time, and I like to address that narrative as it shifts. Most recently the narrative surrounding SoFi (NASDAQ:SOFI) has orbited around accounting, profitability, growth trajectories, liquidity and stock-based compensation (SBC). I covered many of these at length in my last article where I discussed SoFi's biggest risks and why I believe that SoFi will overcome them. This isn't going to be a typical article where I cover SoFi in general. I did a comprehensive look at SoFi in the article linked above, and I encourage you to read that if that's what you are looking for. Today, we are going very deep on a specific subject that has been a real point of contention and confusion to a lot of investors, myself included. Hopefully this will bring light and clarity to that discussion.
Before I begin, I want to illustrate that SoFi cares about retail investors. As part of my research for this article, I reached out to SoFi Investor Relations to get some clarification. This was after CFO Chris Lapointe had directly responded to some of my questions about SoFi's SBC. My response from IR was an offer of a 15-minute direct phone call with Chris Lapointe that ended up extending to almost 25 minutes. He took time out of his schedule to meet with a retail investor contributor on Seeking Alpha (me), who writes articles to an audience of retail investors (you). Management cares. A few quotes from that call are included below, with written permission from SoFi.
The SBC knock on SoFi
I already discussed stock-based compensation at SoFi once, but my understanding has grown since then and I'd like to correct some of the things I got flat out wrong and expand on what I've learned in the meantime. SBC is one of the favorite knocks on SoFi. The refrain is pretty similar, management is enriching themselves at the expense of shareholders by granting themselves a boatload of free shares and diluting shareholders into oblivion. CEO Anthony Noto relentlessly gets hammered about this issue all the time, especially on Twitter. As a former collegiate football player, former CFO of the NFL, and former CFO and COO of Twitter, it should come as no surprise that he's a football fan and often tweets about football. That gives disgruntled shareholders the chance to serve up non sequiturs like these (for those who know little about sports, CFP stands for college football playoff):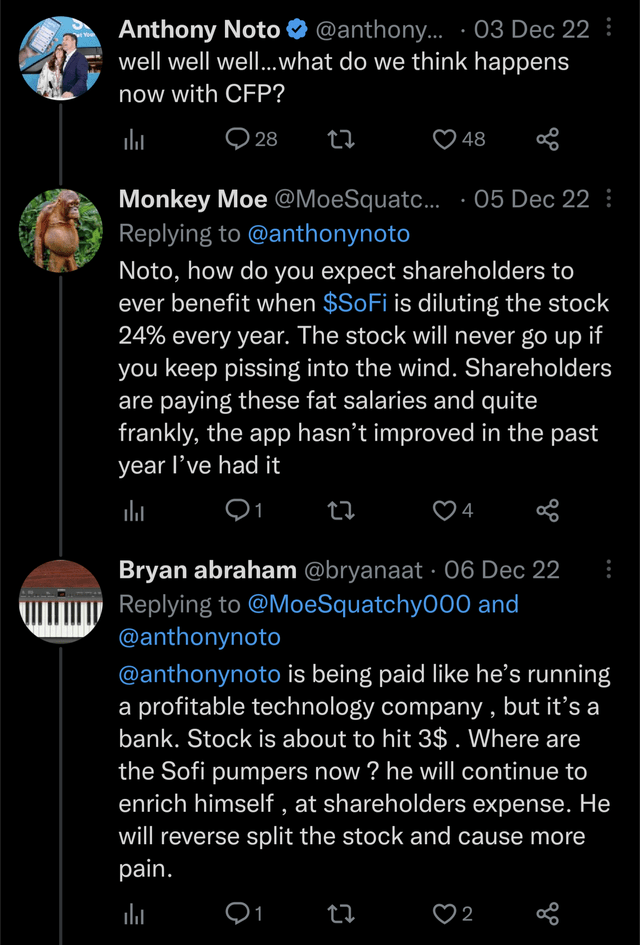 We'll cover the details of Noto's SBC below.
SBC is bad for investors for two main reasons. First it leads to dilution and second is that it weighs on GAAP profitability. Let's look at these individually:
Dilution
Dilution happens when a company issues more shares, causing its total shares outstanding to rise and decreasing the worth of those shares. For example, if company X was worth $100 (its market cap) and had 40 shares, each share would be worth $2.50. If company X now sells 10 new shares out onto the market, and the company is still worth only $100, then there are 50 total shares and each share is only worth $2. Existing shareholders just lost 20% of the value of their investment. Dilution on its own is not a good thing, but if the growth of market cap outpaces the dilution, investors can still profit. If company X had grown in market cap to $150, then each share would be worth $3 even with the dilution. The shares that are used for SBC are not purchased off the open market and then given to employees, they are new shares that are created and therefore they dilute existing shares.
GAAP profitability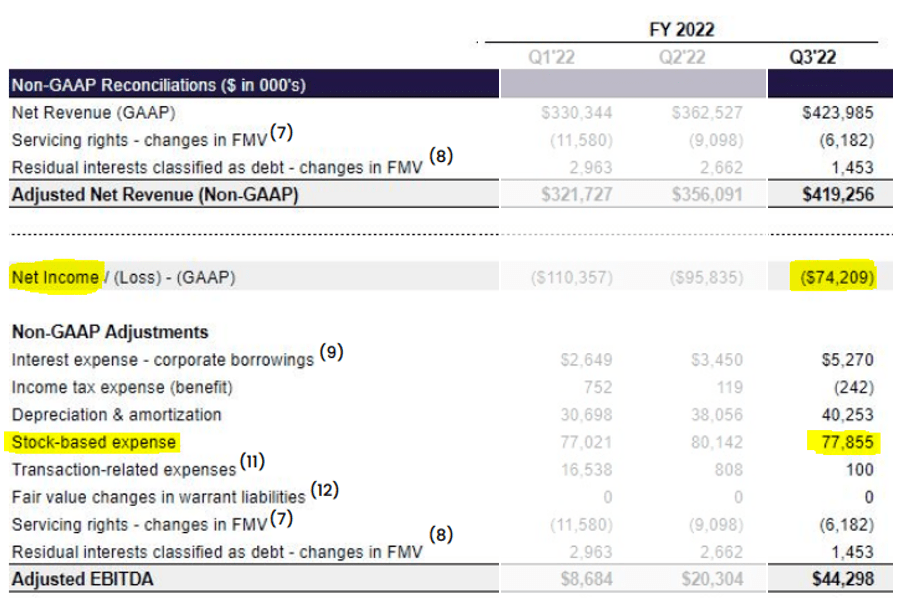 SBC is a non-cash expense, but it is a real expense. The company compensates their employees with shares of common stock in addition to their salary. This helps them with cash burn as they can pay in stock instead of real dollars. Generally Accepted Accounting Principles (GAAP) requires that this expense is deducted from the company's bottom line. In 3Q22, SoFi had a net loss of $74.2M and had SBC of $77.9M. That means, all else equal, if they had $0 in SBC, they'd already be profitable. In a macro environment where profitability has become such an important piece of the valuation puzzle, this drag on earnings hurts the stock.
SoFi's SBC
Alright, now that we have the proper context, let's dig into the details. The next few sections are going to get down into the weeds on the types of stock units that SoFi uses and how they are expensed. After that I'll go back to a higher level to provide some analysis on what this means for investors and the company. The vast majority of SoFi's SBC falls into two buckets, restricted stock units (RSUs) and performance stock units (PSUs). There are a few stock options that also need to be accounted for, but at this point they make up around 1% of quarterly SBC, so I'm excluding them from this discussion. This discussion requires a few definitions up front so that it all makes sense. Stock units are "granted" when they are promised to an employee. They are "vested" or "awarded" when the stock units into actual shares owned by the employee after meeting the requirements. They are "forfeited" if the requirements are not met (either because they leave the company or other conditions are not met). A "servicing period" is the time over which the shares are expensed.
Restricted Stock Units
The majority of SoFi's SBC is in the form of RSUs. RSUs are granted to an employee and have a certain vesting period, after which they are awarded to the employee as long as that employee is still at SoFi. RSU accounting is pretty straightforward. The fair value of the RSU is determined on the grant date and the servicing period is the same as the vesting period. The cost is expensed over the vesting period. The shares are then awarded at the stock price on the day of the award. This is what is meant by Chris Lapointe's tweets regarding RSUs: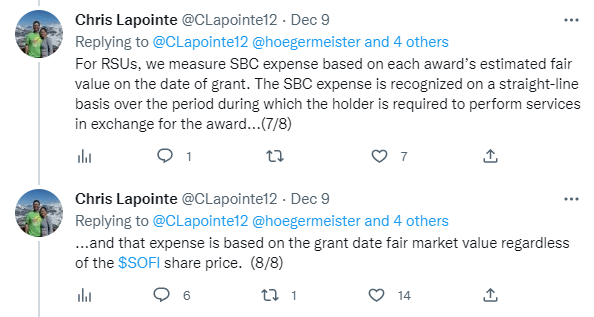 The easiest way to understand this is with an example. A hypothetical executive received 500,000 RSUs on 9/30/2021 when the stock price closed at $15.88. The grant date fair value of stock is 500,000 x $15.88, which is $7,940,000. Let's say that the vesting period on those shares was one year. These RSUs are therefore expensed over the 4 quarters of the vesting period and they are expensed evenly over those quarters, leading to $1,985,000 of SBC for 4Q21, 1Q22, 2Q22, and 3Q22. She received those 500,000 shares on 9/30/22 and at that point they were worth $4.88 each, so her award is only worth $2,440,000 when received (about half of which she will have to sell immediately to cover taxes). Nevertheless, the SBC expensed for 3Q22 was still $1,985,000. The RSUs are still expensed at that fair value of $15.88 per share even though the stock price has decreased substantially. Our executive received shares that are worth less than a third of the cost that SoFi had to pay in GAAP Net Income for them. The only thing that matters for the company's quarterly expensed SBC is the fair value when they were granted in 2021. What the stock price does after that, and what the shares are worth when they are awarded does not affect quarterly SBC in the slightest. So at the end of the day, SoFi would have paid $7.94M in GAAP SBC expensed over one year for that executive to end up with compensation worth about $2.44M, of which she'd end up with shares worth about $1.2M once taxes are paid.
That example is somewhat simplified. SoFi's RSUs (and most RSUs) typically don't vest all at the same time. The granted shares usually start vesting 6 months or one year after they are granted. The shares continue to vest in equal increments over about 4 or 5 years, when the entire grant has been vested. Some employees, like CEO Anthony Noto, have some RSUs that vest on a monthly basis.
SoFi is Still Giving a Lot of RSUs
Here is a table of key information around RSUs since SoFi has come public. This breaks down the total RSUs outstanding as of the end of that quarter, how many were granted during that quarter, how many were forfeited, and how many were vested, or awarded, to employees. Also included is the weighted average fair value of the outstanding RSUs. All values are in millions of RSUs except the fair value numbers, which are in $/share.
| | | | | | |
| --- | --- | --- | --- | --- | --- |
| | Outstanding | Granted | Forfeited | Vested | WA Fair Value |
| 2Q21 | 53.13 | – | – | – | $10.86 |
| 3Q21 | 53.32 | 6.27 | 1.90 | 4.17 | $11.65 |
| 4Q21 | 48.69 | 1.75 | 1.99 | 4.40 | $12.23 |
| 1Q22 | 62.63 | 19.55 | 1.28 | 4.95 | $11.52 |
| 2Q22 | 60.74 | 8.14 | 3.67 | 6.36 | $10.95 |
| 3Q22 | 63.95 | 13.12 | 4.48 | 5.43 | $10.03 |
Outstanding RSUs has been on an upward trend this year, which is not good from a dilution standpoint. From an SBC accounting perspective, the weighted average fair value of the outstanding shares is decreasing, which means that the total value of unrecognized SBCs has risen, but not as much as the outstanding RSUs.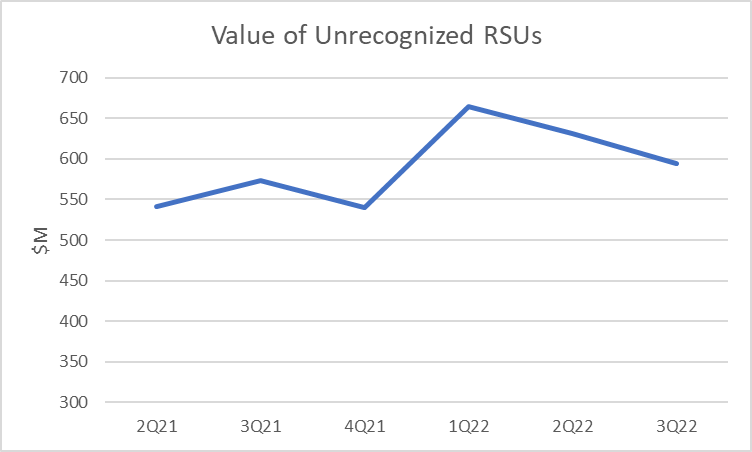 Performance Stock Units
Performance stock units require certain targets to be met in addition to still being employed by SoFi. There was a large amount of PSUs granted to both the executive team and general employees at the time of the reverse merger in 2021. Here is the part that investors should love. The target for SoFi's PSUs are tied to its publicly traded stock price. The PSUs are broken up into three equal buckets that are only awarded if the stock price exceeds a volume-weighted 90 day trading average of $25, $35, and $45. More on this in a minute, but first let's discuss how PSUs are expensed.
Monte Carlo Madness
I have a graduate degree in engineering and legitimately like math, but the voodoo magic that accountants employ to determine the fair value of PSUs is a rabbit hole I do not wish to enter, nor is it particularly important for the discussion here. The point is that they use a Monte Carlo simulation with various inputs based on the fair value of the stock, stock volatility, the risk-free interest rate, and dividend yield to come up with a fair value for the granted stock units. Anthony Noto's PSUs were granted on 6/2/21. They amount to 6,428,578 shares that were assigned a fair value of $14.66/share for a total assigned value of $94M. The remaining PSUs were granted on 8/20/21 and include shares allocated for four other members of the executive team and all other employees. They amount to 16,712,884 shares that were assigned a fair value of $7.54/share for a total assigned value of $126M. The values used to calculate the fair value for Q2 and Q3 are found in the respective 10-Qs and are included below.


So altogether, there are 23,141,462 PSUs for a total fair value of $220M that need to be expensed.
Expensing Period
The fair values are spelled out in the 10-Qs, but how they are expensed remained unclear. This is where I will lean on my interview with Chris Lapointe. He explained that each of the awards is broken up into three tranches, one tranche associated with the PSUs that vest at $25, one with the PSUs that vest at $35, and the last with the PSUs that vest at $45. Some quotes have been edited for brevity or clarity.
We run a Monte Carlo on each tranche. If we hit the $25 share price plus the other vesting conditions, one third will vest and get issued. If we hit $35 another third will vest and get issued and the final third will get issued if we hit $45. The way the actual Monte Carlo model works from an expense perspective, however, is that it takes that tranche with a $25 strike price, runs an evaluation and derives a "service period" associated with that security. One third of the award begins to get expensed on the day of grant until that service period ends. With a lower strike price the actual expected time that that strike price will get reached and those shares will get vested or issued is shorter than what a $35 tranche would be, or a $45 tranche.
The servicing period over which each of the tranches is expensed is shorter for the $25 tranche than it is for the $35 tranche, which has a shorter servicing period than the $45 tranche. This is because the model assumes that it will take a longer time for the stock to reach $45 than it takes it to reach $25. He continues:
At the beginning of when everything was issued, you have all three of those buckets. The bucket that was $25, the bucket that was $35, and the bucket that was $45 all starting to get expensed on day one. Then as you go out through the service period, the bucket that was $25 will roll off, but you still have a longer service period for the $35. That will continue to be expensed until that service period is met. And then that will roll off and then the residual portion will just be the $45 bucket. Then by Q1 of 2024, that portion will largely roll off. On day one we only issued a portion of the actual PSUs in Q2'21, so you had a smaller expense in that first quarter [he is referring to the PSUs issued in 2Q21 here]. Then once we issued all of them [in 3Q21], we had all three of those buckets that I just walked through, plus the initial grant starting to get expensed. Over time you'll start to see that come down because you meet your service periods of the first, second, and then eventually the third tranche.
My understanding is therefore as follows for PSUs. Noto's PSUs were granted and began to be expensed in 2Q21 and is split into three tranches. The rest of them were granted and began to be expensed in 3Q21 and are also split into three tranches. We know that all of these tranches will be completely expensed and roll off by 1Q24. I asked Chris if we know when the other tranches roll off, to which he responded "We don't disclose the actual periods." They do disclose the weighted average period over which the remaining expense will be incurred.
PSUs are no longer being issued
Before the IPO, no PSUs existed for SoFi. After the 23M PSU awards in 2Q21 and 3Q21, none were issued in 4Q21, then 122,190 PSUs issued in 1Q22 and none have been issued since. The most reasonable explanation seems to be that these were specific to becoming a public company and I doubt there will be PSUs in the future.
Analysis
Now let's zoom back out and show what this means for investors. There is a ton to dive into here, but I'll try to just hit the highlights, which in my opinion are:
What does quarterly SBC look like moving forward?

How much dilution are we talking about?

Are executive incentives aligned with investors?

People should probably stop harping on Noto's compensation.

Why GAAP net income can be misleading.
What does SBC look like moving forward?
SoFi's quarterly SBC rose quickly during and after it came public. This makes sense in light of the discussion above, where a large number of PSUs and RSUs were offered and began to be expensed. Total SBC has remained basically flat for the last 12 months between $77M-$80M per quarter. SBC as a percentage of revenue peaked at 27.5% in 4Q21 and has since decreased. It was 18.6% of revenue in the last reported quarter.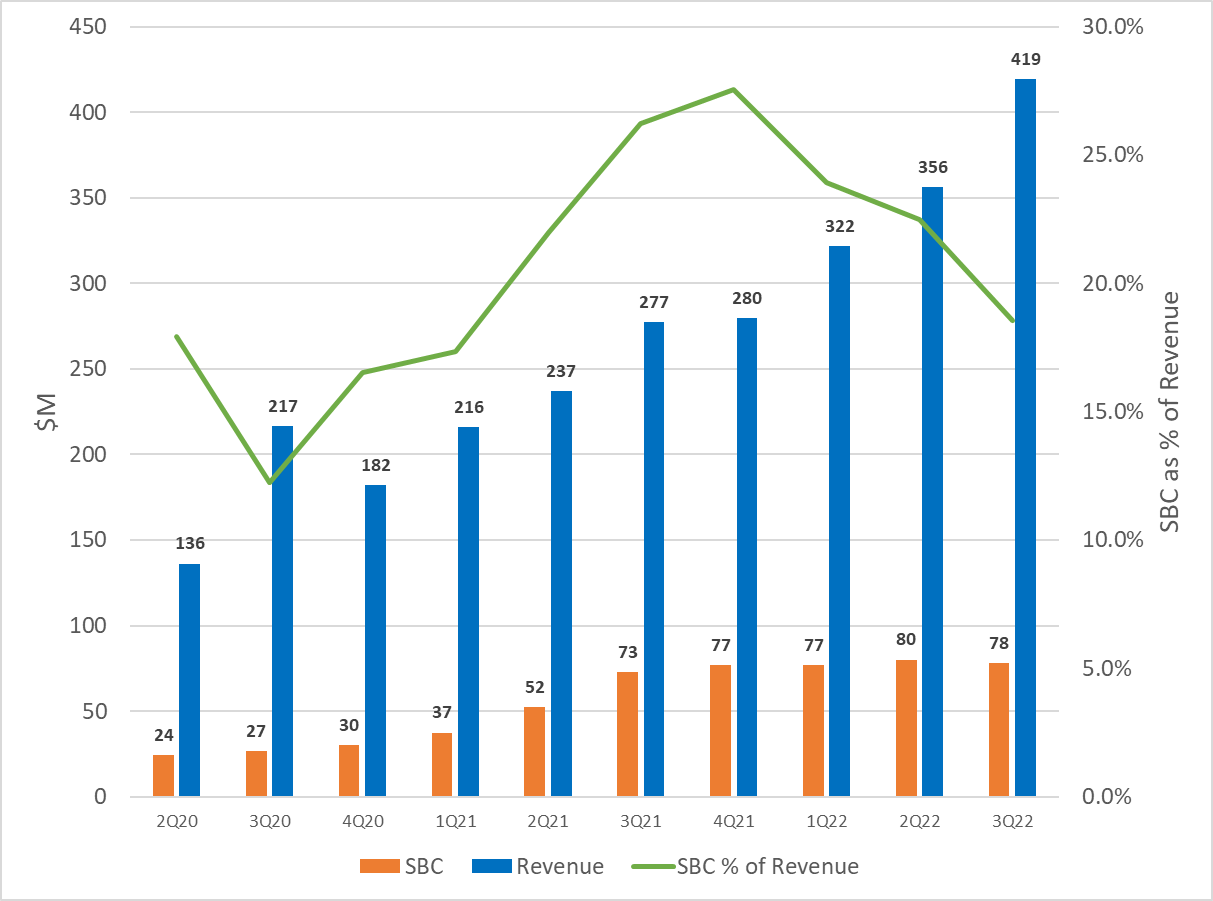 SBC as a percentage of revenue is going to continue to trend downward for two reasons. First, revenue should continue to grow. Second, SBC per quarter is going to begin to drop soon. Right now, two thirds of SBC is due to RSUs and one third is from PSUs. This was announced publicly at the recent Credit Suisse conference on November 30 by Chris Lapointe (this quote is actually what led me to do the research that resulted in this article):
You have the stock-based compensation, which is about $75 million to $80 million per quarter. One-third of that is related to performance share units, which were issued as part of the IPO. And those performance share unit expenses will roll off in Q1 of 2024. And the residual portion of that is about 12% of revenue today, and we expect to get that down to single digits over the course of the next several years.
That means that RSUs account for ~$50M/quarter (12% of 3Q22 revenue is $50.3M). This is corroborated by the total value of unrecognized RSUs divided by the weighted average servicing period (not shown in this article, but publicly available in their quarterly reports), which has varied between $50.9M-51.9M over the last 3 quarters. That leaves about $27-$30M per quarter for the PSUs. This also matches the amount by which unrecognized PSU compensation has been decreasing per quarter since 3Q21, which has varied between $27.5M-$33.7M.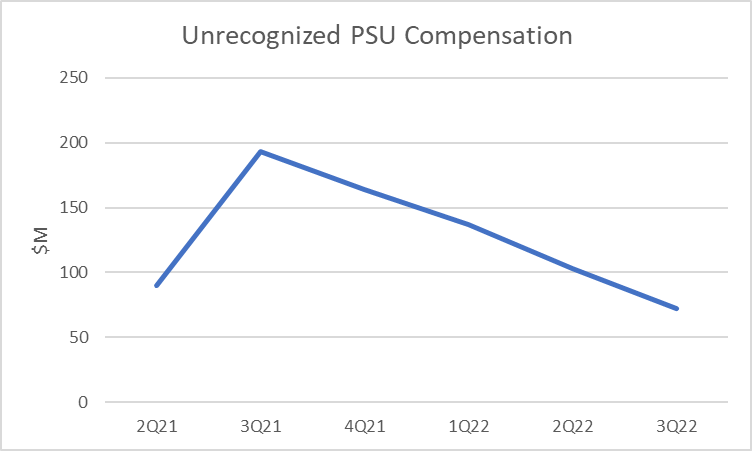 Here is the interesting part. There is only $72.2M of unrecognized PSU compensation left, but there are six total quarters left over which it is supposed to be expensed. If it were to continue at the current rate, it would be completely expensed by late April 2023. However, we know from Chris Lapointe's comments that PSU expenses will continue through 1Q24. The logical conclusion is that the first tranche of both Noto's PSUs and the remaining PSUs are almost certainly going to start rolling off in 4Q22, and should completely roll off sometime during 1Q23. Investors don't have to wait until 1Q24 for SBC to come down, it's going to start dropping sooner than that. I don't know the exact servicing periods, so I can't predict it exactly, but my educated guess is that SBC will come down by about $10-11M per quarter once all the $25 target PSUs roll off (which I predict will happen at the latest in 1Q23) and another $7-9M per quarter once the $35 target PSUs roll off (which will probably occur sometime in 2H23).
How Much Dilution Are We Talking About?
There are some ridiculous articles here on Seeking Alpha that claim that SoFi will dilute shareholders by 26% per year. That isn't just unlikely, it's literally impossible to do it with SBC. As of 3Q22, there were 922M shares outstanding. Most investors don't know this, but there is actually a cap to the amount that SoFi can dilute shareholders via SBC. After the business combination, SoFi was able to grant 63,575,425 stock units from when they went public in 2021 until the end of 2022 (that's 4.6% dilution on an annualized basis). Starting January 1, 2022, and every year thereafter until 2030, SoFi can increase the available shares for SBC by a maximum of 5% of total outstanding share count of the prior calendar year. Here is the SEC filing, the most important part is included here. The take-home message is that the cap on annual dilution is 5% per year.

Actual dilution is much less. So far, in the 5 full quarters they've been a public company, there have been 25.3M shares that have been awarded to employees, all of which have come via vesting RSUs. That is about 2.75% dilution over those 5 quarters, or an annualized rate of 2.20% dilution. That is probably lower than the eventual dilution rate we'll see in the next few years. Over those same 5 quarters, 48.8M RSUs have been granted. The rate of granted RSUs is lumpy, but should provide an overestimate of dilution as a lot of those RSUs will end up forfeited. If all granted RSUs are awarded, it would lead to an annualized dilution rate of 4.24%. Data since they've been public suggest that one third of those shares will be forfeited, meaning that actual dilution will probably be about 2.8% annually.
As for the PSUs, the total amount is 23M shares, so that would only be 2.5% dilution total. And to reiterate, the full 2.5% in dilution only happens if investors get a 10-bagger from current prices and literally every single person who has ever bought SOFI stock, even those who bought at the top, is green on their current position.
Dilution is buying outsized results
It's important to realize at this point what that dilution is buying you as an investor. In 2022, SoFi will grow revenue by 50%, grow adjusted EBITDA by 4x from $30M in 2021 to ~$120M, and 2.5x their EBITDA margins (for those of you who are triggered by "adjusted EBITDA", I hear your cries and have a nice juicy article on the way that you'll enjoy). Let me ask you this question. If you owned a small business and were offered a 2.8% loan, or even a 5% loan, to pay for 50% revenue growth in your business, wouldn't you take it in a heartbeat? That small dilution is paying for massive growth and incredible execution.
SBC is in many ways better than that hypothetical loan, because the 2.82% dilution isn't going to just anybody, it's going to company employees. Every employee that has part of their compensation in the form of stock now has a financial interest in making sure the company grows and performs moving forward. If they want to see their compensation compound, they can have a direct role in making that happen. It aligns employee incentives with investors.
It is important to note that this is where things currently stand. If we get to 2030 and growth has stalled to only 5% and dilution is at 4%+, I would not be pleased in the slightest and would have already sold my position. This is something that investors will need to continue to keep an eye on to make sure the return is worth the dilution.
Are executive incentives aligned with investors?
Remember those PSUs we discussed? Check out how much the executives stand to gain from being granted those PSUs. Here is a breakdown from the 2021 10-K of all the PSUs and RSUs given to the executive team in 2021 and their fair values: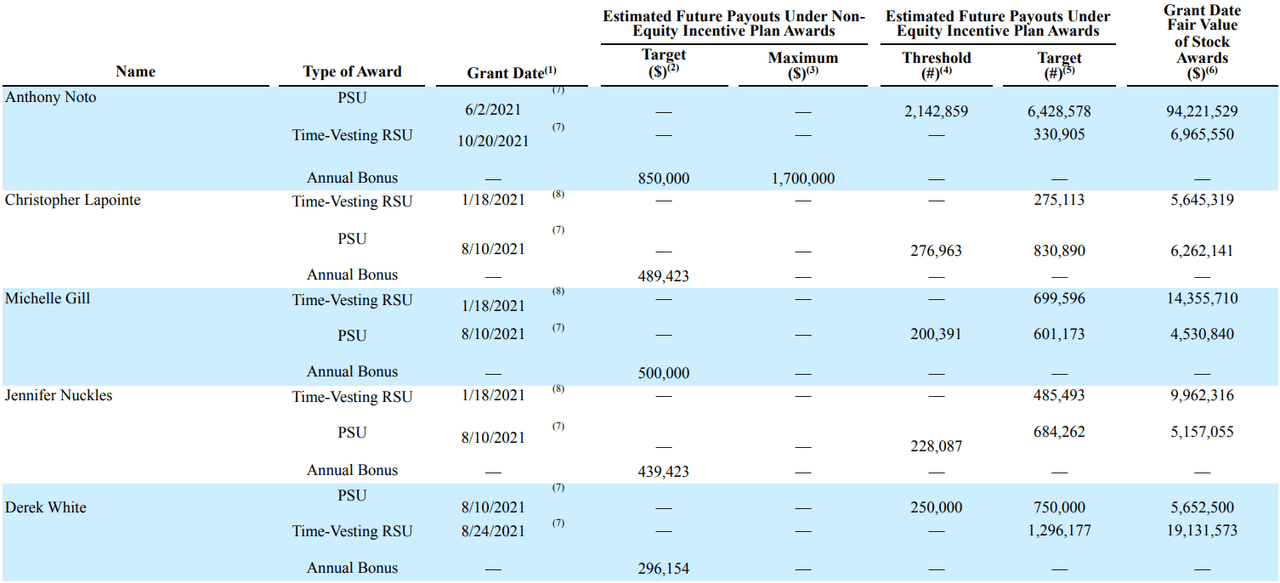 Jennifer Nuckles just left the company in October 2022, so any remaining unvested RSUs and all of her PSUs will be forfeited. Here is how much the net worth of the other 4 members of the executive team will increase with each individual award, and the growth in their total cumulative net worth if the stock hits $45/share before the 2026 target date.
| | | | | |
| --- | --- | --- | --- | --- |
| | $25 | $35 | $45 | Cumulative |
| Noto | $53,571,483 | $75,000,077 | $96,428,670 | $289,286,010 |
| Lapointe | $6,924,083 | $9,693,717 | $12,463,350 | $37,390,050 |
| Gill | $5,009,775 | $7,013,685 | $9,017,595 | $27,052,785 |
| White | $6,250,000 | $8,750,000 | $11,250,000 | $33,750,000 |
(these numbers are before taxes and the cumulative column assumes they keep all their shares until they are worth $45. After-tax earnings are basically these numbers divided by 2):
As a reminder, if the share price never gets to $25/share before mid-2026, all those PSUs end up being worth absolutely nothing. If anyone is highly incentivized to make sure that the stock goes "to the moon" in the next 3 and a half years, it is SoFi's executive team. SoFi is trading around $4.50 right now, so anyone who invests right now would end up with a four-bagger if they reach the first hurdle and a 10-bagger by 2026 if they get to the top hurdle. Management is absolutely on your side. Other employees are too. Over half of the total PSUs (13M of the 23M) were granted to rank and file employees, giving them the same incentive for the business to perform and the stock to rise as management.
Anthony Noto's Compensation
People say some interesting things about CEO Anthony Noto's compensation package. My personal favorites are the ones that compare his pay to that of JPMorgan Chase's (JPM) CEO Jamie Dimon. Here are a few examples: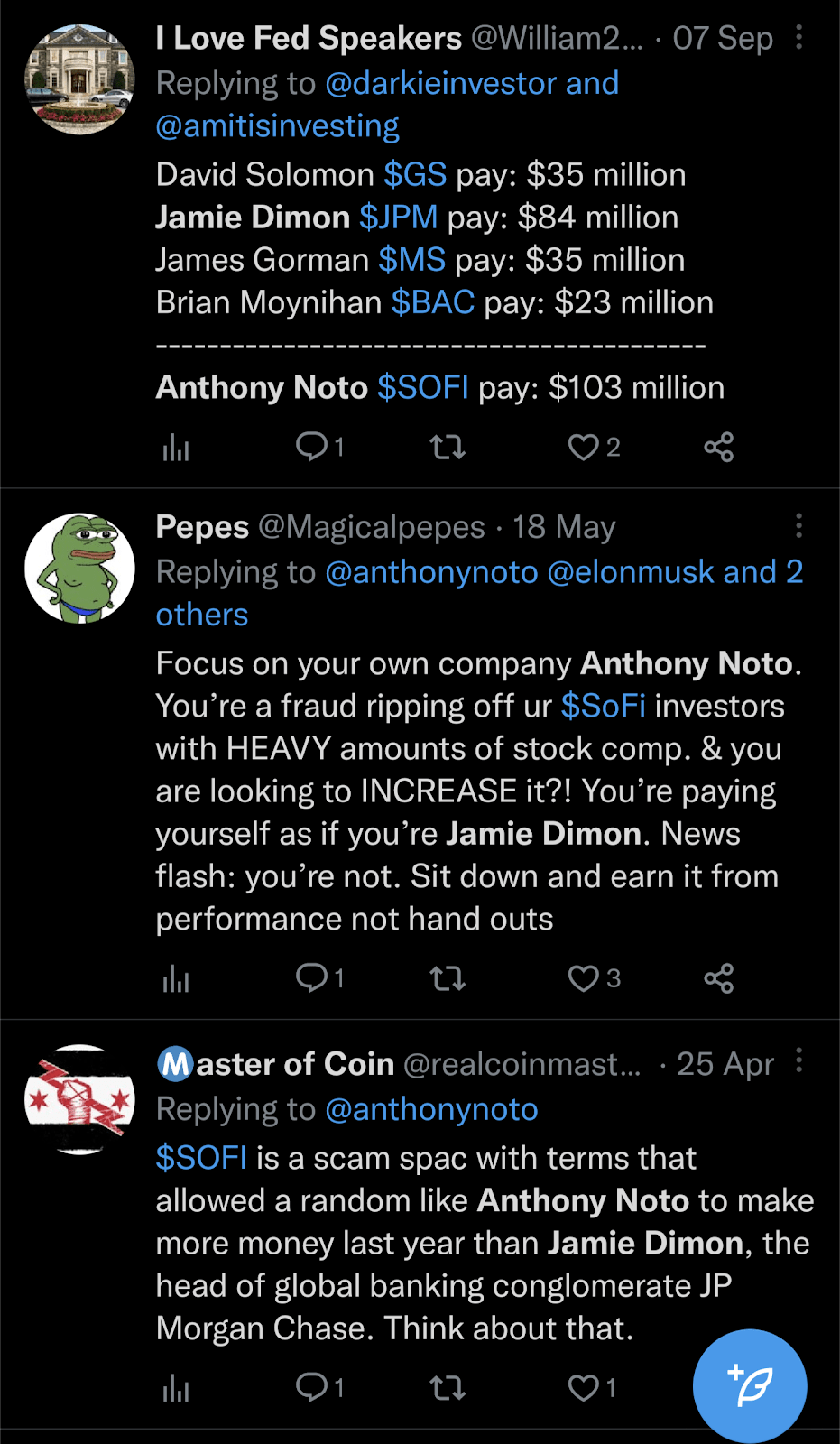 If you look at the table I just posted above, you'll realize these comments are fairly out of touch. $101M of Anthony Noto's $103M of compensation is from PSUs and RSUs granted with the business going public. $94.2M are tied up in the PSUs that are only awarded if the stock gets to the $25, $35, and $45 targets by mid-2026. Even if the stock goes 5x from here to $22.50 in the next three years, that $101M in compensation would translate to a grand total of $7.45M in actual income for Noto for 5 years of work, and the $94.24M of compensation from PSUs would result in Noto not receiving a single penny in actual income.
If the stock stays at $5 for the next three years, that $101M in compensation translates to a paltry $1.65M in actual real pay, which is only $330,000 per year. The company had to report all those shares as his compensation for FY2021 to satisfy accounting requirements, but it doesn't translate to real compensation until SoFi stock hits the milestones. For comparison, he just used $7.4M of his own cash buying stock on the open market in December, which is significantly more than the salary he has earned as CEO of SoFi to date. The narrative surrounding his compensation needs context to be truly understood.
GAAP Net Income Can Be Deceiving
What happens if the PSUs don't vest? If mid-2026 rolls around and the stock is at $20, having never gone above $25, then all those PSUs expire and aren't awarded. That's $220M in GAAP expenses that paid for shares that actually ended up costing the company $0 and no dilution in the real world. It would seem to me that they should get some sort of accounting credit for that expense that ended up not being a real expense. I asked Chris Lapointe if the company gets any sort of benefit to the bottom line from those unawarded PSUs, and his response was "I wish, we do not." So GAAP accounting allows for a $220M hit to the bottom line that was all fake paper money that didn't end up going to anything.
PSUs and the Reverse Split
I know this will come up so I'll clarify it now. Price targets for PSUs are adjusted according to any splits that happen to the stock. So if a 1-for-10 reverse split were to happen, the PSU price targets would be $250, $350, and $450, respectively. There is no way for management to con the system via a reverse split or any other method to be granted their PSUs without appreciation of the actual share price.
Conclusion
The dilution of SoFi investors is overblown by most people due to a lack of understanding. SBC has been a large expense that is dragging on the bottom line, but will be coming down both in relative terms and in absolute terms. The currently elevated SBC is a relic of the time when the company came public and is based on the stock trading in the teens and twenties. For example, executive RSUs granted from the time they came public are still being expensed as if they were worth in excess of $20 per share, and PSUs that are only granted if the stock gets to $25+ in the next three years have been dragging on quarterly earnings to the tune of about $30M per quarter. To be clear, this is the correct way to expense these shares, but it is not well understood by most investors.
The takeaway for me is that the actual dilution is fairly minimal. Not only that, but the drag on GAAP net income from the SBC expenses will soon begin to roll off, making it even easier for them to achieve GAAP profitability sooner than most retail investors suspect. Stock-based compensation and the dilution that comes from it are not the colossal problems some make them out to be. I continue to DCA into SoFi and rate it as a strong buy.
Source link