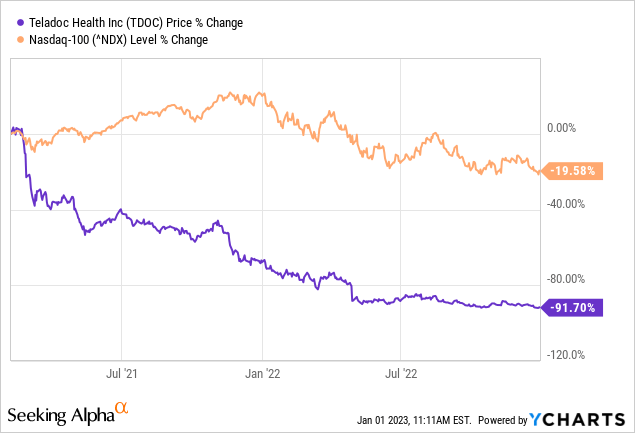 Investment Thesis
In 2022, the Teladoc (NYSE:TDOC) share again brought little joy to its investors, causing them to lose 75% of their share price, after already losing over 60% of its value in 2021. The reasons for this are complex: In 2021, the main reason was the realization that the pandemic growth would not last forever and that a valuation of 40 times sales was simply absurd.
This year was also burdened by the weak overall market, restrictive monetary policy, inflation, and a deteriorating economy. Further complicating matters was the fact that management had overpaid for the Livongo acquisition in 2020 and had to own up to it this year with a write-down of nearly $10 billion. Combined with the fact that the company has not earned a penny in its long history since 2002, it does not inspire much confidence and resulted in this massive sell-off.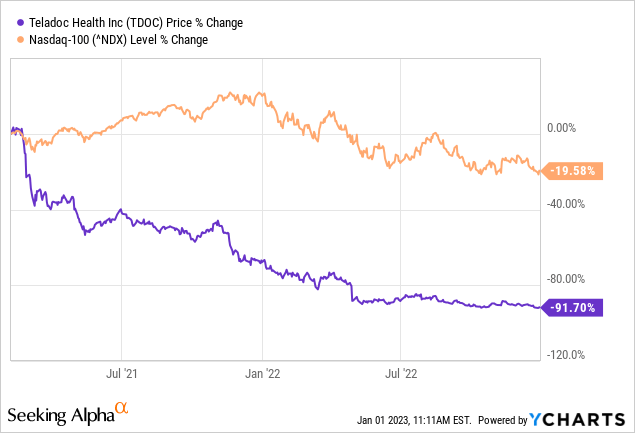 This is offset by solid double-digit revenue growth, a leadership position in an exciting growth area, and a lower valuation at a P/S of 1.9, which is a record low since the 2015 IPO. There's no arguing away that there are still high risks to investing in Teladoc, but I believe that at current levels, the opportunities outweigh the risks. The key question will be whether Teladoc can ever achieve sustainable profitability. If so, investors should be rewarded with massive share price gains over the next few years. But how likely is that at present?
Company Overview
Teladoc Health is a telemedicine company that offers on-demand virtual healthcare services, including virtual visits with doctors, therapists, and other healthcare professionals, as well as telehealth solutions for employers and health plans. The company's business model is based on generating revenue through subscription fees, per-visit fees, and fees for telehealth solutions provided to organizations.
Teladoc Health's services are typically offered on a subscription basis, with customers paying a monthly fee to access the company's virtual healthcare services. The company also charges a fee for each virtual visit with a healthcare professional, and it offers telehealth solutions to employers and health plans for a fee.
In addition to generating revenue from its services, Teladoc Health also generates revenue through the sale of healthcare-related products and services, such as over-the-counter medications and telemedicine technology. The company has a network of licensed healthcare professionals and partnerships with major healthcare organizations, which enables it to offer a wide range of virtual healthcare services to its customers.
TTM revenue is currently USD 2.32 billion with an operating income of USD 232 million, which corresponds to an operating margin of -10%. EBITDA is also still negative at -16.45 million TTM, even though the company naturally focuses on adjusted EBITDA, which is just under 230 million and thus still has a 10% margin. However, I will focus mainly on the GAAP metrics in the following to get an unvarnished picture of reality.
Q3 2022: The first ray of hope
It has almost become a habit for investors to see deep red share prices on the day of the quarterly figures after trading. Time and again, there have been disappointments due to high operating costs, missed sales expectations, a weak outlook, or stagnating membership figures. Q3 2022 was an exception: the figures were well received and the share price reacted in the meantime with a 10% increase.
Although this could not change the fact that the share has meanwhile slipped back to new all-time lows, the figures are nevertheless a small glimmer of hope. Therefore, I will briefly discuss them again here. Revenue was $611.4 million (17% YoY growth) and operating profit was -71.7 million, which was about the same operating margin as last year at -11.7%. This was in line with expectations. The main positive was the increase in U.S. Paid Membership to 57.8 million from 56.6 million in the previous quarter after management had previously expected flat or slightly lower numbers.
This shows that the business is enjoying increasing demand despite the declining relevance of Corona. Less encouraging was that the full-year sales forecast was lowered to the lower end of the previously given range, to 2.4 billion.
Somewhat surprisingly, management was nevertheless able to slightly increase EBITDA guidance towards the break-even point which was somewhat mild to investors. GAAP EBITDA profitability is not yet the kind of surplus that value investors want to see, but it is at least an important step in the right direction. That would put Teladoc ahead of many other Covid high-flyers.
Another key achievement is the sustained free cash flow generation since 2021, with a free cash flow of 113 million generated in the first nine months. In Q4, experience shows that free cash flow is always somewhat higher, which is why I do not consider a total figure of 200 million for 2022 to be unrealistic. With expected sales of 2.4 billion, this still represents a margin of 8.3%. That speaks for a solid business model and a reasonable liquidity position. But what about net income?
Analysis of operating expenses
To get an overview of the potential profitability, I first look at the Gross Margin. This was still at 75% in 2017, which is a very good value. However, by Q1 2020, this value dropped to 62%, which is still high, but this is often a warning signal. It means that Teladoc was not able to pass on all of its costs to customers as it grew and, for example, was only able to attract reduced-price customers. It indicates a weak competitive position.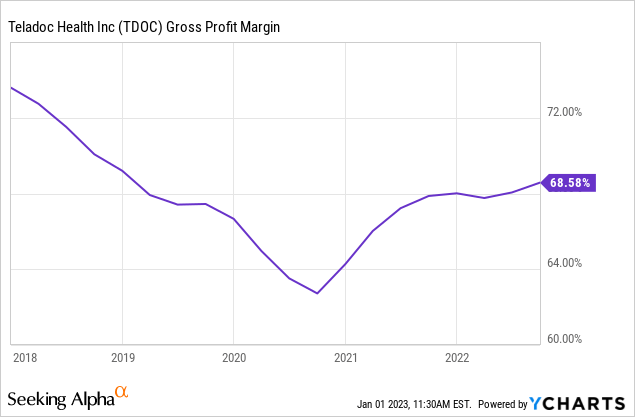 Fortunately, since the start of the pandemic, the margin has been on an upward trend again and currently stands at 68.5%. In the medium term, I expect the margin to stabilize at 70%, but here the development needs to be closely monitored. Now I am looking at operational costs in terms of efficiency and scaling.
Teladoc breaks down its operating costs in its annual reports in quite some detail, which makes it easier to evaluate.
First, there is Advertising, a key cost center for new customer acquisition. In 2019, this area represented 20% of revenue and in 2020 + 2021, the percentage was also comparable. However, in 2022, a significant increase in the marketing budget was noticeable. In Q1, the share was already at 24%, in Q2 at 28%, and in Q3 even at 29% of sales.
While management stresses that seasonally there will be a sharp reduction in marketing spending in Q4, even if spending is down 6% percentage points compared to Q3 (as it was in 2019), the share is still 26%. If this trend continues, it would be worrisome as the ratio of marketing spending to customer revenue is not right. In principle, there is nothing wrong with an increased marketing budget, but in that case, the growth rates in sales should again go well above 20%, otherwise, the company would be better advised to optimize costs. Also, further, development must continue to be strictly monitored.
Things look better in terms of costs in the Sales division. Here, the share of sales has stabilized in recent years at 12% after 20% in 2018. In 2022, the value should even fall to 9%. So at least a trend can be seen here as a result of scaling. Research and technology spending has increased somewhat as a result of the pandemic and is also expected to be 14-15% of sales in 2022, compared to 12% in 2019. Management would like to continue to place a strong focus on this area, so stagnation at this level seems likely here. The development of G&A costs looks very encouraging. In 2019, its share was still 28% and, except for the Livongo acquisition year, has been continuously reduced since then.
This year, the revenue share should fall to 18%. Acquisition-related costs were already very low this year and should not be relevant next year unless management is already planning the next acquisition, which I do not assume. Last but not least, there is depreciation and amortization, which is 10% in 2021 and probably this year as well. There was a slight increase, probably related to the acquisition. This should normalize again in the next few years. Overall, the total operating costs as a percentage of sales over the last few years look like this:
There is definitely a trend if you exclude the acquisition year, but currently operating expenses are still 10 percentage points above the gross margin. Overall, however, I would say that the direction is right, only the marketing costs need to be watched. But there is one cost block that has caused more and more trouble for growth companies in recent months: stock-based compensation.
| | | | | |
| --- | --- | --- | --- | --- |
| | 2019 | 2020 | 2021 | 2022e |
| SBC | 67m | 476m | 303m | 222m |
| % of Revenue | 12% | 43,5% | 15% | 9,3% |
Teladoc was already spending a not-insignificant 12% of its revenue on employee stock options before Corona. With the Livongo acquisition, compensation soared to unimagined heights. In the fourth quarter of 2020, for example, it was even higher than sales, and in the following quarters, too, Livongo's management was provided with significantly more than lavish stock options. Investors watched this understandably increasingly with suspicion, as their shares were also increasingly diluted in addition to the disastrous share price performance and profitability did not come closer.
It is only in the last few quarters that the costs there have stabilized somewhat. In Q2 and Q3, stock-based compensation was 9% of sales, which for me is still just about acceptable for a growth company. It would be desirable if the threshold of 10% is not exceeded in the future and the focus is initially on achieving profitability. Overall, the indications are sufficient for me to assume that Teladoc is well on its way to exceeding this magic threshold in the next few years. But I can well understand if skepticism is still very pronounced at the moment. In any case, the management still has big plans and ambitious goals.
Ambition is a quality that management does not seem to lack. In January, they set very ambitious targets for the coming years, presumably also to support the share price with good news. Thus, one wanted to double sales to over 4 million in the period from 2021-2024 with a CAGR of 25-30%.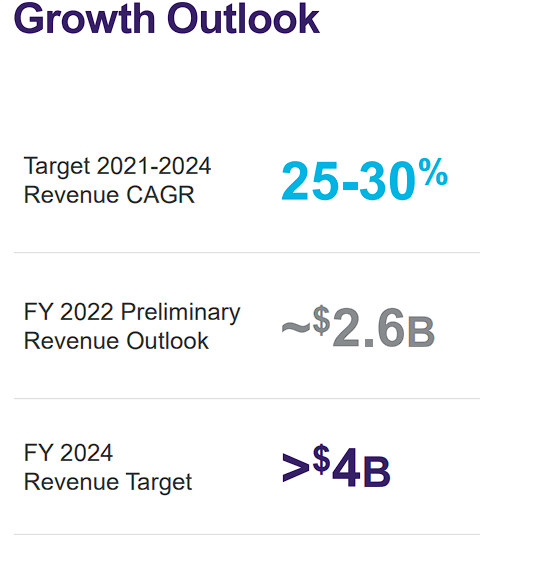 To achieve this, they wanted to increase revenue per existing customer by 25% per year through a broader and better service offering on the one hand, and acquire new customers by 1-5% per year on the other. In this way, the business model was to be transformed into an "Integrated Ecosystem Platform".
But the share price would probably not be at $23 if the market had considered this presentation to be very realistic. So far, there has been no reason for that either. On the contrary: In February, the revenue outlook of 2.6 billion was given – a strong growth of 28%, which was a signal of strength against the critical voices that telemedicine had no growth left with the end of the lockdowns. However, after the first quarter, the outlook already had to be revised to 2.45 billion and now, as already written, it stands at 1.4 billion.
Instead of the advertised 28%, growth will be 18%. The fact that one has to row back so strongly within 8 months does not inspire much confidence, of course, and casts doubt on the forecasting quality of the management. So far, to my knowledge, the 4 billion targets have not been revised, but it is currently almost inconceivable that Teladoc expects 30% revenue growth for 2023 in February.
While new customer acquisition has been quite encouraging so far with current YoY growth of 8%, it appears the average revenue per customer per month is hovering just under 9% at $2.61, well below expectations of 25%.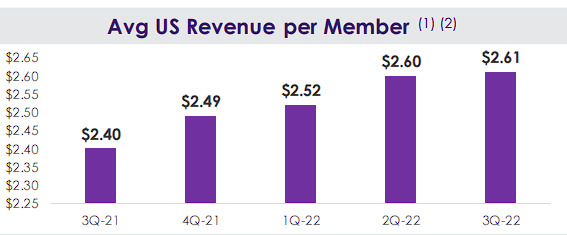 This is particularly disappointing, as, in the conferences, it is precisely this value that management refers to as a huge opportunity and revenue lever. After all, the upper limit for some customers would be $30, while the potential is $68.
In the long term, the revenue per customer should therefore approach the 30$ limit. This would also make one not so dependent on acquiring new customers. In theory, this sounds impressive, of course, if a sales potential of $29 billion were possible purely with the 80 million existing customers, without taking new customers into account. In practice, however, this vision quickly evaporates when you take a look at current growth.
Here, the onus is on management to deliver results in the coming quarters or to present more concrete plans on how to shape growth. In general, management is to present a strong outlook considering that the telehealth industry is forecast to grow 23% annually. As the market leader, Teladoc should be able to grow at least in that range.
Time will tell if the critics are right about Teladoc not having a moat and being unable to retain customers, at the latest when the big players like Amazon (AMZN) get in. Nevertheless, I consider the risk-reward ratio to be attractive at the current level, which is also due to the valuation.
Valuation
The risks mentioned are probably not unknown to some and have been around for some time. However, with the sharp decline in the share price, one can increasingly focus on opportunities. Based on sales of 2.4 billion in 2022, a market capitalization of 3.8 billion results in a price-to-sales ratio of 1.6, while the sector median is just under 4 according to Seeking Alpha.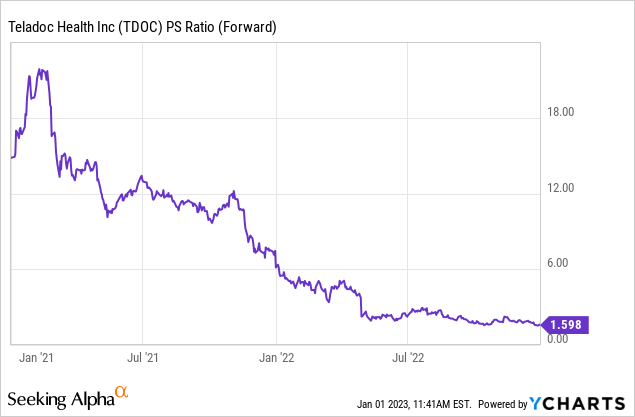 For a market leader, this already seems quite low. If free cash flow in Q4 remains at the same level as last year, the total would be 190 million in 2022, which corresponds to a price-to-free cash flow ratio of just 20. Based on the Adjusted EBITDA figure used by Teladoc, the ratio to sales is even only 15.5. This valuation is quite astonishing since growth is still at 18%.
The market seems to be pricing in a very pessimistic scenario here with minimal growth and no profits. However, I think that even without being optimistic, one can give the company a Price/Sales of 2.5 for its market position, growth, and approaching profitability. That would put the market cap at 6 billion and a price of $37.
Below that, you can currently buy the stock with a very attractive opportunity-risk ratio and take advantage of the fact that the stock has been overly punished in the short term. How the opportunities and thus the valuation develop in the medium term is in the hands of the management, initially with the outlook for the fiscal year.
Conclusion
There is no getting away from the fact that Teladoc is still struggling with a variety of problems at the moment, and much of the drop in the share price was not unjustified. But in recent months, the company has been somewhat unfairly maligned by Wall Street. The good quarterly figures completely fizzled out in the face of the weak market, and a few days ago a new low for the year was marked.
Teladoc has a positive free cash flow, is just before EBITDA breakeven, and is still growing close to 20% in a difficult year. Net income will probably be a few years away, but scaling effects on margins can already be seen in the operating cost centers. Stock-based compensation is also returning to normal. However, management would be well advised to provide more realistic forecasts in the future to slowly rebuild confidence, which for many has been shattered after the billion write-offs of the Livongo acquisition.
I believe Teladoc is very much worth buying in the short term due to the sell-off and see a medium-term recovery move as likely. For evaluating the long-term potential, one should watch closely for the next investor conference with the outlook for 2023, the development of the marketing budget as well as the revenue per customer.
Source link