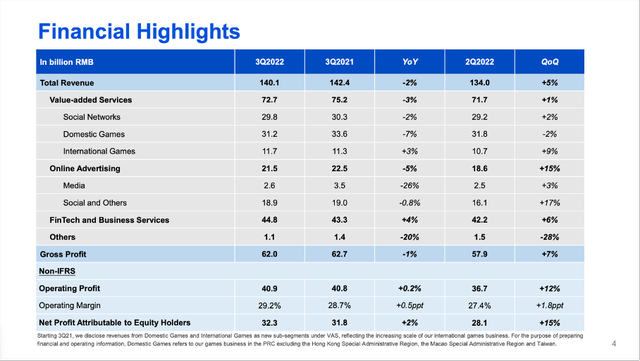 While the U.S. stock market certainly did not perform great in 2022, the Chinese stock market was a total disaster. When looking at the Chinese companies I have in my portfolio, all of them performed horrible in 2022. And although most Chinese technology stocks outperformed in the last few weeks of 2022, we did not see a clear turnaround so far.
Nevertheless, I remain long-term bullish on several Chinese technology stocks and one of the companies with a great business model and long-term potential is Tencent Holdings Limited (OTCPK:TCEHY) (OTCPK:TCTZF). In my last article published in July 2022, I was already confident about Tencent being a great long-term investment. But in the months following July 2022, the stock accelerated its decline and lost more than 40% again. Since the lows in October the stock increase more than 70% and is now trading for almost the same price as in July 2022.
In the following article, I will reaffirm my bullish thesis and explain once again why I think that Tencent is still a great long-term investment.
Quarterly Result
Results in the last few quarters were not great, but in mid-November Tencent could report reasonable third quarter results for fiscal 2022. Revenue declined slightly from RMB 142.4 billion in Q3/21 to RMB 140.1 billion in Q3/22 – resulting in a decline of 1.6% year-over-year. Operating profit also declined 2.9% year-over-year from RMB 53,157 million in the same quarter last year to RMB 51,593 million this quarter. Diluted earnings per share however increased slightly from RMB 4.074 in Q3/21 to RMB 4.104 in Q3/22 – resulting in 0.7% year-over-year growth. And free cash flow – one of the most important metrics for any business – increased 14.5% year-over-year from RMB 24.1 billion in the same quarter last year to RMB 27.6 billion this quarter.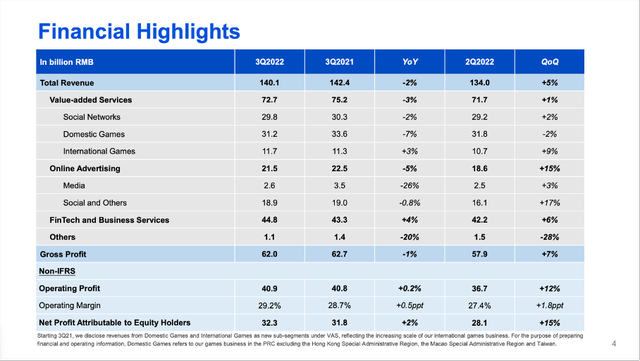 When looking at the different segments, value-added services generated RMB 72.7 billion in revenue (resulting in a decline of 3.3% year-over-year) and online advertising generated RMB 21.5 billion in revenue (resulting in a decline of 4.7% year-over-year). Only FinTech and Business Services could increase revenue 3.5% year-over-year to RMB 44.8 billion.
Additionally, Tencent could increase the combined MAU of Weixin and WeChat from 1,262.6 million (September 30, 2021) to 1,308.9 million (September 30, 2022) which is resulting in an increase of 3.7% year-over-year. However, fee-based VAS registered subscriptions declined 2.8% year-over-year from 235.4 million one year earlier to 228.7 million on September 30, 2022.
Signs For A Turnaround
There is no way to sugarcoat it: Tencent had not only to report a mediocre third quarter but has been suffering for a few quarters now. The fundamental business suffered, with slightly declining revenue (compared to high growth rates in previous years) and especially the stock was hit hard. During 2022, the share declined 27% (and it declined as steep as 56% but recovered again in the last few weeks). From its all-time high, the stock declined 74% and it is still trading 57% below the previous all-time high.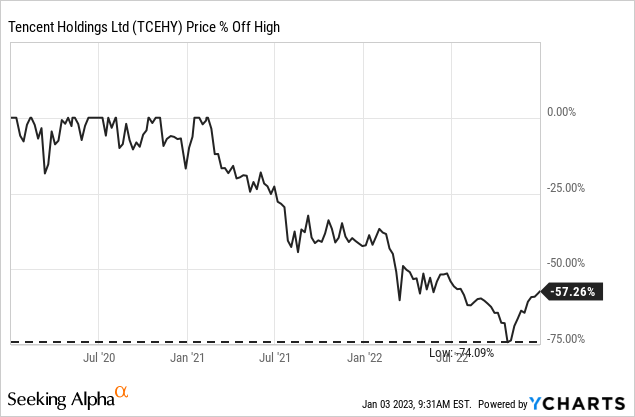 Nevertheless, we can be optimistic for Tencent overcoming the current difficulties – and the stock increasing more than 70% from its previous lows within a few short weeks is certainly encouraging.
Games
One way for Tencent to grow is by its games segment. A few days ago, at the end of December 2022, Tencent received its first video game license in 18 months, which is a good sign for Tencent as new games were not approved in the last few quarters. But Tencent seems not only able to grow its domestic games revenue again, it is also expanding internationally. This is a good sign for several reasons. First, it is an opportunity for Tencent to continue growing – even when the Chinese market would be saturated at some point. Second, it is making Tencent less dependent on the Chinese economy and Chinese government. And in the last few quarters, international games revenue was growing with a solid pace. Three years ago, in Q3/19 it was responsible for only 4% of total revenue, in Q3/22 it was responsible for 9% of total revenue.
Cloud
A second way for Tencent to continue growing is by its cloud business. And although Tencent might be a little late to the party, the cloud market will continue to grow with a high pace in the years to come and Tencent is #2 public service cloud provider (according to Tencent). Other studies are seeing Tencent being only #3 (behind Alibaba (BABA) and Huawei) but still with a market share of 16%.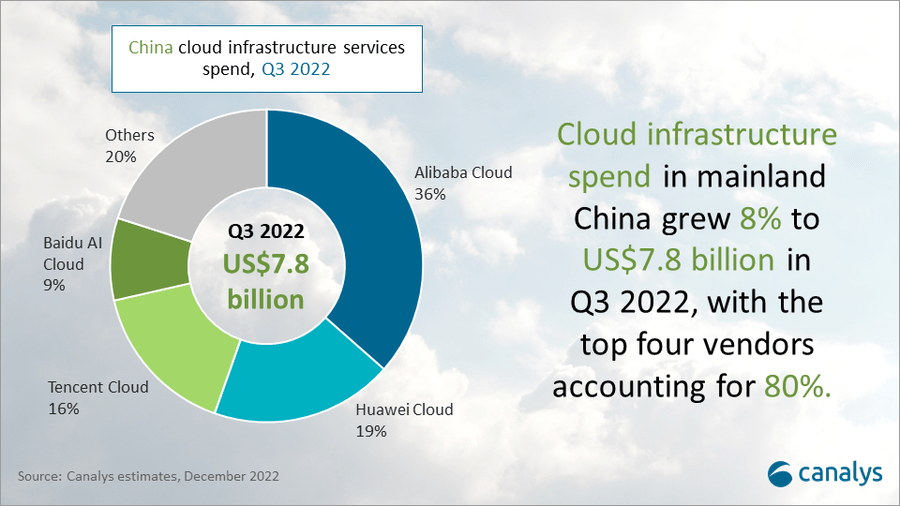 According to Statista, the Chinese cloud market will be about $38 billion in 2022 and grow with a high pace in the next few years. In 2027, the Chinese cloud market is expected to be $121 billion, which would result in a CAGR of almost 26%. The market is also expected to be distributed between three segments: Infrastructure as a service (about $83 billion in 2027), platform as a service (about $8 billion in 2027) and software as a service (about $30 billion in 2027). McKinsey is offering similar estimates (and is even a little more optimistic) and is seeing the cloud market in China at around $90 billion in 2025.
Further Growth Initiatives
Tencent is also focusing on a fast ramp-up of in-feed ads since mid-August and for the fourth quarter the company is expecting to generate more than RMB 1 billion in quarterly revenue.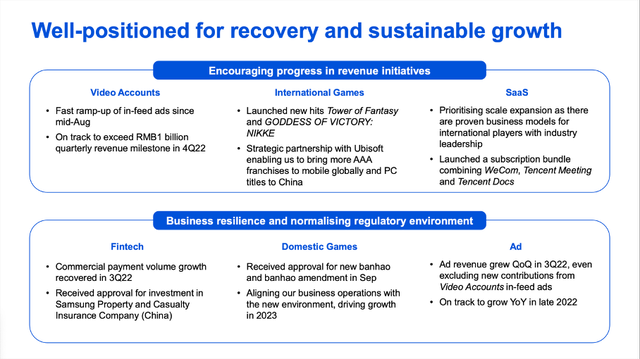 And with its SaaS the company is prioritizing scale expansion right now. Tencent wants to follow in the footsteps of other successful companies and is confident that industry leaders are able to monetize these services. Tencent also launched a subscription bundle combining WeCom, Tencent Meeting and Tencent Docs, which is rolling out quite well.
Tencent is also leveraging the extensive reach of Weixin and customers using mini programs more and more. In the third quarter, mini programs surpassed 600 million daily active users, which is representing a year-over-year increase of more than 30%. And daily mini program activations grew even faster – 50% year-over-year. And an increased usage of mini programs is advantageous for Tencent as it leads to more and more embedding and increasing switching costs (we will come back to this).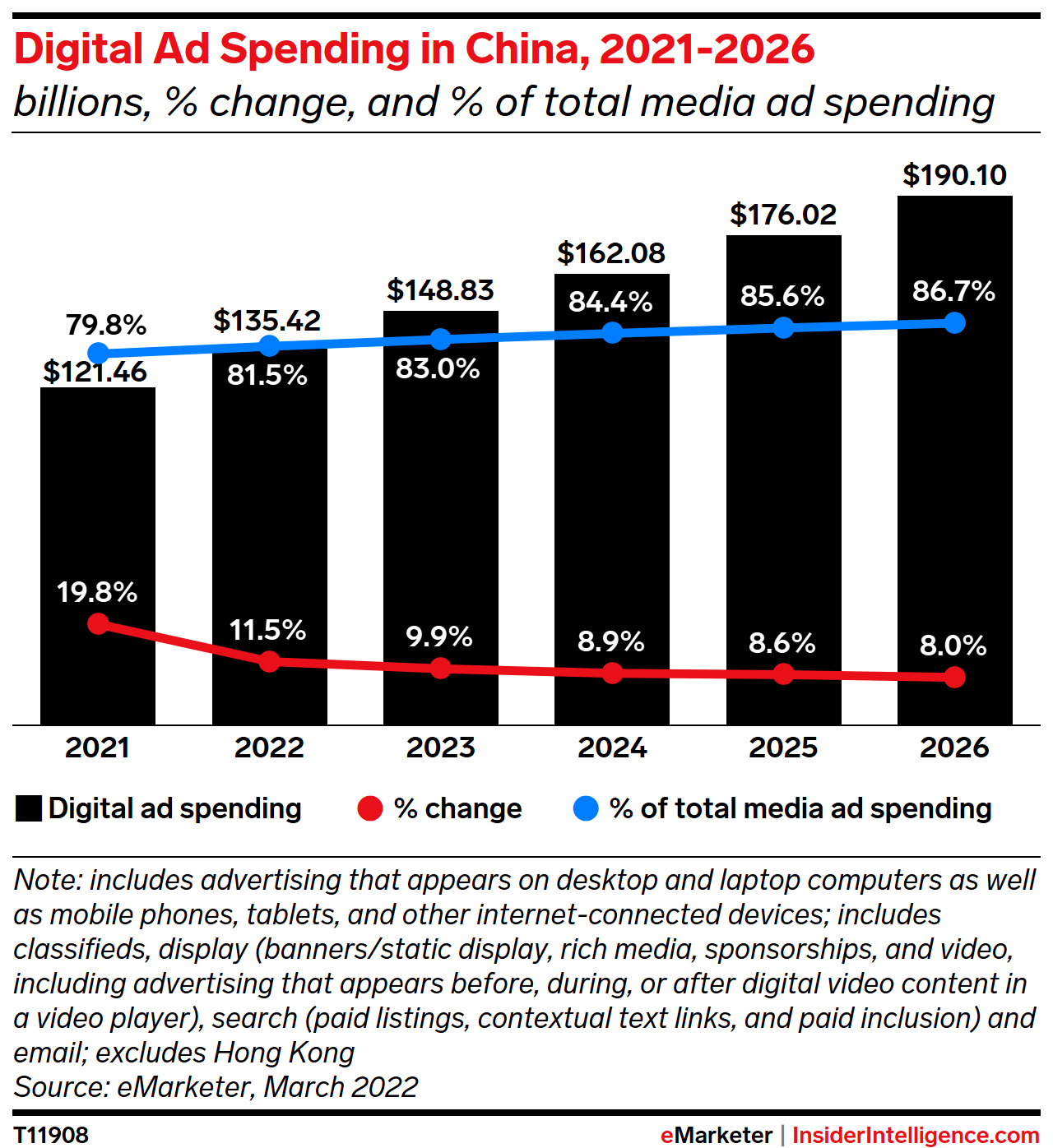 And finally, digital ad spending in China in the next few years are expected to grow in the high single digits. And while companies like Byte Dance might gain market share, Tencent should be able to grow at least alongside the overall market.
Tencent Becoming More Profitable
Tencent could improve its margins in the last few quarters, which is also a good sign. Overall gross margin improved from 40.1% in Q4/21 to 44.2% in Q3/22. And not only did margins improve for all three segments, gross margin for online advertisement, which has been declining for quite some time, improved from 36.7% in Q1/22 to 46.3% in Q3/22 and gross margin for FinTech and Business Services also improved from 27.1% in Q4/21 to 33.3% in Q3/22.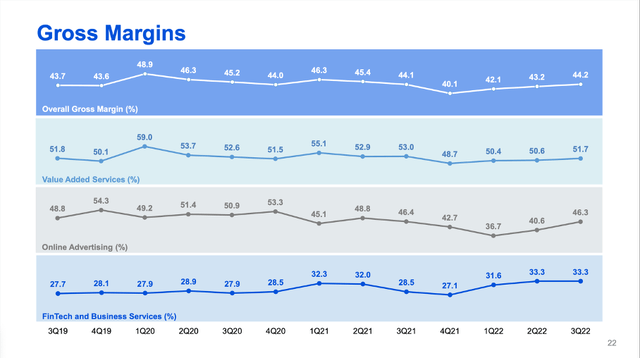 And during the last earnings call, Martin Lau elaborated a bit on the different initiatives to reduce costs:
First, we further tightened our control on marketing costs, pulled back from projects with low cost efficiency and focused on resources and core products. As a result, selling and marketing expenses decreased by 32% year-on-year and by 10% quarter-on-quarter. Second, we achieved significant margin improvement in business services. Gross profit grew both year-on-year and quarter-on-quarter, benefiting from our proactive adjustment to generate high-quality revenue. Third, we optimized bandwidth and server utilization associated with video accounts, bring down our operating costs per video view significantly. Fourth, with our rationalization in noncore and underperforming businesses, we optimized our workforce and controlled staff cost.
And while these cost savings are just enough to compensate for a declining revenue right now, Tencent might profit in the years to come.
Shareholder Distribution
Aside from trying to save costs, Tencent also is distributing cash to its shareholders by repurchasing shares (which is rather untypical for Tencent) and announcing another "special dividend".
In the third quarter of fiscal 2022, Tencent repurchased about 42.8 million shares (and spent about RMB 11.8 billion). Repurchasing shares was certainly a good move as the share price of Tencent was unreasonably low during the third quarter and spending RMB 11.8 billion is not an issue for Tencent as such an amount is easily covered by the free cash flow the company can generate every quarter. On the other hand, that amount was just enough to repurchase about 0.4% to 0.5% of all outstanding shares.
Aside from spending more money on share buybacks, Tencent announced another special dividend. In March 2022, Tencent already distributed a huge part of its stake in JD.com (JD) to its shareholders and management is now doing the same with its stake in Meituan (OTCPK:MPNGF), which is operating an e-commerce platform for different services in China. It is offering vouchers from merchants for deals as well as making reservations for hotels and attractions and is offering food delivery services. The company was founded in 2010 and by market capitalization, it is the 8th biggest company in China. And while several other Chinese companies were struggling in the last few quarters – including Tencent – Meituan could still grow revenue in the double digits and continue the impressive growth rates of the last few years.
During its last earnings release, Tencent announced a special interim dividend of Meituan shares (worth approximately $20 billion). In March 2023, the company will distribute Meituan shares to Tencent shareholders and for every 10 shares of Tencent, we will receive one share of Meituan. At the time of writing, this is resulting in a dividend yield around 5% for this "special dividend".
Intrinsic Value Calculation
I already mentioned above that share buybacks have been a great idea as I consider Tencent undervalued at this point. When using a discount cash flow calculation to determine an intrinsic value for Tencent we can take the free cash flow of the last four quarters as basis (RMB 132.3 billion). When calculating with this amount, Tencent must grow its free cash flow slightly above 5% annually from now till perpetuity to be fairly valued (assuming 9,675 million outstanding shares and a 10% discount rate). When being slightly more optimistic and assume 6% growth from now till perpetuity, we get an intrinsic value of RMB 341.86 (resulting in HKD 388 and making Tencent about 11% undervalued at the time of writing).
And Tencent is clearly struggling in 2022, but we must look at the growth rates in the last few years – which are still extremely impressive.
| CAGR | Revenue | Operating Income | Earnings per share |
| --- | --- | --- | --- |
| Last 3 years (annual results) | 21.45% | 16.83% | 41.20% |
| Last 5 years (annual results) | 29.81% | 19.57% | 39.86% |
When looking at these numbers, I would calculate with more optimistic numbers (my bull case scenario if you like). We can assume a strong recovery in 2023 and assume 15% growth next fiscal year with growth rates slowing down over the next ten years until growth rates reach "only" 6% till perpetuity. These are the same assumptions I used in my last article. All the other assumptions being the same, this leads to an intrinsic value of RMB 493.14 (resulting in HKD 558) and Tencent is clearly undervalued.
Great Business, Great Balance Sheet
It is obvious that Tencent must grow in the years to come to be fairly valued. And Tencent would not be the first business suddenly struggling to grow despite many reasons speaking for high growth rates in the years to come. And while 5% growth seems more than reasonable for Tencent, we should remain cautious (especially as we are probably headed for a global recession in 2023).
But we should also not ignore the great business we have at our hands. Tencent has not only high cash reserves (it can use for share buybacks or investments), but also a wide economic moat leading to great resilience. On September 30, 2022, the company had RMB 109.6 billion in interim deposits as well as RMB 160.2 billion in cash and cash equivalents. Of course, the company also has RMB 9.7 billion in short-term borrowings as well as RMB 171.0 billion in long-term borrowings. However, compared to a total equity of RMB 818.4 billion this is resulting in a D/E ratio of 0.22 which is certainly not a problem. Aside from rather liquid assets, Tencent also has RMB 301.8 billion of "investments in associates" and RMB 377.2 billion in "financial assets at fair value" – both including listed and unlisted entities and investments.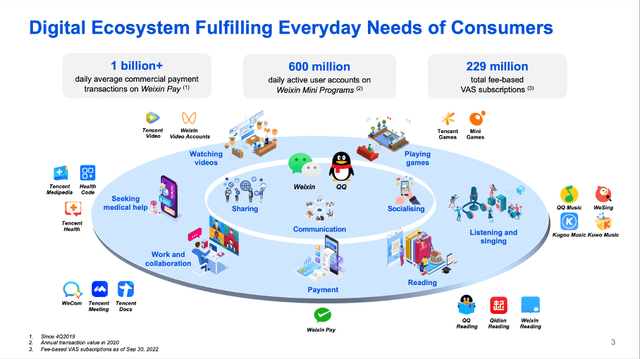 And aside from a great balance sheet, Tencent also has a wide economic moat around its business enabling the company to withstand even challenging times (like the year 2022). Over the years, Tencent generated a complex and dense digital ecosystem (see chart above), and this is resulting in several different competitive advantages. Tencent is profiting from network effects, it embedded several different other applications in its ecosystem and is therefore generating switching costs. And of course, Tencent is also profiting from cost advantages. For more information about the economic moat, you can either read my last article or an article published in September 2020.
Conclusion
I did not buy the (temporary) bottom the stock created in October 2022 as I already have a sizable position in Tencent. My position is clearly above 5% and although I understand the advantages of a concentrated portfolio, I don't want my position to come close to 10%. And combined with shares of JD.com, Alibaba and Baidu (BIDU) my exposure to China is also rather big and for the next few quarters I will most likely not purchase additional shares of Chinese equity (especially as I assume many U.S. stocks to get rather cheap over the next few quarters).
If you didn't manage to purchase Tencent at the lows, it is not a problem. In my opinion, the stock is still trading clearly below its intrinsic value and is still a great long-term investment at current prices.
Editor's Note: This article discusses one or more securities that do not trade on a major U.S. exchange. Please be aware of the risks associated with these stocks.
Source link