Investment Thesis
TH International Limited (NASDAQ:THCH) is the parent company of an exclusive master franchisee of Tim Hortons coffee and bake shops for Restaurant Brands International Inc. (QSR) in China. The company has 500 stores across the first and second tier cities in China as of October 2022 (per the latest public announcement).
The company went public via a merger with Silver Crest Acquisition Corp (SLCR), a special purpose acquisition company (SPAC), at the end of September 2022. However, both its common stock and warrants (NASDAQ:THCHW) had tumbled significantly after the merger completion and had not recovered ever since. The disappointing stock market debut was caused by a perfect storm of several negative factors, including market resentment of SPAC deals, heightened concerns about Chinese economy under Zero COVID policy, increasing geopolitical tension between the US and China, and post SPAC low float of the tradeable shares.
The market has completely overlooked the fact that THCH is a fundamentally very solid company with well recognized brand (Tim Hortons), the fastest growing consumer market (China), blue chip investors (Restaurant Brands International, Sequoia Capital China and Tencent etc.) and top notch management team (Burger King China team).
On December 30, 2022, THCH stock closed the year at $2.78 per share, which is lower than the equivalent price ($2.82) of the private equity round led by Sequoia Capital China in early 2021 when THCH had less than 150 stores with approximately $30 million revenues. This substantial underperformance is not warranted. Whether the valuation gap will converge soon will depend on how the macro, fundamental and technical factors line up for THCH in 2023:
Macro: favorable. China is now in an easing cycle as its zero-COVID policy has finally come to an end, giving way to a reopening and recovery;
Shareholders: favorable. The company is still substantially owned by blue chip institutional investors including reputable private equity firm Cartesian Capital Partners, Tencent Holdings, Sequoia Capital China, the sponsor Silver Crest Management, Restaurant Brands International, and well-known Chinese venture capital firm Eastern Bell Capital. 5 of the 6 top shareholders (who collectively own over 80% of the company) have representation on the Board. They are heavily incentivized to create and deliver shareholder value;
Management: favorable. Management is well-tested and has done a great job navigating the company through COVID uncertainties. They are poised to benefit from the pent-up consumer demand in 2023;
Funding: neutral. The company has multiple funding sources to support its growth in 2023. However, the availability and amount of several funding sources are contingent on the THCH stock price. THCH will need to have alternative funding sources in case its stock price remains low; and
Technicals: uncertain. Management will have to strike a balance between addressing its low float and absorbing new supply of unlocked shares without hurting its stock price.
The potential challenges mentioned in 4) and 5) above should be able to be addressed by the key shareholders/Board members in a constructive and proactive way (see our more detailed analysis in the following sections).
The downside of being long THCH at these levels is limited as we believe a further decline in the stock price could prompt the key shareholders to take the company private. It would not take much capital to do the transaction given the low float and the key shareholders could easily roll over their shares into the private company. THCH could also be combined with Burger King China, which is privately held but much more established in China with over 1,300 stores across the country. Cartesian Capital conveniently is the founder/shareholder of both companies and also owns the master franchisee right for Popeyes in China. Cartesian Capital could essentially create a listed mini QSR China through a reverse merger between THCH and Burger King China.
The combination of these factors provides a terrific setup for THCH's stock and warrants to rise significantly from their current distressed trading levels and revive in 2023. Current price levels of THCH and THCHW provide a unique entry point that would have asymmetric upside and limited downside: potentially 3x upside for THCH and 10x upside for THCHW.
Valuation Analysis
THCH and its warrants underperformed all US and Chinese benchmark indices and comparable peers by a large margin during 2022. The chart below compares THCH to S&P 500 (SPY), Chinese ADR focused index Invesco Golden Dragon China ETF (PGJ), Global X China Consumer ETF (CHIQ), its franchiser Restaurant Brands International and its comparable company Yum China Holdings (YUMC). In 2022, the S&P 500, PGJ and CHIQ were down around 18%, 25% and 22%, respectively, while QSR and YUMC were up 11% each. THCH and THCHW on the contrary were down 72% and 80% during the same period.
THCH vs Peers, Benchmarks in 2022

THCH is also visibly undervalued when comparing valuation metrics (see table below) to its industry peers such as Starbucks (SBUX), Yum China Holdings and Dutch Bros (BROS). SBUX and YUMC are substantially more mature businesses in terms of store count and revenues. THCH on the other hand is still a "growth" company with just 500 stores. However on a Price/Sales basis, it trades at a discount to both companies. When compared to the faster growing US coffee maker BROS, which has 640 stores, it trades at an even larger discount. We are of the view that a more reasonable P/S ratio for THCH would be 4X.
| | | | | |
| --- | --- | --- | --- | --- |
| | Market Cap | Store Count | P/S ('23E) | Market Cap/Store |
| YUMC | $25B | 12,000 | 2.2x | $2.1M |
| SBUX | $122B | 35,000 | 3.3x | $3.5m |
| BROS | $6B | 640 | 5.9x | $9M |
| THCH | $460M | 500 | 2.1x | $0.9M |
Notes: Market cap as of January 12, 2023
Source: Bloomberg
On a relative value basis, THCH should close their 50 percentage point gap (in terms of 2022 performance) to be on par with CHIQ, i.e. 3x higher from current levels. On an intrinsic value basis, the target price should be in a similar range. Our base case is that THCH will open an additional 250 new stores in 2023, matching its pace of 2021. Our more optimistic case is to open 400 new stores (THCH projected 430 new stores for 2023 back in 2021) though the company might need to secure additional financing or launch the stock price contingent financing to achieve that goal. It is also worth mentioning that 400 new stores is not an aggressive assumption as the company is targeting opening 2,700 stores in China by 2026 which implies an average of 550 new stores per year over the next four years. With 500 stores already opened in 2022 and assuming the average revenue per store is 2M Yuan ($300K), THCH's total revenues in 2023 could reach between 1.5B Yuan or $220M (750 opened stores) and 1.8B billion yuan or $270M (900 opened stores). If we apply 4x P/S multiple to the revenue range, THCH's market capitalization could range between $0.9B and $1.1B, which represents 1.9x to 2.3x the current level. The stock price would be about $6.00 to $7.30.
The risk/reward profile for THCH is very asymmetric as the downside for owning THCH at $3.10 per share is very limited due to the following four reasons:
The underlying business is healthy. The company is operating well and the underlying fundamentals are solid. The key issue THCH is facing is the huge disconnect between the market perception and the company fundamentals.
Shareholders' interests are aligned. Top six shareholders own over 90% of the company. The current valuation is near the cost base of THCH's private funding round in early 2021 which was led by Sequoia Capital China. If the price declines further, there is a high likelihood that they will get more aggressive to reverse the trend.
Lower price could lead to a going private transaction. It would be a relatively straightforward private deal since the free float is so low and existing shareholders could simply roll their shares into the new private company. It is also not without precedent for a De SPACed company to go private. New Frontier Health Corporation (NFH) was taken private in January 2022, two years after it went public via a SPAC merger.
Potential merger with Burger King China. This is a lower probability event, but something to keep in mind. Cartesian Capital could combine THCH and Burger King China via a reverse merger. Given the success of YUMC in China, a combined Tim Hortons and Burger King could provide a better platform for both brands and bigger upside for shareholders.
THCHW (the warrants) have a bit different risk/reward profile from THCH, i.e. more upside and also more downside.
THCHW Black Scholes Warrant Valuation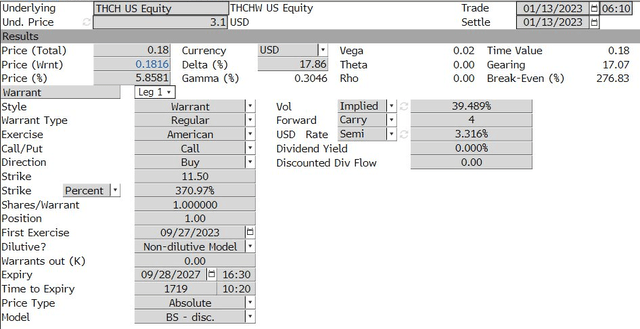 If THCH trades $6.00 per share, at an implied volatility of 30%, THCHW would trade at $0.62 based on the Black Scholes warrant pricing model on Bloomberg (3.4X upside). The downside of THCHW could be zero in the following two scenarios:
Expiration. If THCH stock price remains below $11.50 over the next five years, THCHW will expire worthless.
Going private. THCH chooses to go private due to low valuation, the warrants would be worth zero.
Where should THCHW trade relative to THCH?
A reasonable comparable for THCH vs THCHW is Zegna (ZGN) and Zegna's warrant (ZGN.WS). What makes Ermenegildo Zegna N.V. an ideal comparable company is that ZGN is also in the consumer discretionary sector and it also has significant exposure to China (50% revenue from China). After completing its SPAC merger in December 2021, its common stock and warrants have been trading in a very stable range (see chart below). ZGN is currently at about $11 per share and ZGN.WS is at $2.25.

ZGN.WS Black Scholes Warrant Valuation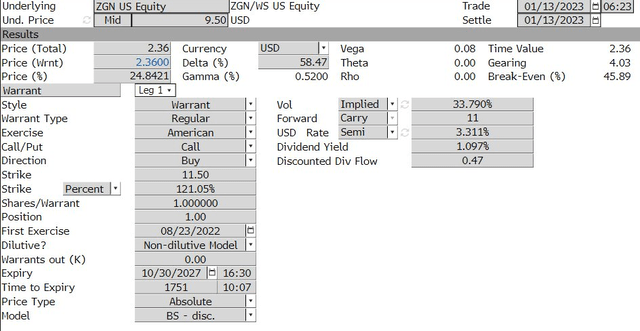 Macro Driver 1: Rotation into China
The stock performance of THCH in 2023 will likely be driven by three key macro factors: COVID policy, geopolitical relations and the economic cycle, all of which are trending positive for China now.
China's COVID restrictions are no longer a concern after the government not only abruptly lifted the Zero COVID policy at the end of November, but also announced the reopening of inbound international travel beginning January 8th, 2023. Now China needs to focus on effectively managing the subsequent surge of infected cases and achieving herd immunity quickly and at the lowest possible mortality rate and business disruption.
In terms of geopolitical relationships, tension will likely remain between the US and China on multiple fronts. However, the silver lining is that the two countries have worked out a solution on the auditing process for Chinese ADRs which essentially has removed the overhang of a potential forced delisting.
Among the three factors, the economic cycle in China is arguably the most important. Richard Bernstein, CEO/CIO of Richard Bernstein Advisors LLC and former Chief Investment Strategist of Merrill Lynch & Co, published a very thoughtful research piece called "Why China" on October 26, 2022. He based his investment thesis on three criteria:
"China increasingly fits the characteristics of an attractive market under our criteria: the Chinese profits cycle has likely troughed, China's central bank is easing monetary policy, and valuations are depressed because investors strongly dislike China."
In an interview with Barron's dated November 11, 2022, Ray Dalio had a similar thesis:
"China is going through some significant changes that most people have exaggeratedly bad interpretations of, so there are some great values there. We're probably close to being past most of the selling. In any case, one should invest there because it's the second-biggest economy in the world, the main competitor to the U.S. in most ways, and a good diversifier in a world in which such competitions exist. Of course, if these competitions turn into greater economic or military wars, it won't be good for either country, and neutral countries with strong finances and minimal internal conflicts will do best."
We have made similar observations and are of the view that investors will be rotating back into Chinese stocks in 2023 and the recent Chinese ADR rally is just the beginning.
China and the US are in different phases of the corporate profit cycle in 2023. China likely hit the bottom in 2022 due to a combination of the COVID lockdowns and the government's heavy hand in the technology and real estate industries over the past few years. Now that the COVID lockdowns have been lifted, China will benefit from the pent-up demand and see a cyclical turning point in 2023. The US, on other hand, will still face multiple economic challenges in 2023 and most likely enter a recession, if it is not already in one.
China and the US are also in different phases of the credit cycle: China is easing while the US is still tightening. To reboot its economy, China will most likely continue its easing measures in 2023. Recent expansion of bank lending to the distressed real estate developers suggests that the government is quite serious in its support of the sector.
China's stock market fell out of favor starting in the beginning of 2021 (see chart below) due to a number of legitimate political and economic concerns. Even with the recent significant rally, the Invesco Golden Dragon China ETF has still underperformed the S&P 500 by almost 90 percentage points over the last five years.

Richard Bernstein in his research highlighted the relative attractiveness of China's stock market in the following table: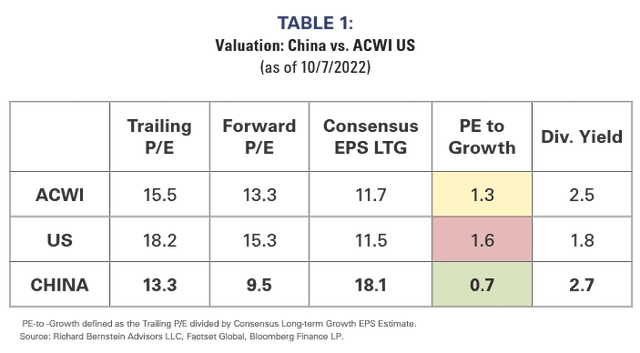 All of the macroeconomic developments discussed above provide a positive backdrop for the China reopening and consumer recovery plays such as THCH.
Macro Driver 2: Path to Recovery
Now that the Chinese government has finally made a U-turn with respect to its zero COVID policy, what are the ramifications for consumer-related businesses? Japan could provide a valuable blueprint.
Japan went through eight waves of COVID outbreaks and was very similar to China in terms of implementing COVID restrictions starting in early 2020. However, Japan chose to ease its COVID restrictions in multiple phases starting in early 2022 and its domestic restaurant industry (the closest proxy for THCH) has benefited significantly from the reopening. Japan's reopening measures included the complete removal of COVID restrictions, government subsidies on dining, lodging and traveling for local residents and reopening to inbound international tourists. Below is a summary of these COVID policy changes in chronological order:
| | |
| --- | --- |
| Date | COVID Policies |
| March 1, 2022 | Lifting ban for inbound travelers from all foreign countries, but still require PCR test and quarantine |
| March 21, 2022 | Lifting domestic COVID restrictions |
| June 10, 2022 | Full opening to foreign tourist groups without PCR test and quarantine requirement |
| July 1, 2022 | Prefectural Residents' Discount program extended, maximum 7,000 yen subsidy for lodging, dining and shopping for each eligible tourist |
| September 7, 2022 | Full opening to individual foreign tourists |
| October 11, 2022 | Full opening to all inbound travelers without PCR test or quarantine requirement |
| October 11, 2022 | Launching Domestic Travel Subsidy Program, maximum 11,000 yen for each eligible tourist |
Source: Japanese Ministry of Labor and Ministry of Foreign Affairs.
After the reopening to foreign tourists in June and all inbound foreign visitors in October 2022, the daily infected COVID cases in Japan spiked significantly (see chart below). The peak of infected cases happened about 2 months after the June announcement on August 19, 2022 when over 261K cases were reported in one day with over 15K reported death (see chart below). At the same time, the hospital system was under great and increasing strain to handle the surging cases. However, Japan did not backpaddle and continued to carry on with its reopening policies.
Japan new daily COVID Cases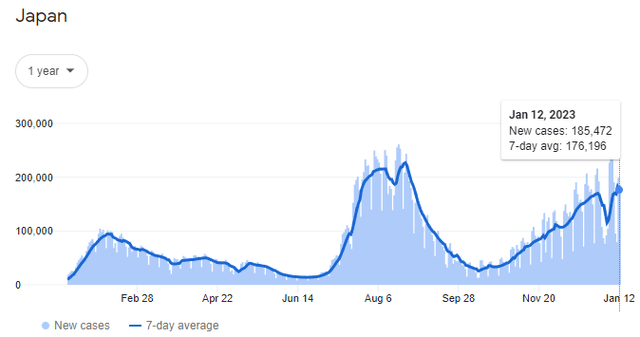 Despite surging COVID cases, the reopening definitely boosted retail sales as illustrated by the year over year monthly sales growth despite the weakening and falling consumer confidence index during the same period (see charts below).
Japan Monthly Retail Sales YoY Growth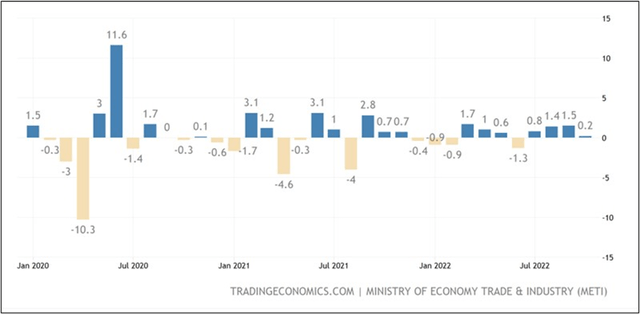 Japanese Consumer Confidence Index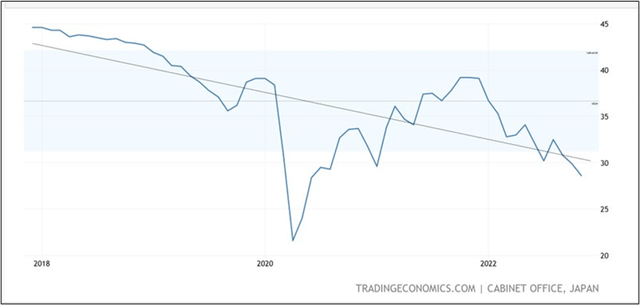 Among the retail sector, Japanese restaurants showed more visible topline growth. Based on the data from the Japanese Food Service Association (see chart below), the year over year growth rate of restaurant sales was back to pre-COVID levels at the beginning of 2022 and jumped another 10 percentage points during the eight months after the first reopening announcement in March.
Japanese Restaurant Sector Sales Growth vs Store Count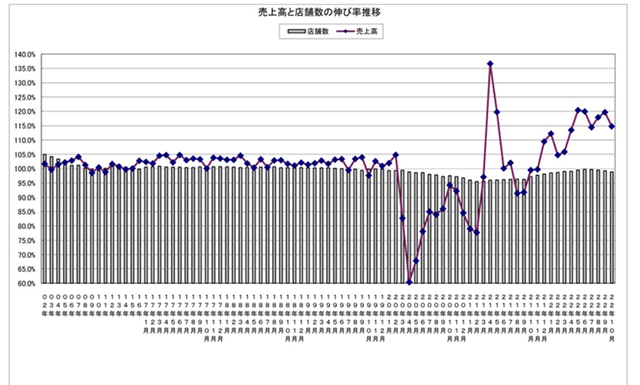 It is worth noting that the growth trajectory of the restaurants was not adversely impacted by the COVID cases spikes in August and October. The decoupling was most likely due to government subsidies to local consumers announced in June and October. Based on the inbound tourist data (see table below), international visitor arrivals indeed recovered, but only to about 20% of 2019 levels as of October. Foreign tourists appear to have had a minor positive contribution to the restaurant industry's top line.
Inbound Tourist Data in Japan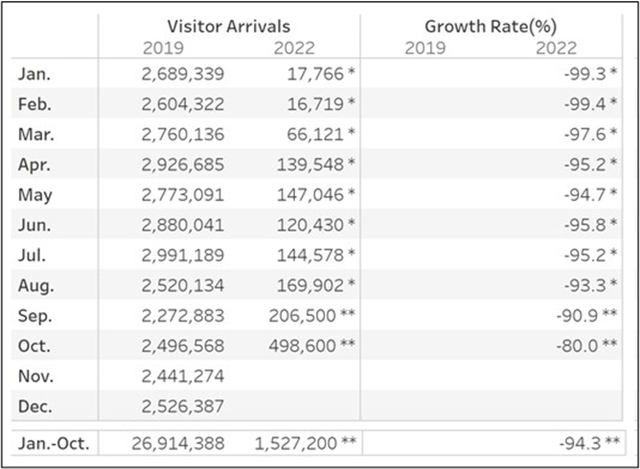 Our observations of Japan are the following:
The government and healthcare system needed to prepare for and manage the sudden surge of infected cases (in multiple waves) and the unprecedented infection peak which could last two to three months;

The government provided direct subsidies to consumers to encourage and revive consumption despite deteriorating consumer confidence;

Reopening to international travelers is important but might not have as immediate an impact in short term as direct government subsidies to local consumers.
Some of these chapters in Japan's playbook will most likely be repeated in China in 2023. Before COVID restrictions were removed at the end of November, China's Consumer Confidence Index was at a historic low, below 90 for the first time in history while Chinese Retail Sales also suffered a year over year decline (see charts below).
China Consumer Confidence Index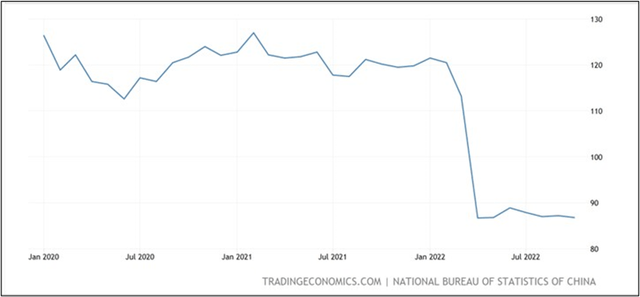 Chinese Monthly Retail Sales YoY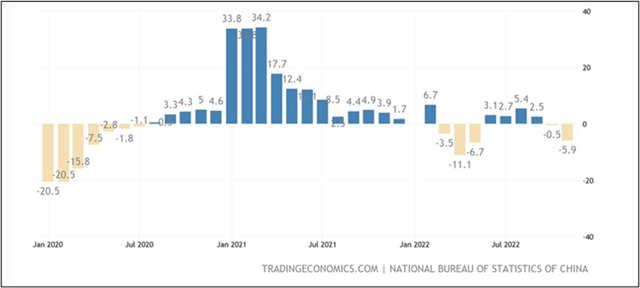 China is currently right at the point where new daily COVID cases have started to ramp up significantly following the removal of all COVID restrictions, and it might take another two to three months or even longer for the infection rate to peak. In the meantime, the healthcare system is overwhelmed and overstretched. The jury is still out as to whether China can properly manage this "darkness before dawn" phase toward herd immunity, as it will need to weather twin storms: rising mortality rates and potential disruption to the recovering economy. So far, Chinese ADRs seem to have seen through this phase and continue to react favorably to all the new policies.
Anecdotally, the first cohorts of recovered COVID patients have already started their "revenge consumptions" by going out to restaurants or flying to domestic beach resorts. If this trend persists, it should benefit THCH disproportionately since its stores are concentrated in the first and second tier cities where people were among the first to be infected and also the first to recover and start spending.
Fundamental Driver 1: Blue Chip Institutional Investors
Though founded only four years ago in 2018, THCH is a fundamentally solid company with the well-recognized global brand Tim Hortons, blue chip shareholders and a top-notch management team. Unfortunately, these are all seemingly overlooked by the market.
THCH was established as a master franchisee in China for QSR's Tim Hortons brand and went public via a SPAC transaction at the end of September 2022. Its current shareholders structure is relatively simple, primarily concentrated in six strategic and financial investors (see table below):
Key Shareholders
| | |
| --- | --- |
| Shareholder Name | Shareholding % |
| Cartesian Capital/Peter Yu | 53.1% |
| Tencent | 13.5% |
| Sequoia Capital China | 9.7% |
| Silver Crest Management | 5.7% |
| Eastern Bell Capital | 4.9% |
| Restaurant Brands International | 4.1% |
Source: Company SEC filings.
Cartesian Capital, cofounded by Peter Yu with his team at AIG Capital Partners, is a leading global private equity firm with more than $3 billion in assets under management. It currently manages two private equity vehicles: Pangaea One and Pangaea Two. It has helped to build 60 companies operating across 40 different countries, including BK China which is the master franchisee of Burger King, another brand under QSR. Cartesian successfully grew Burger King China from fewer than 60 restaurants to more than 1,200 in a few years. It has established a very experienced team during the period. THCH benefited greatly from that as about half of its leadership team, including the CEO, used to work at Burger King China.
Tencent (OTCPK:TCEHY) needs no introduction. It is one of the world's leading internet and technology companies, known as one of the largest video game companies in the world and one of the largest social media and payment platforms in the world. As a strategic investor of THCH, Tencent would "empower" THCH in at least two major ways:
Directing significant volume of potential customers to THCH online and offline stores via its WeChat platform which has 1.3 billion monthly active users;
Developing collaborative offline stores with Tims China. So far Tims China has opened two types of co-branding stores with Tencent in China, one esports theme and the other QQ Music theme.
Sequoia Capital China is arguably the most famous and successful VC firm in China and one of the top VCs in the world that has invested in almost all the prominent companies out of the Greater China area such as Alibaba (BABA), JD.com (JD), Pinduoduo (PDD), ByteDance (parent company of TikTok) etc.
Silver Crest Management LLC was the sponsor for the SPAC that merged with THCH. It is led by Chairman Leon Meng. Mr. Meng, a very well-regarded investment veteran in Asia, and is the founding Managing Partner and Chairman of Ascendent Capital Partners, a private equity firm based in Hong Kong. Prior to Ascendent Capital Partners, Mr. Meng was Global Partner of D.E. Shaw & Co and before that Co-Head of China Investment Banking at JPMorgan. Ascendent Capital Partners follows an advisory-oriented investment model to improve operations and drive strategic initiatives and financial performance in its target companies. Its portfolio includes such market leaders as Wumart (OTC:WUMSY) and Meituan (OTCPK:MPNGF).
Eastern Bell Capital is an ecosystem-based fund concentrating on "improving industrial efficiency with supply chain as its core competence". It is the investment arm of GLP, a world leading logistics real estate developer, investor and operator. Its investments focus on logistics, supply chain, retail & brand, data technology, etc. Its portfolio includes companies like JD Logistics (OTCPK:JDLGF) and XPeng Inc (XPEV). It has just raised a $2 billion fund in December 2021.
Restaurant Brands International Inc., one of 3G Capital's portfolio companies and one of Bill Ackman's core holdings, owns four of the world's most iconic quick service restaurant brands, Tim Hortons, Burger King, Popeyes and Firehouse Subs. It is one of the world's largest quick service restaurant companies with more than $35 billion in annual system-wide sales and over 28,000 restaurants in more than 100 countries. QSR is a publicly traded company with a market capitalization of $30 billion.
THCH currently has a 9-member Board, 4 of which are from Cartesian Capital, 1 from Sequoia Capital China, 1 from Tencent Investment, 1 from Restaurant Brands International, 1 from Silver Crest and 1 from THCH management. Since the Chairman of the Board Peter Yu owns 53% of THCH through his fund and other controlled entities, THCH is qualified as a "controlled company" by Nasdaq's corporate governance standards and "has the option not to comply with the requirement that a majority of the board of directors shall consist of independent directors and the requirement that our nominating and corporate governance committee and compensation committee shall be composed entirely of independent directors."
Instead of a corporate governance concern, we view this as a great investment opportunity for the following reasons:
The company is essentially still a quasi-private company. Currently only 1.4 million shares are available for trading freely (low float) which accounts for less than 1% of the cap table. The top six shareholders who are also on the Board, collectively control over 90% of the company.

If the Board makes any decisions that are not shareholder friendly, these top shareholders will likely be hurt more than those retail investors who trade the 1.4 million low float shares.

Most importantly, this is a very rare opportunity in that retail investors can invest side by side with blue chip institutional investors into a solid company like THCH, at a similar cost basis. The table below summarizes the cost basis of THCH's key shareholders based on the disclosure in its SEC filings. THCH shareholders are grouped into several different categories depending on the timing of the investment. All the investors before the SPAC deal were included in Legacy Shares while the SPAC related investors, based on function, are divided into Sponsor Shares and Warrants, PIPE Shares and Warrants, ESA Shares and Convertible Notes Shares. The closing price of $2.78 on December 30, 2022 was actually below that obtained by Sequoia Capital China in the private funding round early 2021. Since the stock is still just above $3, if a retail investor buys THCH stock now, he/she will have a similar cost basis to that of Tencent, Sequoia Capital China and Eastern Bell Capital but without the mark-to-market losses of some of the investors who also invested into the SPAC PIPE deal.
Cost Basis of THCH Key Shareholders
Shareholder Category

Share Count

Investors

Cost Basis

Legacy Shares

35,186,824

Pangaea Two Acquisition Holdings XXIIA Limited (Cartesian Capital)

0.50

Tencent Mobility Limited

2.10

SCC Growth VI Holdco D, Ltd.

2.82

Eastern Bell International XXVI Limited

2.82

Pangaea Two Acquisition Holdings XXIII, Ltd

NA

Sponsor Shares

4,312,500

Silver Crest Management LLC

0.006

Sponsor Warrant

4,450,000

Silver Crest Management LLC

0 but exercise price at 11.50

PIPE Shares

5,050,000

Investors >=$10 million, likely including

Pangaea Two Acquisition Holdings XXIIB Limited (Cartesian Capital)

Tencent Mobility Limited

Tim Hortons Restaurants International GmbH (QSR)

8.33

Investment <$10 million

10.00

PIPE Warrants

1,200,000

Investors >=$10 million

0

ESA Shares

5,000,000

Shaolin Capital Partners Master Fund Ltd,

DS Liquid DIV RVA SCM LLC,

MAP 214 Segregated Portfolio, a segregated portfolio of LMA SPC, and

Shaolin Capital Partners SP, a segregated portfolio of PC MAP SPC

Adjusted Reference Price minus $0.10 Option Premium

Shares Issuable Upon Conversion of Convertible Notes

6,752,041

Sona Credit Master Fund Limited

Sunrise Partners Limited Partnership

7.62
Source: Company SEC filings.
THCH does not disclose the full list of the investors in its PIPE deal, but based on the information from its F-4 filing, Cartesian Capital, Tencent and QSR were in the deal with at least $10 million investment each which qualified them for a cost basis of $8.33 per share. All these investors had suffered over 70%, or $35 million in mark-to-market losses based on the closing price of $2.78 on December 30, 2022, which could also eat into the on-paper gain from their investment in the Legacy Shares. Given this analysis, it is reasonable to assume that THCH's institutional investors are very motivated to create shareholder value in 2023 to recoup the paper losses incurred in 2022. Retail investors should ride along.
Fundamental Driver 2: Well-Tested Management
COVID hit exactly one year after THCH opened its first store in China in February 2019. It is not hard to imagine what the management team had to go through to grow the business while navigating the unprecedented uncertainties caused by COVID over the following three years.
They executed very well, which should not come as a surprise. THCH senior management are all industry veterans with half of them coming from Burger King China, which was also Cartesian's portfolio company (see chart below). Other members of the team are all from leading industry players such as Yum Brands China, Starbucks China and McDonald's China. Over the past four years, this management team has not only grown the topline amid the COVID constraints, but also effectively optimized the cost structure of the business.
THCH Senior Management Team and Professional Background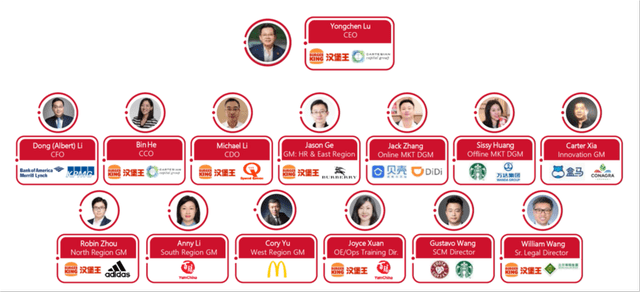 The negative impact of COVID on THCH's topline growth was the most significant during 2022. On a quarterly basis, the total store count has been increasing steadily since 1Q21, but the number of average new store openings per month, i.e. the pace of store openings, slowed down dramatically in 2022, especially in 2Q22 when Shanghai had a city-wide lockdown (see charts below). The COVID pain on THCH was likely exacerbated more than its industry peers because at the current stage THCH's stores are highly concentrated. As of the end of 3Q22, over half of THCH's stores are located in Shanghai and Beijing, both of which had experienced strict lockdowns during 2022, i.e. temporary store closings for THCH.
| | |
| --- | --- |
| Total Store Count | New Store Openings per Month |
| | |
Same store sales and EBITDA margin showed a similar negative impact during the same period (see table below).

In the investor deck for the SPAC deal roadshow in 2021, the company projected 733 system-wide stores by the end of 2022 with 430 more stores opened in 2023 to reach 1,163. Revenue was expected to hit 1,579M Yuan (US $235M) and 2,786M Yuan ($415M) respectively in 2022 and 2023 (see charts below). Per the company's recent press release, the store count as of October 17, 2022 was 500 which was well below the original target of 733 by year-end 2022. Based on the third quarter earnings release dated November 29, 2022, the company generated 709M Yuan ($106M) in revenue during the first 9 months, and assuming its revenue in 4Q22 remains the same as 3Q22 (43M Yuan), the full year revenue would be approximately 750M Yuan ($112M), well below the projected revenue target set in 2021. That said, the target miss was caused largely by the COVID lockdowns that are beyond management's control.
Impact of COVID on THCH Projections
For the factors over which management did have control, they delivered. For example, in 2022 the company's registered royalty club members continued to grow every quarter sequentially. It is reasonable to assume that under the zero COVID policy these loyalty club members had not been able to fully contribute to THCH's same store sales growth due to temporary store closings from time to time. However, this has created potentially huge pent-up demand which will be unleashed as soon as the stores are reopened with online order and foot traffic back into the stores.
The management team also did a commendable job managing the cost structure effectively. The table below summarizes the trends of key cost components as a percentage of revenue since 2019. With the exception of delivery costs, all major cost components have been trending down, especially food and packaging cost which dropped from 37.7% in 2019 to 31.7% in the first 9 months of 2022 despite the supply chain constraints due to the COVID outbreak. The higher delivery costs are quite understandable as during the pandemic (especially during a lockdown) third party online order and delivery platforms were increasingly the key sales channel for any given store.
Selected Cost Components as % of Total Revenues

THCH's current cost structure also appears to be in line with its industry peers, e.g. KFC segment of YUM Brands China with the exception of General and Administrative Expenses (see table below). For the first nine months of 2022, THCH and KFC China reported quite similar numbers for "food and packaging" and "rental, marketing and other operating expenses" as a percentage of total revenues. (Note that KFC China included the direct marketing expenses in its rental and other operating expenses, so we have combined rental and marketing expenses of THCH in the comparison table.) This is quite impressive, given THCH is still a four-year-old startup while KFC China is an established market leader in the QSR sector in China. THCH management should take credit for this.
Cost Structure THCH vs KFC China

THCH lagged KFC China in payroll and G&A by a large margin. This gap is understandable and primarily driven by the scale of the business. As of September 30, 2022, KFC China had 8,675 stores across China, i.e. significant operating leverage while THCH had only 500 stores. That is where we see the most upside for THCH in terms of earnings power after it resumes its normal pace of store opening and starts to benefit from the economy of scale.
In addition to opening and operating brick and mortar stock under its own brand name, THCH has also been exploring a co-branding strategy to tap into existing third party retail channels, e.g. supermarket chain METRO China (99 stores in 60 cities), Alibaba's grocery chain Freshippo (300 stores in 27 cities) and gas station convenience store chain Easy Joy (27,800 stores at Sinopec gas stations, 190 million loyalty members and $10 billion revenue in 2021).
Our local contacts researched all three retail chains and found Easy Joy the most interesting for potential future growth. Easy Joy, owned by one of the largest state-owned petroleum companies in China, Sinopec, operates convenience stores at Sinopec gas stations. Unlike the gas stations in the US, gas stations in China are mostly full service, i.e. a staff member will pump the gas for the customer, the same staff member also doubles as a salesman, introducing the featured products or ongoing promotions in the convenience store. The driver simply chooses a product which is then delivered by the staff member directly into the trunk. The driver does not need to leave his/her car to make the payment as all transactions could be settled via the Sinopec Mini program within the WeChat app. WeChat is wholly owned by Tencent which is an investor in both Easy Joy and THCH. THCH has opened 3 Tims Express stores in Easy Joy in Beijing, which might be overlooked by the market. If the pilot program is successful, the partnership could roll out to Easy Joy in other cities. A driver typically stays at a gas station for 5-10 minutes which is roughly the time a customer has to wait for an order at a Tim Hortons store. Tims Express is essentially a counter with relatively low upfront capex and the foot traffic is drawn by the gas station with very low customer acquisition cost. It is still too early to tell whether this partnership will eventually take off, but if so, the financial impact could be significant given the scale of and daily traffic through the Sinopec gas station network.
To conclude, THCH has an experienced and well-tested management team which has successfully led the company out of COVID uncertainties and is ready to deliver significant topline growth while skillfully controlling costs in 2023.
Fundamental Driver 3: Solving the Financing Puzzle
At the current phase of business expansion, THCH still relies heavily on the cash flow provided from financing activities to cover its increasing funding requirement for operating and investing activities. The table below summarized the sources and uses of cash since 2019.
Sources and Uses of Cash

As stated earlier, we have assumed that THCH would have at least 500 opened stores by the end of 2022 and 750 opened stores (250 new stores) by the end of 2023 in our base case and 900 opened stores (400 new stores) in our optimistic case. We also assumed that THCH would generate on average 2M Yuan ($300K) in revenue per store in 2023 with total revenue of 1.5B Yuan ($220M) in the base case and 1.8B yuan in the optimistic case ($270M). Based on the historic data on net cash used in operating and investing activities (see table below), we assume that net cash used in 2023 would be 1.5M yuan per store ($220K on par with that in 2021), implying a total net cash needed of 1.13B Yuan ($170M) in the base case and 1.35B Yuan ($200M) in the optimistic case in 2023.
Net Cash Used/Store

How will THCH secure that amount of funding? The table below is an analysis of THCH's available sources of funding based on the information provided at the end of 3Q22.
Maximum Capacity

Current Availability

Cash on Balance Sheet

$53M

$53M as of 3Q22

Not contingent on THCH Stock price

Cash from Equity Support Agreement (ESA)

$53M

Restricted cash

Based on current stock price, only approximately $16M could potentially be available to THCH in three instalments payable at the end of January, March and June 2023

Credit Facilities

RMB 320M ($45M) for daily operation purposes

RMB 50M ($7MM) for payments associated with design, build out and furnishing of new stores

$52M outstanding as of 3Q22

Not contingent on THCH stock price.

Potential Warrant Exercise

$263M

$0 available based on current stock price

Warrant exercise price $11.50/share, i.e. warrant holders will only likely exercise warrants if stock price is above $11.50

Equity Purchase Agreement with Cantor

$100M

Approximately $23M based on current stock price

Subject to maximum Beneficial Ownership Limit of 4.99% given current market cap of $460M
Source: Company SEC filings.
Our observations on this table are as follows:
All the financing sources are contingent upon the stock price except cash on balance sheet and cash from credit facilities;

While $53M of cash on the balance sheet is readily available, THCH's credit facilities were fully drawn as of the end of 3Q22. The company may have paid down the revolver in 4Q22, freeing up additional liquidity;

Assuming THCH stock price stays the same at about $3 in 2023, the cash payout from the Equity Support Agreement would be approximately $16M in aggregate by June 2023 while the payment from the Equity Purchase Agreement would be around $23M;

Given the current stock price of about $3 per share and assuming no borrowing capacity under the credit facility, the total available cash from the sources in the table theoretically would be about $90M.
If the stock price goes to $10 and stays above that level, more funding would be available based on the formulas under the various financing agreements, for example:
Funds generated from the Equity Purchase Agreement would be at least $70M if the stock is back at $10 per share;

Funds generated from the Equity Support Agreement would be $50M if the stock price during the three reference periods is at or above $10.40, $10.60 and $10.90 respectively; and

Funds generated from exercising the warrants would be $263M if the stock price trades above the exercise price of $11.50.
Now the key question is really what would happen if THCH stock price somehow hovers around $3 or drifts even lower, how would the company fund its expansion? As we calculated earlier, the total available cash could be about $90M (approximately 600M Yuan) if the stock price stays around $3 per share. That would cover 53% of the total cash needed under our base case and 46% under our optimistic case (see table below) which means the company would need to raise additional capital in order to maintain a meaningful growth rate to capture the post COVID pent up demand and expand market share.
However, if the THCH price recovers back to $10 but below $11.50, the available funding source would more than cover the base case and cover 90% of the optimistic case. If THCH stays above $11.50, it will have ample liquidity to cover both cases. The stock price is the key.
Base Case

Optimistic Case

Store Count 2023

750

900

Cash needed in operating and investing activities per store (based on 2021 number)

1.5m Yuan ($220K) per store

1.8M Yuan ($270K) per store

Total cash needed

1.13B Yuan ($170M)

1.35B Yuan ($200M)

Available funding if stock @ $3

$90M, i.e. 53% of total cash needed

$90M, i.e. 45% of total cash needed

Available funding if stock >$10 but < $11.50

Additional $36M from ESA and $50M from EPA

Total availability $175M, i.e. 103% of total cash needed

Additional $36M from ESA and $50M from EPA

Total availability $175M, i.e. 88% of total cash needed

Available funding if stock > $11.50

Additional $263M unlocked from exercising warrants

More than covering total cash needed

Additional $263M unlocked from exercising warrants

More than covering total cash needed
Source: Company SEC filing.
Besides these stock price-contingent funding sources, management should also consider upsizing its current credit facility and/or having a backup plan to raise capital from existing shareholders if the stock price stays low. That said, the top priority for THCH should be focusing on delivering solid operating results and translating that into a higher stock price to secure those stock price-contingent funding sources.
Technical Driver: Low Float vs Unlocked Shares
Due to the high redemption rate by the SPAC shareholders, THCH currently has only 1.4M ordinary shares available for trading, or 1% of total shares outstanding. Over the last three months, the average daily trading volume was only about 100K shares. This low float situation has created two challenges for THCH:
Higher volatility. It does not take too many shares to push the stock in either direction and any movement could be amplified or exacerbated, thus the stock price could be quite volatile.
Difficult to attract secondary market investors. For the institutional investors who appreciate the underlying fundamentals of the company, it is almost impossible to establish a meaningfully large position as there are only 1.4M (worth $4M) tradeable shares available on the secondary market. The only alternative for them is to buy THCHW which has 23M outstanding units and is freely tradeable.
How and when the low float issue could be addressed is dependent on the potential supply of the ordinary shares. The table below summarizes the three sources of THCH ordinary shares supply: existing shares outstanding, potential shares from exercising warrants and potential shares from converting the convertible notes.
| | |
| --- | --- |
| Sources of Ordinary Shares | Share Count |
| Ordinary Shares outstanding prior to exercise of all Warrants and conversion of the Notes | 148,355,092 |
| Ordinary Shares issuable upon exercise of all Warrants | 22,900,000 |
| Ordinary Shares issuable upon the conversion of the Notes | 6,752,041 |
Source: Company SEC filings.
It is unlikely that the shares from either the warrants or the convertible notes will hit the market anytime soon as both the warrant exercise price and convertible notes conversion price are set at $11.50 per share. So any potential free float shares will have to come from the current outstanding ordinary shares.
Based on the latest F-1 filing (SEC registration form for foreign issuer), the following shareholders could potentially offer to sell their ordinary shares. Please note that the F-1 filing simply provides the information on the number of shares that would be available for sale by the existing investors, but by no means suggests that those shares would indeed hit the market.
Category

Investors

Number of Shares for Sale

Legacy Shares

Pangaea Two Acquisition Holdings XXIIA Limited (Cartesian Capital)

Pangaea Two Acquisition Holdings XXIII, Ltd (Cartesian Capital)

Tencent Mobility Limited

SCC Growth VI Holdco D, Ltd. (Sequoia Capital China)

Eastern Bell International XXVI Limited

35,186,824

Sponsor Shares

Silver Crest Management LLC

4,312,500

PIPE Shares

likely including

Pangaea Two Acquisition Holdings XXIIB Limited (Cartesian Capital) Tencent Mobility Limited Tim Hortons Restaurants International GmbH (QSR)

5,050,000

ESA Shares

Shaolin Capital Partners Master Fund Ltd,

DS Liquid DIV RVA SCM LLC,

MAP 214 Segregated Portfolio, a segregated portfolio of LMA SPC, and

Shaolin Capital Partners SP, a segregated portfolio of PC MAP SPC

5,000,000
Source: Company SEC filings.
Among these four categories of shares, Legacy shares and Sponsor shares are subject to lock-up restrictions and their lock-up calendar is the same,
with respect to 100% of the Sponsor Locked-Up Shares, six months from and after the Closing Date;

with respect to 80% of the Sponsor Locked-Up Shares, twelve months from and after the Closing Date; and

with respect to 50% of the Sponsor Locked-Up Shares, eighteen months from and after the Closing Date.
Since the SPAC deal was closed at the end of September 2022, 20% of Legacy and Sponsor shares would be unlocked for sale between April and September 2023 and another 30% would be unlocked between October 2023 and March 2024. Whether they would actually sell all the unlocked shares is dependent on the market price at that time, their respective cost basis and their expectations for THCH for the rest of 2023. Since the investors of Legacy shares are all strategic and current shareholders, the THCH stock price is not far above their cost basis (except for Cartesian Capital which has a much lower cost basis), we would expect them to hold out for a higher exit price assuming they have conviction in the business. Silver Crest Management LLC obtained its Sponsor shares essentially free via the SPAC transaction. We would not be surprised if it sells 20% of its shares (862,500 shares) during the first unlock window in 2023.
PIPE shares are not subject to any lockup requirement. However, PIPE investors might continue to hold onto the shares as otherwise they incur steep investment loss at the current stock price given that their cost base is either $8.33 (if they invested more than $10M in the PIPE) or $10 (if they invested less than $10M in the PIPE).
ESA shares have no lock-up restrictions either. ESA stands for Equity Support Agreement, which essentially is a derivative financing contract between THCH and ESA investors signed upon completion of the SPAC merger. Under the contract, THCH issued 5M ordinary shares to ESA investors in return for ESA investors depositing $50M (i.e. $10 per share) into a collateral account. THCH also contributed $3,166,667 in cash to that same collateral account. Note that the $53M in cash is restricted and THCH cannot access it unless it is distributed at the end of each reference period discussed below. The cash in that account will be distributed to THCH in 3 reference periods ending respectively in January, March and June 2023, but the amount of each distribution would be decided by THCH's stock performance relative to a pre-agreed price target during each reference period. As illustrated in the table below, if THCH stock trades at or above the target price of $10.40 during reference period 1, $10.60 during reference period 2 and $10.90 during reference period 3, the maximum amount THCH will get from all 3 reference periods will be all the cash in the collateral account, i.e. $53,166,667 while ESA Investors will not get anything from the collateral account but will keep all the upside above those 3 target prices, e.g. if THCH stock trades at $15 in all periods, ESA Investors will be able to book $25M in profit as their cost basis is only $10 per share.

However, if THCH stock trades below the Target Price, the difference between the Target Price and the THCH stock price will be paid back to ESA Investors, which essentially lowers the cost basis of ESA Investors to the THCH market price, not the $10/share implied when they deposited cash into the collateral account. To illustrate the payout mechanism, we assume in the following table that THCH trades at $3.30 during all periods. THCH will only be able to raise $16.5 million ($3.30*5M shares) while $36.67M in the collateral account will be returned to ESA Investors. In this example, despite the fact that THCH's stock price tanked 67% from $10 to $3.30, ESA Investors did not incur any mark-to-market loss as their cost base was adjusted down to $3.30.

This example also leads to another question: when and how many shares ESA Investors may sell into the market at the end of each Reference Period. ESA Investors currently own 5M THCH shares, but those shares do not have an actual cost basis until the end of each reference period when the reference THCH stock price is set and the payout to ESA Investors and THCH are executed. For example, at the end of reference period 1 which is the end of January 2023, after the payout to THCH is executed, ESA Investors will actually know the cost basis for 1,666,666 THCH shares. That will immediately create new risk exposure to ESA Investors as THCH's stock price could go lower than the newly established cost basis and result in mark-to-market losses for ESA investors if they hold on to the shares. Based on the terms of this Equity Support Agreement, ESA investors, led by Shaolin Capital, seem to focus more on structure driven investment opportunities with asymmetric returns, not fundamentals driven strategies. It will make sense for them to immediately sell those 1,666,666 shares as soon as the reference THCH stock price is decided to neutralize the market exposure. The key question is how they will be sold as that shares count is already bigger than THCH's current free float of 1.4 million. It would make sense for the company to work with ESA Investors to unload those shares directly to fundamentally driven investors who could see the shares as a bargain at the current price and hold the shares for the long term.
Despite the above-mentioned challenges, low float has one possible benefit, i.e. low float squeeze. This squeeze typically happens to stocks with active option trading. The option market makers who sell call options to the investors would most likely hedge those positions by buying underlying shares. If a stock has a very low float, the market makers' stock purchase could create a circular effect that drives the underlying stock to spike very quickly. However, the squeeze is purely driven by technical factors and the rally will typically be short-lived. We would not be long any stock purely based on a potential low float squeeze which may or may not happen, but it's something to pay attention to.
Below are charts of a recent low float squeeze of FaZe Holdings (FAZE) and its warrant (FAZEW) to illustrate the point. FAZE was also a SPAC deal which had a low float after a 90% redemption from the SPAC investors. Both FAZE and FAZEW shot up quickly after the merger was closed. FAZE at one point doubled to $20 per share while FAZEW was up 400%, but the rally only lasted about 2 months and FAZE finished 2022 at $1.85, with FAZEW at 13 cents.
FAZE and FAZEW Price History

FAZE and FAZEW Price Return History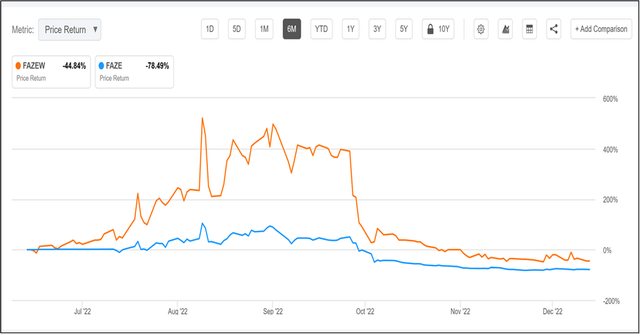 Given the analysis above, we are of the view that THCH management is facing a dilemma on how to address the low float and upcoming lockup expiries given the current low stock price. If any investors sell their unlocked shares into the market, the low float situation would be relieved but that would be at the cost of the stock price which is already at a historic low. Since the shareholders are very concentrated, it might make sense for the key shareholders to revise their lockup arrangements or bring in new investors to take over the unlocked shares in arranged trades.
Potential Catalysts
We would closely track the following key events going forward to assess and revise our investment thesis:
Earnings release. We think the 4Q22 earnings of THCH were still negatively impacted by COVID as in October and November China was still under the Zero COVID policy. However, the company should be able to provide some guidance or comments for 2023. Since QSR tends to release its earnings earlier than THCH, it might be possible to get an early peek at THCH results in February when QSR releases its 4Q22 results. THCH management may want to hold a live earnings call with a Q&A session rather than just issuing a press release, as that would attract new investors.
Herd immunity progress in China. Given the size of the country and its population, it might take longer for China to reach peak infection rates and achieve herd immunity. It might also suffer higher mortality rates among those infected. We would expect a lot of negative headlines in 1Q23 but as far as THCH is concerned, we would focus on the first and second tier cities where THCH operates its stores.
Macroeconomic indicators. We would focus on economic data such as monthly retail sales growth, consumer confidence, and government subsidies to consumers to gauge the recovery of consumer sentiment and spending.
Initiation of Sell Side research coverage. Both THCH shareholders and senior management are well aware of the importance of being covered by Wall Street Sell Side analysts. QSR and YUMC are well covered by analysts in the US and Hong Kong. QSR is currently covered by research analysts from Deutsche Bank, Morgan Stanley, Oppenheimer, Sanford C. Bernstein, Barclays, Credit Suisse, Citi, and Bank of America, while YUMC is covered by Bank of America, Citi, Credit Suisse, J.P. Morgan, Jefferies, Morgan Stanley and UBS.
Key Risks
Negative COVID Impact. From a political and macroeconomic perspective, the risk is that the economic recovery is delayed or disrupted due to a surge in the number and percentage of infected cases. For THCH, the impact would be both financial and operational. If one staff member of a specific store tests positive, it is highly likely that the whole team will be infected. Anecdotally it takes an average of 7-9 days for an infected patient in China to recover, which means the company will have to either close that store for a few days, or dispatch staff from other stores to fill in. Another anecdote is that many delivery drivers of major third party delivery platforms were sick at home and would not be able to fulfil online delivery orders for restaurants or coffee shops.
Geopolitical uncertainties. The key risk is that the tension between the US and China gets escalated in 2023, especially with regard to Taiwan. Any adverse development could drag down the entire stock market significantly and the stock price of the companies with direct China exposure, such as THCH, could easily see a more severe correction.
US market selloff. The US equity market may fall more in 2023 due to a host of negative factors, such as higher inflation, weaker consumer spending, a stronger dollar and corporate earnings shortfall. An indiscriminate selloff could impact Chinese ADRs such as THCH. However, our thesis is that China would be in an easing cycle in 2023 while the US continues its tightening cycle. THCH could be in the sweet spot as a US-listed company with 100% of its business in China.
Warrants. THCHW warrants expire in 5 years. If the stock price remains lower than the exercise price, the warrants could expire worthless. Also if the company is taken private, the warrants could also end up worthless.
Conclusion
As a master franchisee for Tim Hortons, THCH has very solid fundamentals supported further by macroeconomic tailwinds in 2023. However, THCH's stock and warrants both trade near all-time lows with the stock price only marginally above the valuations of the private funding round in early 2021. At current levels, both THCH and THCHW offer an asymmetric opportunity with significant upside and limited downside.
Editor's Note: This article covers one or more microcap stocks. Please be aware of the risks associated with these stocks.
Source link