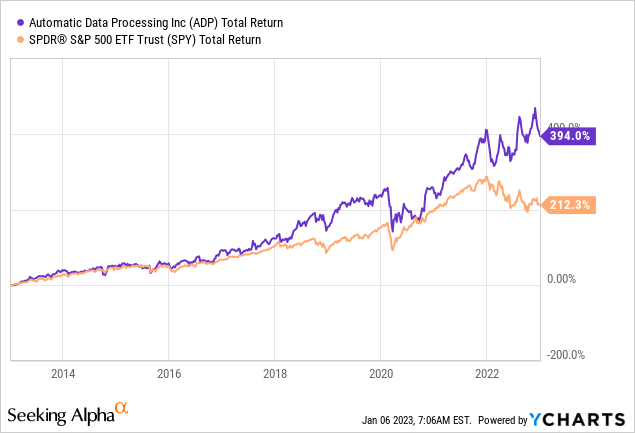 Introduction
Over the past few months, we have spent a lot of time discussing the risks that come with a Federal Reserve that's eager to fight inflation. One key aspect I'm focused on is the labor market. The labor market is extremely resilient. That's great news for the economy, but bad news for the Federal Reserve, as fighting labor inflation is key when it comes to lowering overall inflation. In light of these developments, I am closely watching one of the greatest dividend stocks in the service industry. Automatic Data Processing (NASDAQ:ADP) is a fast-growing company dependent on the labor market and HR systems. A company that offers everything I'm looking for in a dividend growth stock like:
A solid business model allowing for fast growth.
High free cash flow generation and growth.
A satisfying dividend yield and dividend growth.
A history of low-volatility outperformance on the stock market.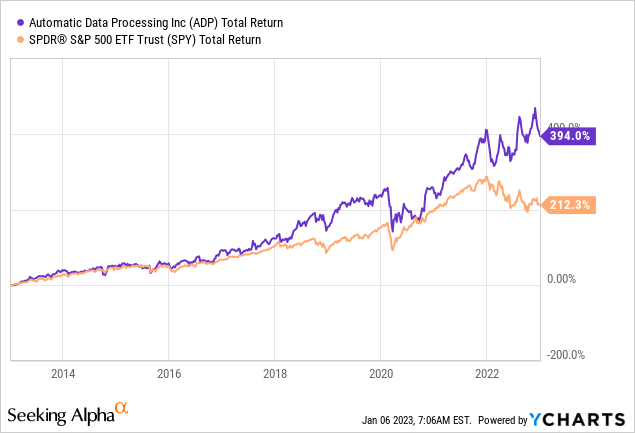 If my economic thesis is even remotely correct, I believe we get to buy ADP at a terrific valuation, making high long-term wealth generation almost a certainty.
In this article, I'm going to elaborate on all of this.
So, bear with me!
Why I Believe That The Labor Market Needs To Weaken
First of all, I'm not trying to spread gloom and doom, despite talking a lot about elevated recession risks and my expectations that the market could fall to the low 3,000 range.
Essentially, I believe that the Fed will have to be more aggressive than expected when it comes to achieving its goals of getting inflation down to 2% and preventing it from rising again.
In this case, time is also of the essence. After all, the US Treasury could be facing a $600 billion increase in annual debt servicing costs, as more than $10 trillion in debt is due in 2023 and 2024, according to Lawrence McDonald.
While I obviously might be wrong (after all, it's an outlook), I believe the process might look something like this:
The Fed is feeling tremendous pressure to control inflation. That makes sense as the US economy is consumer-driven. Also, high inflation can quickly turn into lasting above-average inflation once wages and spending habits adjust. That's a no-go!
Hence, I believe that the Fed will not be afraid to do damage to the US economy to achieve its target of lower inflation. This includes hurting housing demand/prices, unemployment, and consumer spending.
Once the Fed pivots (I still believe it will happen in 2023), the economy will slowly adjust to lower rates. Demand will come back. So will inflation.
Given the aforementioned secular factors, I believe we are in a prolonged period of Fed hikes and cuts at above-average rates (versus 2009-2021).
One reason why I keep bringing up the labor market is the impact labor has on inflation. As most may have noticed (across the globe), labor inflation is strong. Despite weakening economic growth, companies are still eagerly looking for employees.
Scientific research in 2019 (conducted in the EU) found a strong relationship between labor inflation and price inflation. Especially in a period or periods of already high inflation. That's a huge risk! Central banks know that.
According to the ECB working paper:
Using country and sector quarterly data over the period 1985Q1-2018Q1 we find a strong link between labor cost and price inflation in the four major economies of the euro area and across the three main sectors.

[…] These results confirm that, under circumstances of predominantly demand shocks, labor cost increases will be passed on to prices. Coming from a period of low inflation, however, this pass-through could be moderate at least until inflation stably reaches a sustained path.
With that said, we're seeing some worrying developments. "Worrying", in this case, refers to how hard it will be for the Fed to get inflation down under these circumstances.
For example, wage inflation hasn't come down a lot. Even worse, it's heating up again. Wage inflation for job switchers is at almost 8%. This shows how eager the market is to hire and how much power job switchers have.
These numbers are confirmed in the latest Job Openings and Labor Turnover (JOLTS) report, which Bloomberg's Joe Weisenthal summarized the other day:
Also within the JOLTS report, we got news that the Quits rate actually ticked higher, which again, is a sign that workers feel good about the state of the labor market. One of my favorite charts, which I've probably posted a few dozen times, is the Quits Rate vs. the Labor Differential Index of the Conference Board Consumer Confidence survey. One is hard data (the % of workers who quit) while the other is a sentiment measure (basically asking workers how they feel about the labor market). And yet the two lines move together really nicely. Both saw a jump in their latest reading.
For the market, the worst part is that Fed Chairman Jerome Powell seems to agree. According to Bloomberg:
Still, Chair Jerome Powell said at a post-meeting press conference that the committee has "more work to do," explaining that how high rates ultimately rise and how long the Fed holds them there was more important than the pace at which officials reach that destination.

He also described the labor market as "out of balance," and "extremely tight," and warned that restoring stable prices is likely to require some "softening" in job market conditions.
That's where my ADP idea comes in, as I believe that the market will offer us tremendous buying opportunities this year after the Fed has done enough damage to at least temporarily achieve its inflation goals. And even if my theory is wrong, you will benefit as we discuss a high-quality dividend growth stock.
Why 2.1% Yielding ADP Is Such A Great Dividend Stock
It's very rare, but some exchange-listed companies are still dividend growth stocks many decades after being founded. Automatic Data Processing is one of them.
Founded in 1949, the company has a Seeking Alpha dividend scorecard that beats a lot of younger companies. The company scores very high on dividend safety and dividend consistency. ADP is a dividend aristocrat with more than 40 consecutive annual dividend hikes.
Before we dive into these dividend numbers, let me elaborate on why ADP fits so well in this article.
First of all, ADP is a leading technology company providing cloud-based human capital management ("HCM") solutions that unite human resources, payroll, talent, time, tax and benefits administration, and more.
It's a service that helps companies of all sizes to deal with everything related to employment. The company serves close to one million clients, covering 39 million workers in 140 countries. Needless to say, that's a huge deal.
The company's strategy is based on three pillars:
Growing cloud-based HCM solutions that assist a wide variety of businesses to manage the entire worker spectrum and employment cycle – from full-time to freelancer and from hire to retire.
The company offers entire human resource solutions, which allows companies to outsource employee benefits administration, employer liability management, and other benefits. It's an easy way to let companies focus on what they do best instead of being busy with administration.
Thanks to its size, ADP offers a global presence that offers clients HCM solutions wherever they do business. That's a competitive edge not a lot of companies can compete with.
The fact that outsourcing and business process streamlining is a huge deal allows the company to grow fast. In its fiscal 2023 year, the company expects between 6% to 9% in new business bookings growth, leading to at least 8% revenue growth. Adjusted diluted EPS growth is expected to be at least 15%.
Now, to return to dividend growth, ADP is highly supportive of its shareholders and aware of the benefits that dividends bring to the table. In its most recent earnings call, the company emphasized that it is less than three years away from 50 consecutive annual dividend hikes, which would put the company in an elite dividend kings group of fewer than 15 companies.
Note that the comment below comes from CEO Carlos Rodriguez, who was a bit surprised that no analyst asked about the dividend.
Another disappointing quarter where no one asked about the dividend. So let me just say that if the Board — obviously I don't want to get ahead of the Board, but if the Board approves a dividend increase in November, this will be our 48th year of increasing dividends, which I think is a pretty elite group out there. And if you look at our payout ratio and you assume the Board will want to stay in the same payout ratio, you can do the math in terms of what's going to happen with our dividend. I think people really way underestimate. I hope this doesn't become an environment where for the next 10 years people are very focused on dividends because that has its own negative implications. But if you look at over 50 years or 70 years or 100 years, dividends matter, right? And compounding growth of dividends matters a lot.
What's important to mention here is that the company did hike its dividend in November, making it the 48th consecutive hike.
The November hike wasn't just a boring regular hike. No, ADP hiked by 20.0% to $1.25 per share. Last year, the company hiked by 12.0% in November. In November 2020, the company hiked by 2.2% due to COVID uncertainty. This later turned out to be bullish for the company.
Looking at the bigger picture, the 10-year average annual dividend growth rate is 11.8%. That number has remained consistent as the numbers above confirm. Please note that the dividend yield in the chart below is not correct. ADP is yielding 2.1% based on a $1.25 per quarter per share dividend.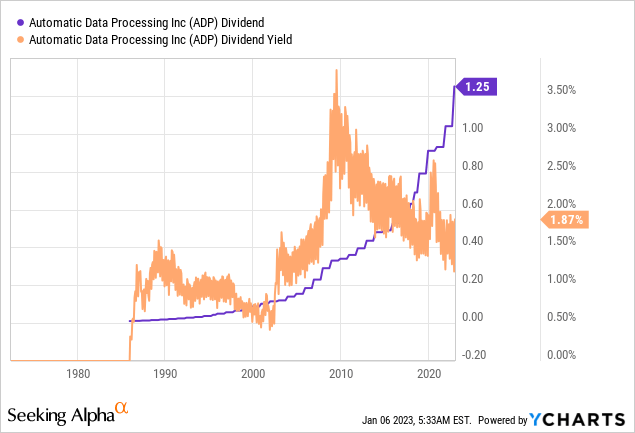 What's interesting, is that the company is rapidly growing, providing a path for a continuation of high dividend growth.
To sum up a few things:
Free cash flow is growing by 11.4% in the FY2013-2025E period.
Next year, FCF is expected to be $4.8 billion, which is 5.0% of the company's market cap. This indicates high dividend coverage (yield is just 2.1%) and more room for (aggressive) hikes.
The FCF margin is now expected to remain above 25%. That's up from less than 20% before the pandemic.
Due to high excess free cash flow, net debt is expected to rapidly decline into negative territory in the ongoing fiscal year.
The company has an Aa3 credit rating, which beats a lot of developed nations.
Speaking of debt, the company has just $3.0 billion worth of gross debt (as of September 30, 2022). This consists of three different bonds. All of them have low yields. Moreover, all of them have fixed-rate debt, which protects the company against high (current) rates. Also, the company has no maturities before September 2025, which buys a lot of time.
Fixed-rate 3.375% notes due September 15, 2025 – $1.0 billion.
Fixed-rate 1.250% notes due September 1, 2030 – $1.0 billion.
Fixed-rate 1.700% notes due May 15, 2028 – $1.0 billion.
Valuation
ADP shares are trading at 17.7x FY2024E EBITDA of $5.4 billion. This is based on a $95.4 billion enterprise value, consisting of its $96.6 billion market cap and $1.5 billion in 2024E net cash of $1.5 billion.
As the chart below shows, the company is everything but "cheap". The valuation has risen consistently to more than 24x NTM EBITDA in early 2022. This makes sense as the company has become increasingly profitable, achieving a 25% FCF margin after the pandemic.
The current 17.7x NTM EBITDA valuation puts the valuation back to pre-pandemic levels after the stock has fallen roughly 15% from its all-time high.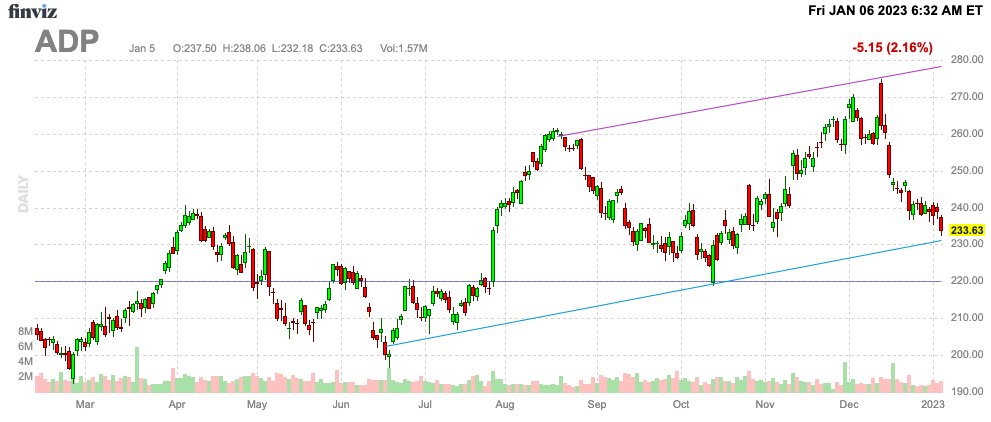 Given the economic circumstances and the need to weaken labor demand to fight inflation, I hope to get a shot at buying ADP close to $200. It may seem like a long shot, but I believe it's possible.
Risks
The biggest risk is a cyclical risk. While ADP has proven to be able to use secular growth in times of low cyclical growth, I think the market will start to price in slower growth if the labor market is indeed slowing down in 2023. Given my plan to buy ADP at lower prices, I have to say that this risk is the most realistic risk.
Other risks mainly include regulation and competitiveness in the HR space. To quote the company:
– Failure to comply with, or changes in, laws and regulations applicable to our businesses could have a materially adverse effect on our reputation, results of operations or financial condition, or have other adverse consequences.

– Failure to comply with privacy, data protection, and cyber security laws and regulations could have a materially adverse effect on our reputation, results of operations or financial condition, or have other adverse consequences.

– If we fail to protect our intellectual property rights, it could materially adversely affect our business and our brand.
Data security and trust are also huge issues. *If* the company were to experience data breaches or similar issues, it could hurt growth and its ability to retain existing customers.
Needless to say, I believe that all of the risks except for cyclical risks are contained and nothing to worry about.
Takeaway
In this article, we did two things. First, we discussed my view on the economy in 2023. I do expect a recession and labor market weakness. While employment fundamentals remain strong, the Fed will have to do damage in order to have a shot at lowering inflation to its 2% target – and keeping it there.
Second, we looked into one of the best dividend growth stocks on the market. Automatic Data Processing is a rock-solid company with strong secular growth in the HR industry. The company has high margins, strong free cash flow, and a focus on its dividend.
The dividend aristocrat is also fairly valued and yields more than 2.0% again. However, I believe that the valuation could get even more attractive in light of the macroeconomic situation.
I'm looking to buy ADP shares as close to $200 as possible this year. After all, I have little doubt that ADP can maintain long-term outperformance thanks to strong fundamentals.
(Dis)agree? Let me know in the comments!
Source link