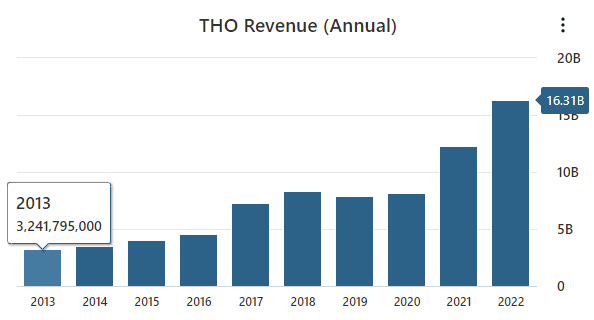 Business Model
THOR Industries (NYSE:THO) business model is centered around the design, manufacture, and sale of recreational vehicles (RVs) and related products. The company produces a wide range of RVs, including travel trailers, fifth wheel recreational vehicles, and motor homes and sells these products primarily to independent dealers throughout the United States, Canada, and Europe.
THO was founded in 1980 when two business partners Wade Thompson and Peter Orthwein purchased Airstream, one of the most recognized RV brands at the time. Prior to the purchase, Airstream had been struggling to achieve profitability due to the economic downturn in the late 1970s. However, under the leadership of Thompson and Orthwein, the company focused on enhancing quality and reducing cost and within one year, returned to profitability.
In recent years, THO has grown both organically and through strategic acquisitions. Today, THO is the largest RV manufacturer in North America, and one of the largest manufactures of RVs in Europe.
The company has three reportable segments which include North American Towable Recreational Vehicles, North American Motorized Recreational Vehicles and European Recreational Vehicles.
THO's North American operations are powered by multiple strong brands including Airstream, Heartland, Jayco, Keystone, KZ, Thor Motor Coach, and Tiffin Group. Together, these brands are what make THO the largest manufacturer of RVs in North America, measured by units sold and revenue.
In Europe, the company has eight RV production locations that produce RVs under many popular brands such as Buccaneer, Carado, Compass, CrossCamp, Dethleffs, Elddis, Eriba, Etrusco, Hymer, Laika, LMC, Niesmann+Bischoff, Sunlight and Xplore.
THO's mission is to be the leading manufacturer of recreational vehicles and related products, and the company's history reflects its commitment to innovation, quality, and customer satisfaction.
Leadership
THO is currently led by President and Chief Executive Officer Robert W. Martin. He has been with the company since 2001 when THOR Industries acquired Keystone RV where he worked since July of 1998. He has held various leadership positions within the company, including President of the RV group, President of Keystone RV, Executive Vice President and Chief Operating Officer of Keystone RV, and Vice President of Sales and General Manager of Sales.
Prior to joining Keystone RV, Martin held positions at Coachmen Industries, a former recreational vehicle and manufactured housing company. He has been serving as the President and CEO of the company since August 2013, and he previously served as the Chief Operating Officer from August 2012 to July 2013. Under Martin's leadership, THO has established an impressive track record of growth and profitability.
Performance
THO's impressive performance over the last decade starts with the top line. Over the last ten years, the company has grown revenues over 400%. It's equally impressive that there has only been one year of declines during this period, which happened in 2019.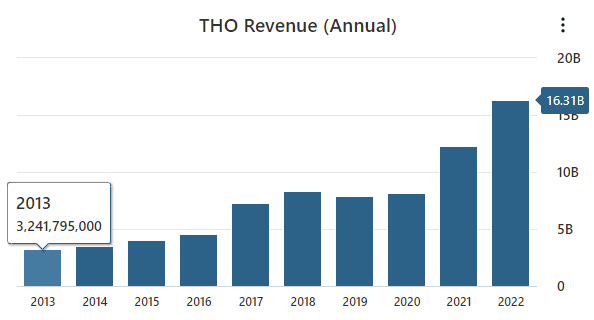 THO's impressive track record for growth extends to its free cash flow generation. The company's free cash flow has grown by 531%, again with only one year of decline in 2021.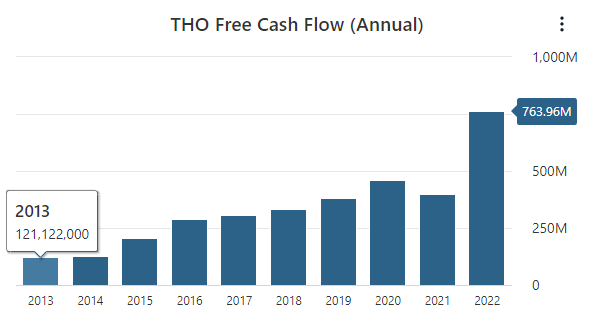 The company has also developed a strong track record of profitability. Over the past decade, THO has averaged a return on equity of just over 20% including only two years under 15%.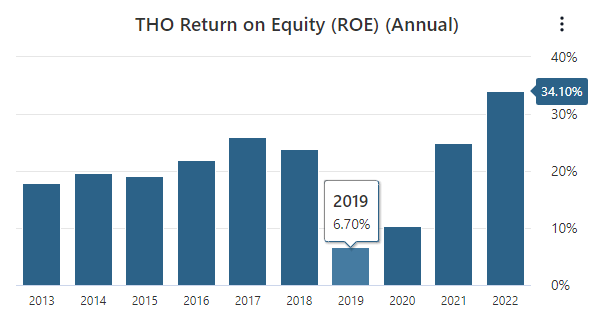 Another positive for THO is that the company has achieved these excellent results while maintaining a relatively low level of debt. Currently, THO has a debt-to-equity ratio of just 0.07 and a current ratio of 2.53.
One negative for THO is that business has not been known to buy back shares, which can be a powerful way to increase the value of the remaining shares. THO has opted to be more shareholder friendly in regard to its dividend which has increased for 12 years consecutively.
Overall, THO's experienced leadership team has helped the company develop a strong track record of growth and profitability while maintaining low levels of debt and increasing its dividend.
Strategy
THO's strategy aims to boost its financial success by fostering innovation, providing excellent customer service, producing top-notch goods, streamlining operations, and making smart investments in expansion. The company usually finances is growth through a mix of its own cash from operating the business and borrowing money if needed. In 2022, the company spent $240,561 on buying land, building new production spaces, and upgrading and replacing regularly used equipment and machinery.
As a part of THO's strategy, on December 21, 2021, the company's board of directors gave the green light for the company's management to spend up to $250,000 to buy back shares of the company's stock by December 21, 2024. Then on June 24, 2022, the board gave management the go-ahead to spend another $448,321 to buy back more shares of the company's stock by July 31, 2025. Share buybacks only create value for shareholders if the company purchases the shares at an attractive price, which we'll discuss more in the following section.
In addition, on September 1, 2021, THO bought AirX Intermediate, Inc. also known as Airxcel. They make a wide range of high-quality parts, mainly for recreational vehicles, and they sell it to manufacturers of these vehicles and also to the end consumers through dealers and retailers. Airxcel is known for their top-notch products in heating, cooling, ventilation, cooking, window coverings, sidewalls, roofing materials, and more for RVs.
THO acquired Airxcel as part of its big-picture growth plan, and it's expected to bring lots of benefits, like making its supply chain stronger, diversifying where THO makes its revenue, and growing Airxcel's supply chain business in North America and Europe. Airxcel will run as a separate entity, just like its other subsidiary businesses.
Valuation
To estimate THO's intrinsic value, we will run comparative and discounted cash flow ("DCF") analyses. To begin, we'll start with the comparative analysis and look at the highest, lowest, and average price-to-earnings ratios the market has paid for THO over the past five years. We'll also look at the sector median P/E, which is 14.53. Finally, we'll multiply these ratios by THO's consensus 2023 EPS estimate of $7.86 per share.
| | | | | |
| --- | --- | --- | --- | --- |
| Scenario | P/E | trailing 12-month EPS | Intrinsic Value Estimate | % Change from Current price |
| Bear Case | 3.344 – Sept 26, 2022 | $7.86 | $26.25 | -70.89% |
| Base Case | 14.25 – 5 – Year Average | $7.86 | $112.00 | 24.19% |
| Bull Case | 33.32 – Jul 19, 2020 | $7.86 | $261.89 | 190.40% |
| Sector Median Valuation | 14.53 | $7.86 | $114.20 | 26.63% |
On a comparative analysis, THO has a wide range of scenarios that can play out. Investors could realize an excellent 190.40% return if the market were bullish and applied the 33.32 multiple, seen in 2020, to next year's average analyst earnings estimate, should those estimates materialize. On the downside, investors could realize a -70.89% loss if the market were to value THO at the bearish P/E ratio seen just a few months ago in September 2022.
It's important to consider that the extreme valuations for both the bullish and bearish scenarios are primarily due to the fluctuations in THO's earnings. The company is highly cyclical, so occasionally, the earnings change a lot more than the price, which can throw the P/E ratio out of whack. The most likely scenario is the base case where the earnings and P/E ratio normalize, forcing the company's stock price up 24.19%.
Turning to the discounted cash flow analysis, we will begin by taking the average of the last five years of free cash flows, which is $468 million. Then we will apply a 7% growth rate for the next ten years based on rule 72, which states a 7% growth rate will double the original value in 10 years. We will follow rule 72 for this DCF because it's challenging to accurately forecast free cash flow growth rates multiple years into the future. Still, I am confident that THO will be able to double its free cash flow over the next decade.
Following the 10th year, we will use a 2.5% growth rate into perpetuity to determine the terminal value. We will then use a discount rate of 10%. I use this discount rate because it's my personal required rate of return. With these inputs, the DCF analysis gives us an intrinsic value of $164.32, representing an upside of 82.28% from THO's current share price.
If you believe a 7% growth rate over the next ten years is too aggressive, consider that THO could grow 0% over the next decade, and its intrinsic value from this DCF would still be greater than its current share price. This indicates that THO has a wide margin of safety currently baked into its share price.
Takeaway
When evaluating businesses, I look at five things: the company's track record for growth, how profitable the business is, how much debt the company has, the business's intangibles, including its leadership and the industry it operates, and the valuation. THO has got it all. The company has built a long track record of growth and profitability, and it has little debt and experienced leadership while operating in an industry I can understand. In addition, THO is a high-quality business, and based on a comparative and discounted cash flow analysis, shares of THO are currently selling at a discount to its intrinsic value.
Thank you for reading!
Source link