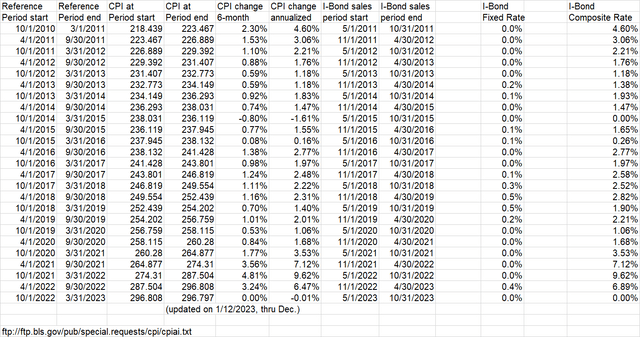 Inflation Dropped Off Fast
Series I Savings Bonds, normally a boring, little-discussed tool for savers, got a lot more attention in the past year with the spike in inflation. The interest rate these bonds pay is a combination of a variable and fixed component. The variable component is determined by the change in the CPI-u over the six-month periods of April-September and October-March every year. The fixed rate is set by the US Treasury Department on May 1 and November 1 of each year and is currently 0.4%. I won't rehash all the other rules and terms governing I-Bonds. Those new to this investment may find out more on the Treasury Direct website or by reading my earlier articles from April 2021 and 2022.
In both those articles, I mentioned that I-Bonds and certificates of deposit (CDs) vary over time as to which is the more attractive choice for storing cash needed in a 1-year or longer time frame. Despite my assertion in October 2022 that savers should load up on I-Bonds in 2023 after maxing out their 2022 contribution, I now think it's prudent to wait to commit funds to I-Bonds this year. The reason for this has been the big drop-off in inflation since that last article. With the latest CPI release, we are halfway through the reference period for I-Bonds sold or resetting between May and October 2023. As seen on the chart below, CPI-u actually declined slightly over the past three months, from 296.808 to 296.797 for a deflation of -0.01%.
This does not mean inflation will necessarily be zero over the next three months as well. A big driver of the CPI decline in December was a 9.4% month-on-month decline in gasoline prices. A chart on Gasbuddy.com shows that retail gasoline prices are already up about 6% since Christmas. On the other hand, natural gas prices have continued to fall in the new year. CPI excluding food and energy increased 0.3% month-on-month in December, which translates to a 3.66% annualized rate.
Nevertheless, for I-Bonds bought between now and 4/30/2023, I expect there will be a big drop-off in interest earned after the initial 6-month period. Generous CD rates are now available that are competitive with what I expect I-Bonds to earn over the next year. The added benefit of CDs are the shorter holding period required to avoid a withdrawal penalty (one year or less vs. 5 years for I-Bonds) and the unlimited investment amount, vs. $10,000 per year per person for I-Bonds.
How Low Can It Get?
The best time to buy I-Bonds was before the end of October 2022. We now know that I-Bonds bought then will earn a total of 8.21% after the first 12 months of interest, even with the zero percent fixed rate that applied at the time.
(1+0.0481)*(1+0.0324) = 1.0821
Don't forget that these bonds would need to be held 15 months to get that return. Given the three-month interest penalty, the bond would only earn 6.51% if cashed in after 12 months.
(1+0.0481)*(1+0.0324/2) = 1.0651
I-Bonds bought between November 2022 and April 2023 will start out with a variable rate of 3.24% (non-annualized) for the first six months. The rate will then shift to the yet unknown CPI change in the current 6-month reference period, plus the fixed component of 0.4%. If inflation continues at zero for the next three months, I-bonds bought now would earn 3.65% after 12 months of interest payments (15 months of holding).
[(1+.0324)*(1+0.00)]*1.004 = 1.0365
If cashed in after 12 months of holding (9 months of interest after 3-month penalty), the return would drop to 3.55%. The zero variable rate in the second half of the year would not contribute to the penalty, but you would still forgo 1/4 of the 0.4% fixed component.
Suppose inflation returns to 0.3% monthly over the next three months. That would represent a 3.66% annual inflation rate, still well above the Fed's target. Nevertheless, given the zero inflation over the October-December period, this would only result in a rate of 0.9% for the October – March reference period. The resulting return after 12 months of interest would be 4.59%.
[(1+.0324)*(1+0.009)]*1.004 = 1.0459
If cashed in after the minimum of 12 months, the bond would earn 9 months of interest given the penalty. This results in a return of 4.02%.
[(1+.0324)*(1+0.009/2)]*1.003 = 1.0402
Given current CD rates, we see that expected inflation over the next 3 months needs to be higher than 0.3% monthly to make I-Bonds competitive.
It turns out that the real rate of 0.4% set by the Treasury in November 2022 is not high enough to make I-Bonds competitive with CDs. It is also less than the 1.625% real rate available on recent TIPS, and even less than the ~1% fixed rate I expected when I wrote my October article.
How Do CDs Look?
The best yielding CDs are usually from online banks. It's even easier to set up an account and transfer funds to these banks than it is with Treasury Direct. Here is a quick sampling of offerings currently available for 1-year maturities:
Unlike savings bonds, these CDs allow interest to be withdrawn without a penalty. The principal can be withdrawn without penalty after the initial term, which is much shorter than the 5-year period required with savings bonds. There is also no $10,000 per person cap. CD interest is however subject to state income tax, unlike savings bond interest. These attractive rates and greater liquidity give CDs the edge over I-Bonds at this time.
What To Do Now
The best bet is to wait 3 more months until the March CPI report is issued on 4/12/2023. That will allow the investor to know the variable rate on I-Bonds sold after May 1. (Or the rate for the second six months on I-Bonds sold before May 1.) Only if the rate is better than CDs would I then buy I-Bonds before May 1. I would not buy I-Bonds after May 1 because the 6-month variable component will almost certainly be less than the 3.24% currently available and the fixed rate probably won't go up much from the current 0.4%. I expect CD rates to continue increasing with the Fed Funds rate, which should be around 5% by the May 3 meeting. If they don't, then I would consider 1-year T-Bills as an alternative, also available from either Treasury Direct or your broker.
The opportunity cost for waiting is very low, as you would be able to keep spare cash in a money market account at your broker. These can already earn over 4%, such as the 4.27% available at Schwab (SWVXX).
If inflation remains low for the next three months, I would even consider selling some I-Bonds once the 6 months of interest at the 3.24% semiannual rate has been earned and putting the proceeds in CDs. For example, in my case that would mean after August 1 for bonds issued in May of 2020 and 2021, and after October 1 for bonds issued in January 2022. This may not apply to holders of very old I-Bonds with much higher fixed rates.
Conclusion
I-Bonds have gained popularity over the past year and have a large "fan base" judging by many comments to previous articles. Still, it's important not to get too attached to any particular investment, and instead be prepared to swap into something else when it's more attractive. The rapid drop in current inflation since October combined with high interest rates makes it economical to hold off buying I-Bonds at this time. In April, we will have a better idea of the next I-Bond variable rate, and it may make sense to commit new funds to CDs instead of I-Bonds at that time.
Source link